Hello Fellow Gwent-Sisters and Brothers,
i reached a certain point now in the life of gwent: 5000 hours of playtime
and i thought it would be a good time for some various toughs and statistics....
Environmental Facts
* I play since most early beta on PC, this was in may 2017
* officially game was released on 23 October 2018, so since today is the 23. October 2020, it means it took me exactly two years since official start
* this means i played in average 4.5h per day (i dont think this is a good thing... looks i am kinda addicted - actually after seeing this number i want to imminently remove that game, but it is so much damned fun)
General Statistics
* During this time i made it many times into pro rank (lost count how often)
* I got all 100% gog achievements as you can see above
Playstyle
* i always play ranked, never casual
* i dont like arena and therefore also have little playtime there
* i only play decks noone else plays, so i created all my decks myself and never looked at someone else
** usually my decks are not very powerful in meta, but always some kind of surprise for the other player. they are for sure not the average deck you meet.
*** i love to use cards noone else uses and to show that you can reach the highest ranks even with them (generally i end up at least rank 2 or 3, but many times also higher).
*** this building of "special decks" takes very very long time. especially since i try to show that you can still be powerful with them. but it often takes very very long to finetune them and find the right combination. that's also why i got so much playtime. So yeah generally I loose. But winning with a creative deck feels so much more rewarding that it is absolutely with it!
*** after playing so long, i absolutely not have any interest in the standard meta decks, which are mostly uncreative and playing them is boring to me. that makes me also a very bad pro rank player.
*** Very seldom it happened that I created well working decks that became powerful and easy to understand for meta and therefore were copied by other players. As soon as I noticed that they became too common I stopped using them and looked for a new deck
*** so to sum it up: my goal is not to make funny meme decks, but decks that are not common, but still should be / could be competitive. or maybe: i try to create a new meta deck, that doesnt exist yet
* i always played the faction which least people played / are playing.
** in the beginning that was NR... nowadays i dislike NR. the current decks do not require any creative thinking (maybe with exception of the undead deck), so i switched to SY mostly for now.
Cards
* i got all cards with that i play in epic style and basically do have so much scrap (over 300k) and iron (over 200k) that i could forge any i need in case some would be still missing
** i could make 2143 kegs out of it, if i wanted. Also it would be easy to make the full collection but what would be the point?
* i never bought with money anything (not because i dont think the game would deserve it, but cause i got so much scraps that i dont know what to do with it, so every expansion is at least an opportunity to get rid of it a little)
Contracts
* I finished 508/671 contracts
* my contract score is 9315
** actually i would have much more, but some contracts are bugged
* the ones i am missing are generally related to either where you have to pay for with money in order to get them or related to arena which i do not like
* one of the longest taking ones was the "good game" one. i think, i finished it after 4400 hours of playing.
** however in the last months i only gave GG in case someone was really playing a creative deck (in the beginning i gave everyone GG, but now seeing the same decks all the time i got more picky
Trinkets
* i got 159 Avatars
* 102 Borders
* 93 Titles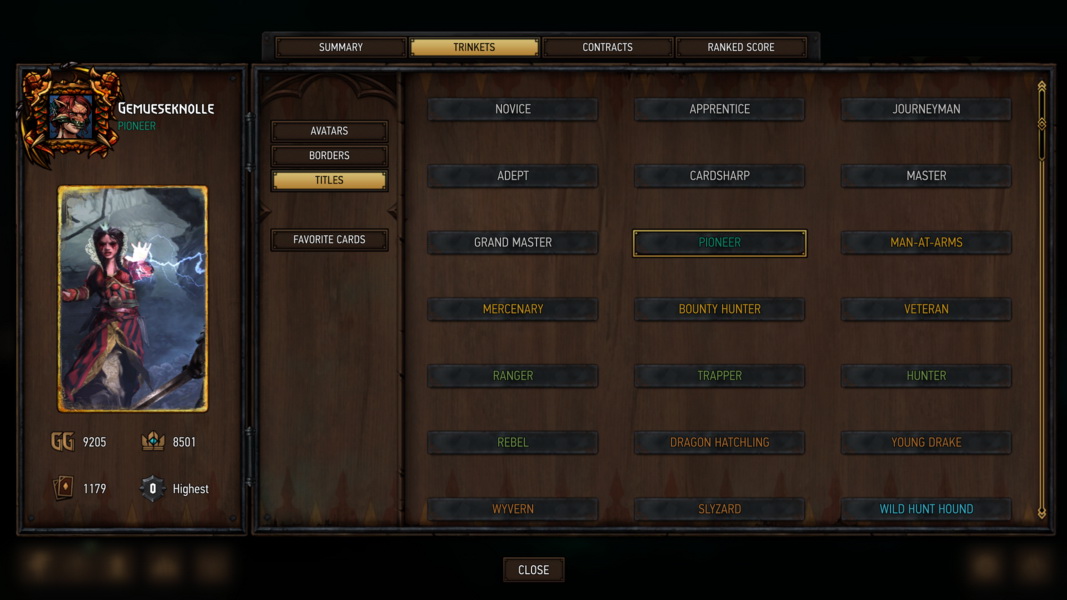 What makes me most sad is that the contract "Reach level 60th the 11th" time, is currently buged and i didnt get the title "Elder".
I think that really, really sucked, after achieving this (i guess it was about after 4200h of playtime) and then not getting this title.
* i guess there are not many people like me, so i think CD-RED has not much interest to fix this, since i already reported the bug months ago
Also i think the trinkets section was better in BETA:
* you could see all existing titles / avatars / borders, but those that you dont have were greyed out. it was written what is needed to get every title / border on mouse over
** currently you dont see for what you got a certain title and you also dont see which you are still missing.
* also i think the colors dont match the coolness of the contracts. for example why has the very easy TYRANT the most coolest red? CD Red: if you ever fix the bug, being "Elder" should be in some kind of blinking cool gold... - but thats maybe only me, cause i got so much playtime.
* so currently i am sticking to the very very old pioneer title
Reward Books
Even after so long playtime i wasnt able to finish all books.
* I got year of the wererat complete
* I got year of the wild boar complete
* i got almost every season complete
* but i still lack 3 skellige leaders on the main book
* i finished the siri journey complete
** but since i paid nothing, i only got the normal journey done
General thoughts
* the cards i miss most where those super fun NR cards that existed in the beginning. especially reavers had such a fun mechanic. it is sad that they disappeared.
* in contrast to most old beta-players, i didn't think it was such a bad thing to switch to 2 rows. however i dont like the row limits, but ok, meantime i can live with them.
* i think the game should encourage more "positive" playing. currently all is focused on destroying the opponents units. imo units that buff should be more powerful than units that destroy (e.g. if you pay 5 provision for a unit, you should be able to chose either one that destroys 2 points, or one that buffs 3 points). currently they are handled the same, but this makes less aggressive decks mostly minor to the aggressive ones.
* what i really would love would be an in-game chat with your opponent. i think it would add so much more fun to the game to talk also other things but those fixed emotes
** also i think currently friend system is bugged. whenever i get an friend invite, i see it days later... at that time i already have forgotten about the game, when the person send the invite
* What I really love on gwent is that even after playing so many thousands of games and long time I still see some creative people who come up with new ideas were I never would have thought of and never seen before... They are very rare - but that makes it all worth it!
Final words
I wonder how many other people are out there having played that long... are there any? am i the only one? Please respond
Maybe i update this topic later with some other facts.
So then... it has been a fun road and i hope future of gwent will be as glorious as its past!
In case you have any specific questions ask me anything.
Last edited: