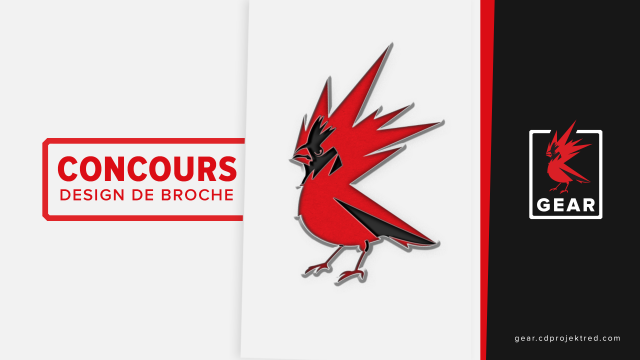 Laissez libre cours à votre créativité et créez une broche métallique à produire par CDPR GEAR !
De quoi s'agit-il ?
Nous souhaitons que vous vous inspirez de nos jeux et conceviez une broche que vous aimeriez voir sur votre sac à dos, veste ou toute autre surface.
Le concours est divisé en 4 catégories et vous pouvez soumettre au maximum 1 design par catégorie (jusqu'à 4 broches au total) :
CD PROJEKT RED
La série de jeux The Witcher
GWENT: The Witcher Card Game
Cyberpunk 2077
Quatre designs seront sélectionnés pour être fabriqués (une dans chaque catégorie) – L'ensemble des broches communautaires et les noms de leurs créateurs seront crédités sur le site de la boutique. Les gagnants de chaque catégorie recevra une carte cadeau CDPR GEAR d'une valeur de 150$ et l'ensemble de broches sur lequel ils ont contribué.
Comment participer ?
Préparez un fichier au format .JPG avec votre design (assurez-vous de suivre les exigences techniques énumérées dans le paragraphe 4).
Envoyez un e-mail à store-contest@cdprojektred.com avec le fichier en pièce jointe..
Et enfin, attendre les résultats !
Les soumissions sont ouvertes jusqu'au 31 juillet, 23h59 CEST. L'ensemble des règles du concours sont disponible
ici
.
Nous avons hâte de découvrir vos designs !