Night City is the main star of the show, and just like that special someone, she deserves the 5-star treatment... And the occasional foot massage.
I took the liberty of suggesting some pamperings below
. Let's treat this lady right.
Adjust asset placements to fix clipping issues.
Many objects are placed on the ground, but don't feel "grounded".
A lot of objects in the world are noticeably clipping through each other.
Adjust detailing assets on the side of buildings to improve and encourage climbing, adding more verticality to the gameplay.
At the moment the city feels "pseudo-vertical", meaning it looks like it has lots of opportunities for vertical gameplay. In reality however, most of the time is spent going left, right, forward and backward, not so much up and down.
Add detailing to some of the chunkier and larger objects.
Some objects still appear as if they didn't quite leave the "white box stage" of development.
On ramps for the highways often appear to have jagged edges, instead of more realistic smooth edges.
Open up the traversal.
A lot of time is spent moving around huge city blocks, which makes sense when driving. However, when on foot it would be nice to see more alleyways, balcony's, corridors etc. to move in between or through these huge buildings. Again, encouraging vertical thinking.
Atmospherics.
More steam and smoke. This could help dirty the city up a bit. Through AC-units, sewers, vents.
Dust storms or dusty winds within the city. It is after all right next to a dessert.
Electrical surges and glitches. Considering the state some parts of the city are in, it would be immersive if lights and electronics along streets and alleys didn't always work perfectly.
This one small photo of a street corner shows multiple issues that are pervasive throughout the city.
Clipping, lack of detail, objects being placed on one another without realistic transitions between them.
Same area as previous photo shows the same issues at a larger scale.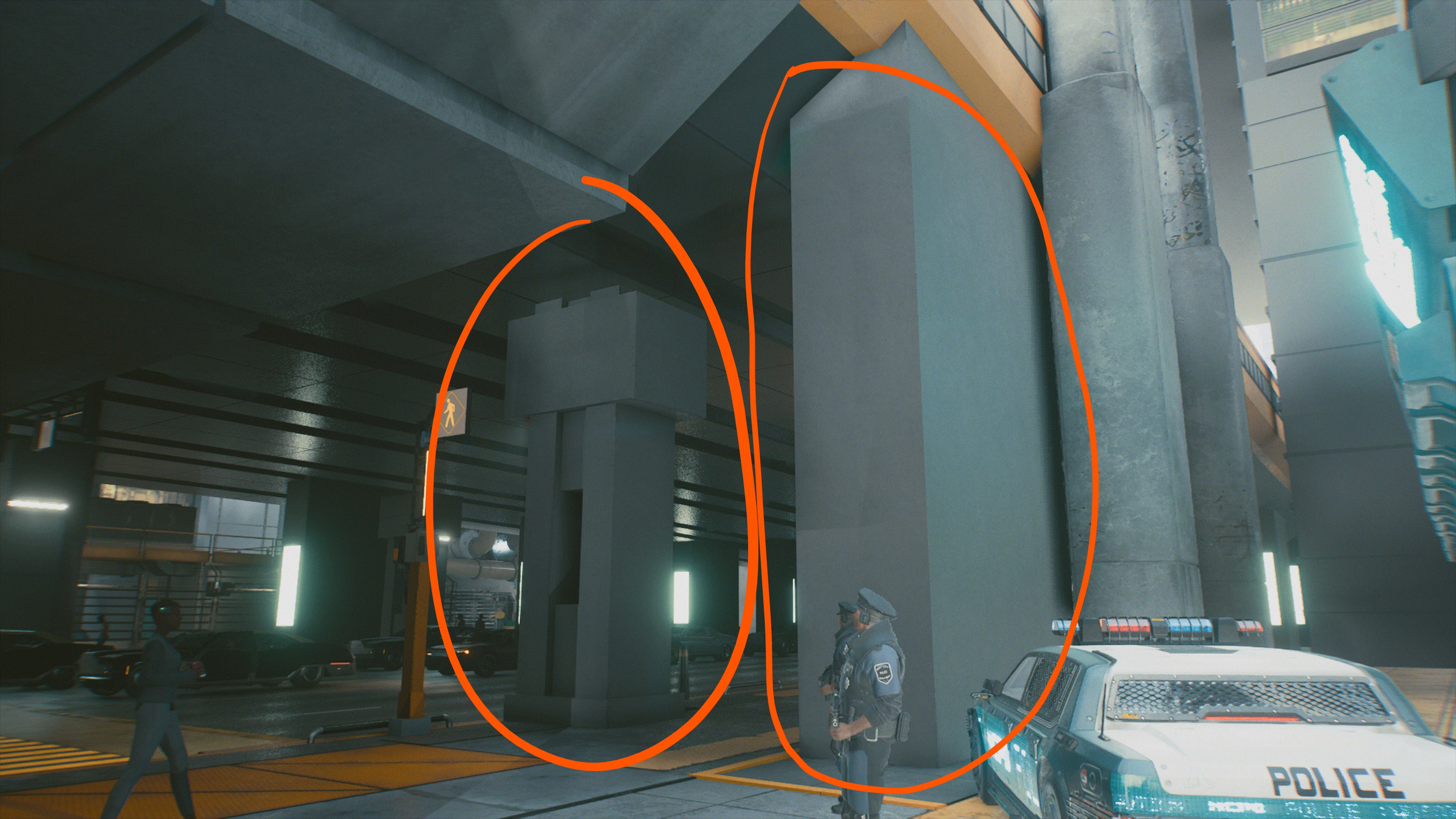 Large concrete support pillars for the highway above. Showing what I ment by chunkier objects lacking in detail. Showing no signs of being molded, welded, or otherwise constructed. Also missing signs of weathering and proper attachment points, they simply clipp through.
These overhanging windows and road lights could use another detailing pass with an engineering perspective.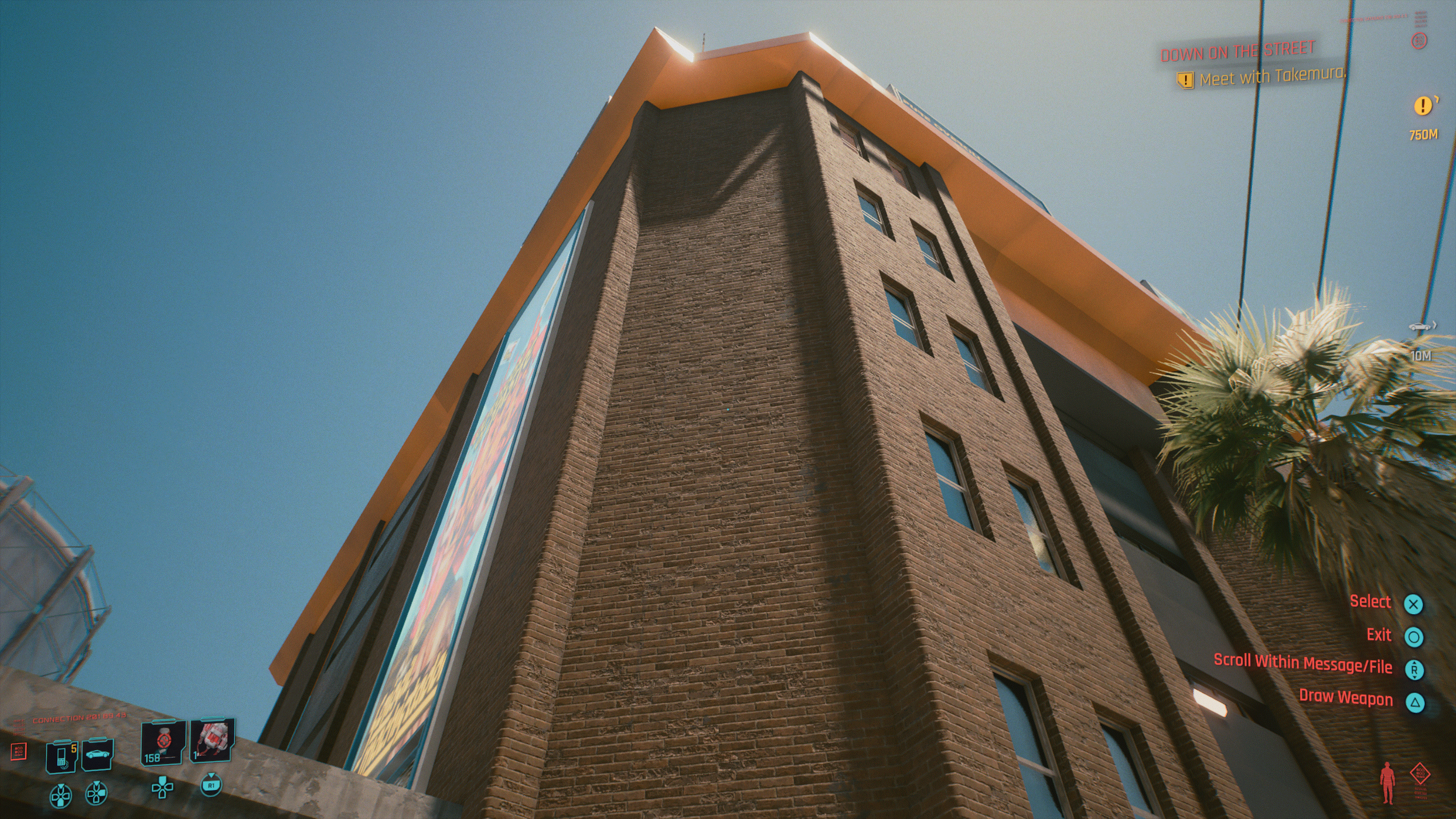 Again, missing signs of weathering and discoloration. Ends up looking very out of place if you stop to look at it.
Here we have a busy intersection. It does have weathering but is lacking all the signs of being used as a road. Paint should be worn down along the paths the cars follow as well as some dark streaks of rubber. This shot taken from above really shows how the cars look out of place here, something isn't quite right.
A highway on ramp that is weirdly angular all over. Railings are not aligned. And it does not attach properly to the road leading up towards it.
Finally, I would like to say that I have had, and still am having, a really good time with the game on my PS4 Pro. And I have nothing but respect and love for you, the hard-working people of CD Project Red. I hope you find the criticisms in this post constructive and not purely negative. I wish you all the best, and stay safe!
Best regards, Niklas from Sweden.