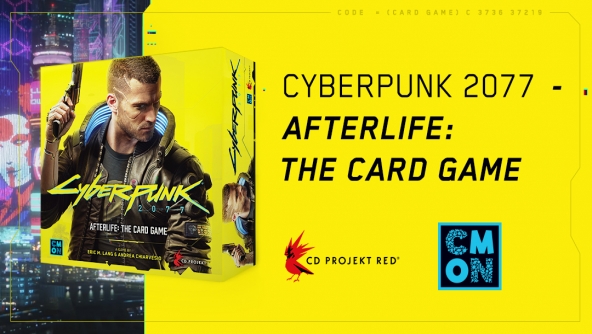 Cyberpunk 2077 - Afterlife: The Card Game, sitúa a los jugadores en los callejones oscuros de Night City, en los que pandillas despiadadas se enfrentan a las corporaciones en guerras interminables por dinero, poder y control.

En el juego, asumirás el papel de fixer, traficantes de datos y mentes maestras de Night City. Tu trabajo es reclutar a cyberpunks, equiparlos y enviarlos a hacer misiones. Cada misión completada incrementará tu rep, y los supervivientes se convertirán en veteranos, que podrán compartir su conocimiento y experiencia con los nuevos reclutas. En este cromático mundo, rep es la única moneda que vale.
Y nada sale barato en Night City. Tendrás que pensar muy bien qué quieres y qué te puedes permitir. Utilizando un mecánica nueva de robar cartas y un tablero especial, deberás decidir qué cartas quieres comprar y cuáles sacrificar para poder conseguir nuevas.
Cyberpunk 2077 - Afterlife: The Card Game saldrá en 2020.