Can't pass optional quest when doing mission We Gotta Live Together.
So I spoke with Misty, talked with more people and Alt before tiny party.
After that there is 3 options:
- Join Panam When You're Ready
- [Optional] Talk to the Nomads
- [Optional] Talk to Mitch
Can't find a way to pass the Nomad part.
I understand that Carol, Teddy, and Bob should be having a drink together, but in my game the boys are doing something... odd at the nearby tent and Carol is alone in that table.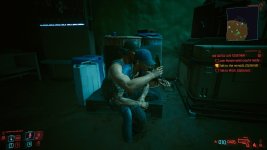 Can't talk with Carol, nothing happens near her.
The boys do ask me to drink ->
Game teleports player into sitting around drinking table ->
Nothing happens at this point. You are stuck forever.