Yea thats a good example, light bouncing around on diffrent surfaces.
It would help a bit if some areas were just a little darker:
RT_Lighting_OFF:
RT_Lighting_Enabled:
Here we have nearly the same dark area on the right hand side (stairs), but an exposed area in the lower part of the background (barriers).
RT_Lighting + darkened areas:
Similar to a vignette effect, the darkened area results in more focus on the centre of the field of view.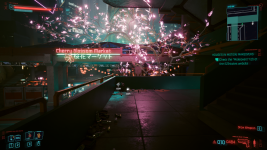 I don't have an RTX card so I don't know about PC, but on Xbox Series X, Raytraced vs Performance Mode there's a good difference IMHO. Try driving at night, after rain, or go to Jig-Jig street or indoors at Afterlife, it's obvious. I guess I'm used to console games being 30 fps so it doesn't bother me, and on my 65" OLED it's worth it (maybe HDR helps RT shadows/lighting "pop" more?)

But on PC, I couldn't bear 30 fps, ever...
Ray tracing on consoles only provides raytraced
local
shadows, but I agree they're looking great!
Yea, 30 FPS is a compromise, you don't want that on PC. I found 45 FPS in CP playable although I still prefer 60FPS or more.
There are now two options for shadows on PC. Both work independently from each other.
RT_Shadows = On/Off
RT_Local_Shadows = On/Off
RT_Shadows were already present before 1.5. Non-RT_Shadows have less pop-in than RT_Shadows.
The new RT_Local_Shadows also seem to have less noticeable pop-in than RT_Shadows. (More testing needed.)
Generally speaking, I like the contrast between RT_Reflections, and those darker areas when both RT_Lighting and RT_Shadows is disabled, so having the option to solely enable RT_Local_Shadows is definitely a welcomed feature.