I can agree most if not all choices don't matter in
THIS
version of the game,
Along with what others have posted on here, here
my
evidence...
During this mission when up against El César, once you defeat him you have the choice of taking the fight winnings along with his ride, alternatively you're also able to JUST take the fight winnings...
I chose this option...
A few game days/weeks later, El César texts me and shows me his new bundle of joy him and Micaela have brought into this world... then he proceeds to ask me this...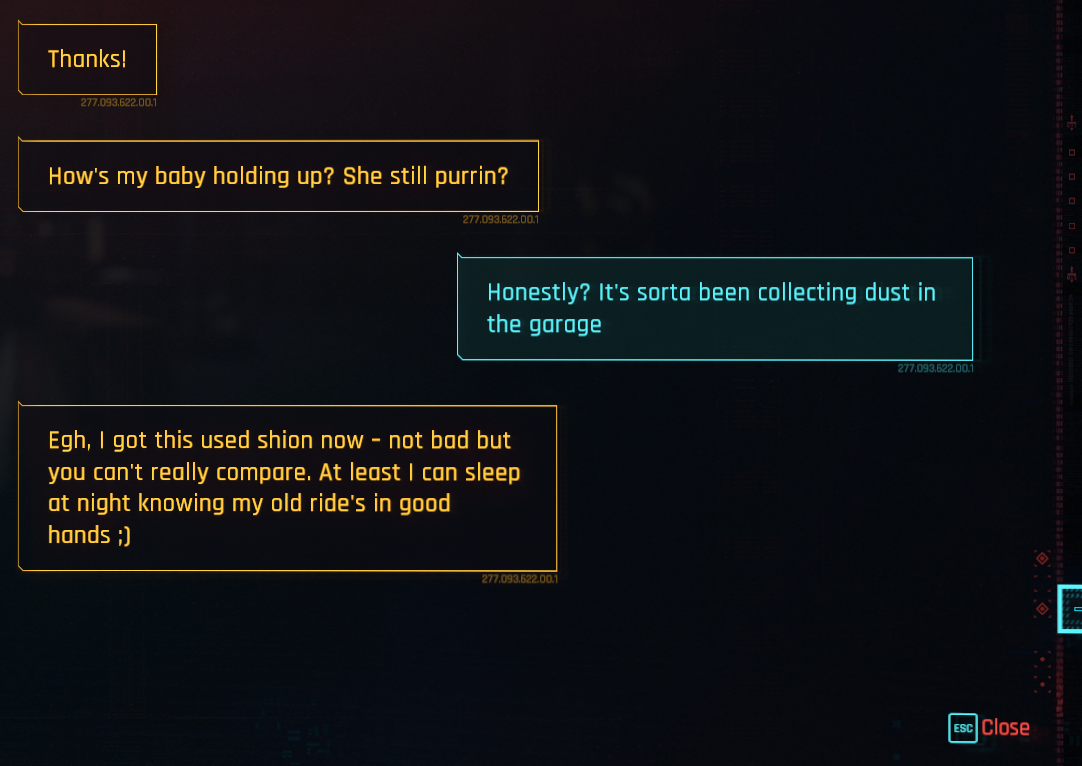 Remember, I CHOSE to take ONLY the fight winnings and leave him his ride...
How tf am I supposed to know what his rides been up to and how it's holding up? I haven't touched it, let alone taken it for a test drive to see if "She still purrin?".
The only obvious choice of action was to tell him that it's been collecting dust in a garage... (Who's garage?? We don't own a damn garage, the apartments don't allow us to store any vehicles in a "
garage
"... [mind you this is playing as Street Kid V])
Then him showing he truly cares for his car... and to
REALLY
solidify that choices mean sweet fa in this game, proceeds to say:
At least I can sleep at night knowing my old ride's in good hands
Keeping a car in an astral planed garage isn't exactly the best way to show that
that
car is "in good hands...".
Idek, my immersion's already lost on this not even half-baked game... It's like the recipe called for the game to be baked for 40 min's while CDPR management tried to find a workaround of about 7 minutes...
There's other instances of shit like this going on, where say, one or two missions where you save a store owner from being rob/killed/what have you, and they promise to give you some free shit.
NEVER HAPPENS, still have to pay and the items they stated would be able to "purchase/obtained" (for free) aren't in their inventory at all...
So yeah, most if not all choices don't actually mean a thing in Cyberpunk 2077
Last edited: