So I've reached max level and 70+ hours playtime.
The only attribute I've maxed to 20 is Technical Ability. Because I wanted to do Legendary and Iconic weapons crafting.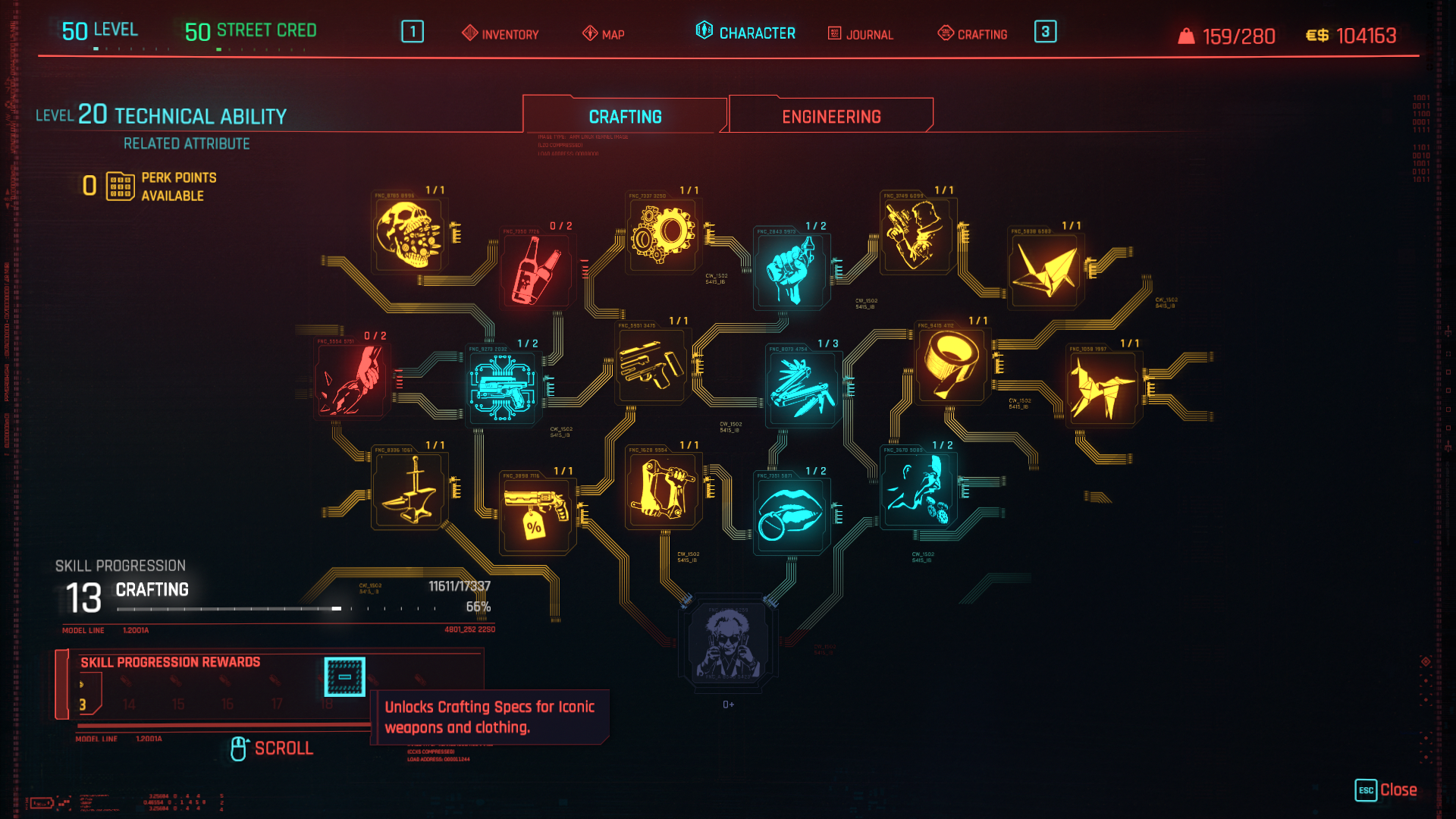 As far as I can tell,
Crafting Level 18 lets you craft Iconic weapons?
I'm not sure if anyone has done this yet. I'd love to hear from someone as to how it works and if you just unlock all crafting recepies/blueprints, or only those you have, or only some at certain rarities... Because I'm still not entirely sure how blueprints work.
> XP gain on the crafting skill is slow as hell (and I think some others like Athletics aren't balanced either)​
> The level 20 Crafting perk at the bottom there? Needs Skill level 20? Crazy Science? Not sure if I'm gonna get there in this playthrough.​
> Cost Optimization and Let There Be Light! give you cost reductions for crafting too, but they come so late and it's so little.​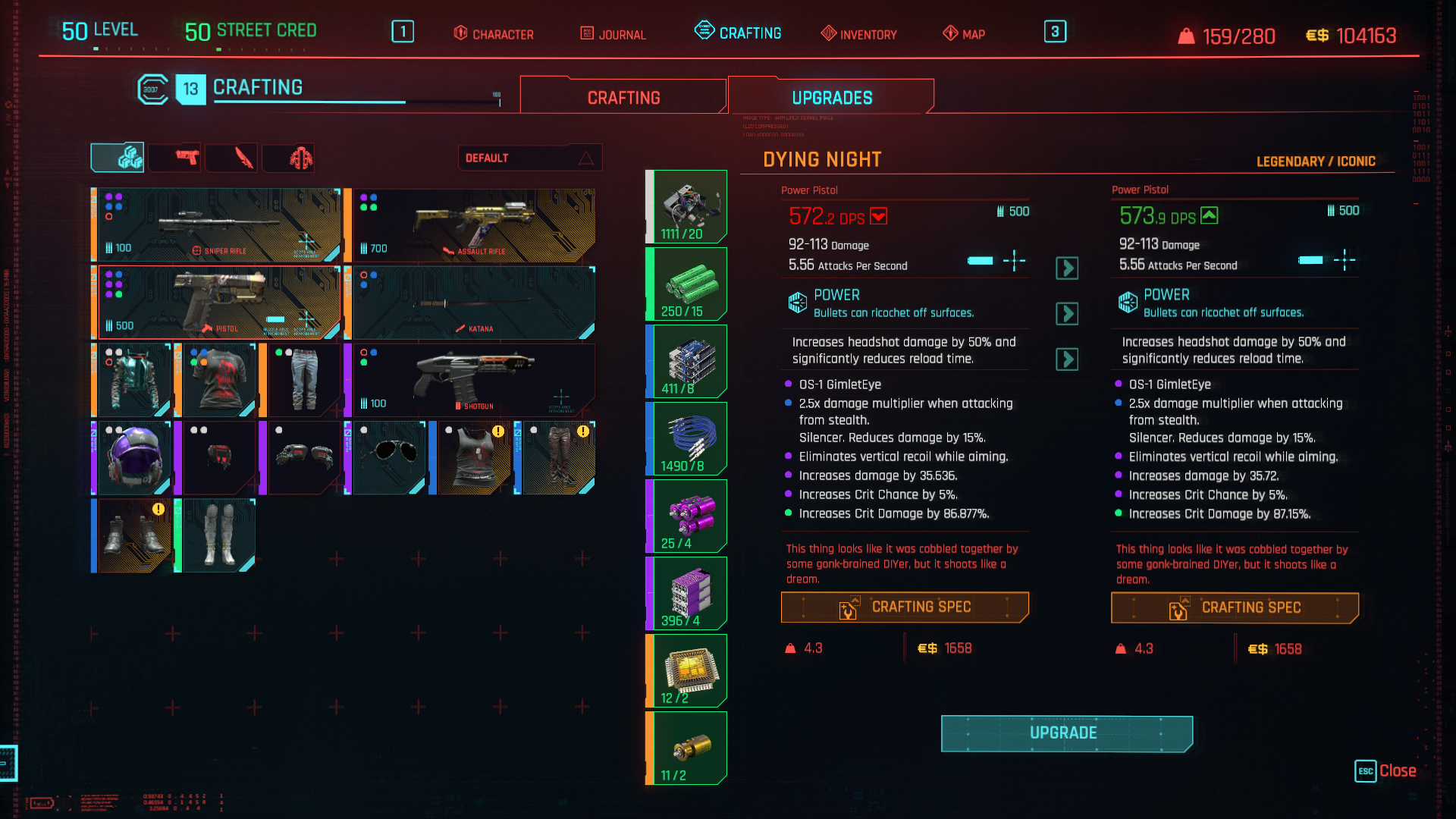 You need to keep your Iconics if you don't have Level 18 of the Crafting Skill
. If you want to craft them, seems you'll need at least level 18 in Technical Ability. Level 18 TA also let's you craft legendaries (Edgerunner Artisan perk), so y'need that to be able to craft the 4 legendary uniques shown in the screenshot. If you want the best Iconics possible, you have to go deep in TA. Why this essential (in my opinion) part of the game is locked so far in the guts of one of the attributes I don't know, but I'm not sure I'm ever gonna play without high TA if it's not balanced differently in the future.
The Crafting perk Tune-Up let's you upgrade lower quality part into higher quality ones
. Other perks give discounts on that. Basically, 8 pieces for the next better quality. Nice, right?
Well, you need to individually craft each one
. So if you have thousands of Commons, it's gonna take you a long time to upgrade all the way to the top. And at the rate of 7:1 I have in this screenshot? At 7k Commons, I'd get 1k Uncommons = 142ish Rares = 20ish Epics
> This is not worth your time. The XP reward for doing it is too small and it takes too long​
> If you craft Uncommon weapons and sell them, you can buy vendors' uncommon, rare & epic parts and still make a proit​
> You don't just click once either. You hold for a second, making it even more frustrating to mass upgrade​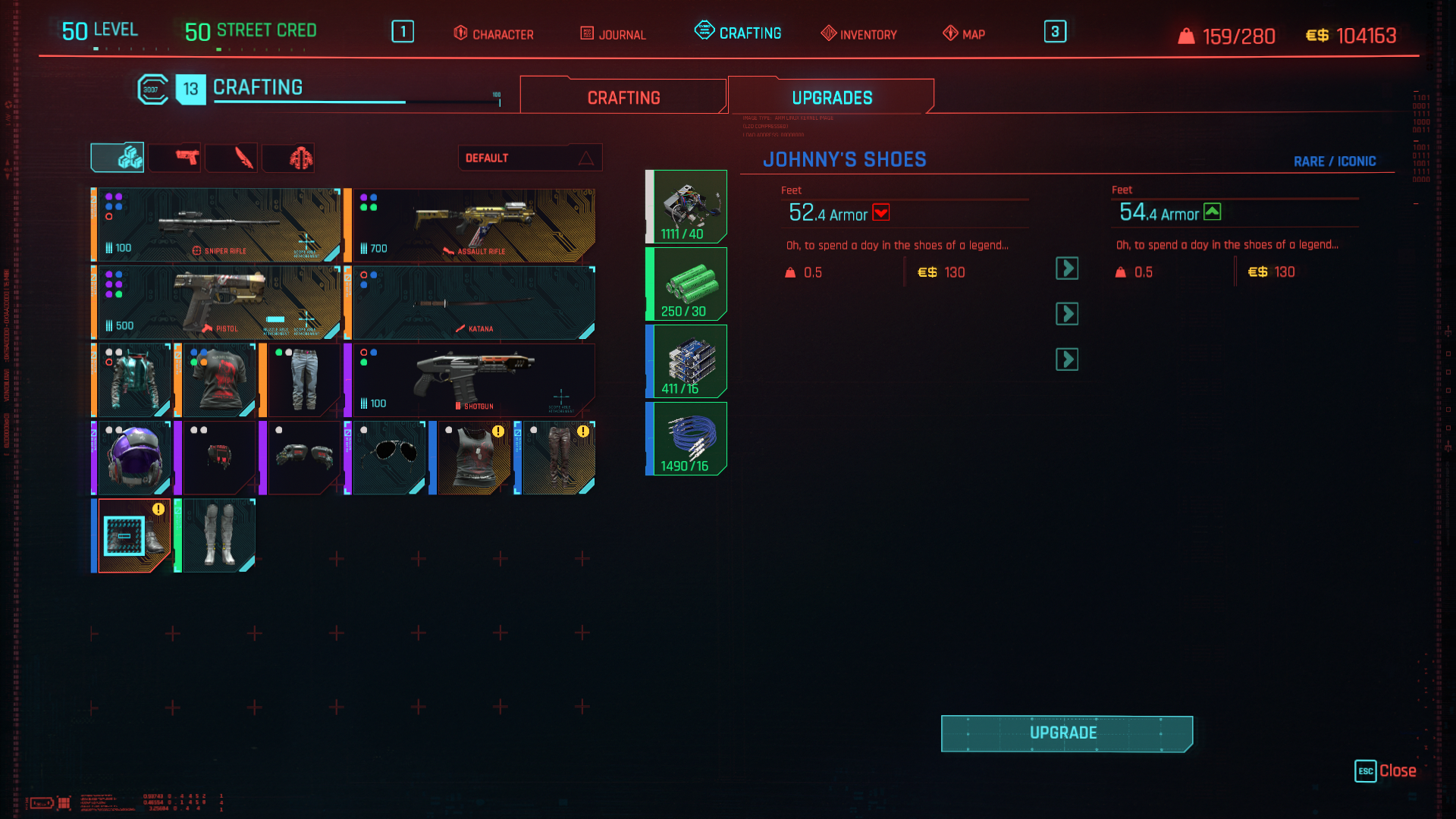 Upgrading costs are a problem. Double each time. It limits you to a few upgrades per item and even less for high-cost legendaries. If you can't craft items like Johnny's shoes and grabbed them early in your run, they'll lack behind in stats compared to generic armor found later on, even with several upgrades (regularly looted, uncommon shoes are nearing 100 Armor in my game, at the time of this screenshot).
I believe there needs to be:
Rebalancing of XP requirements for several skills
A redesign of the Tune-Up perk's crafting system, to allow for mass upgrades in a timely manner
A re-evaluation of the approach to item upgrading. Iconic weapons feel almost exclusive to Technical Ability, in a way. You lack the ability to truly upgrade early-game items you liked into late-game. Stat gains often seem insignificant
There's much more to be said about gameplay balancing and this is just my subjective opinion on this specific part of the game, after playing my own way.
Hope this gives some perspective and maybe helps others out.
Last edited: