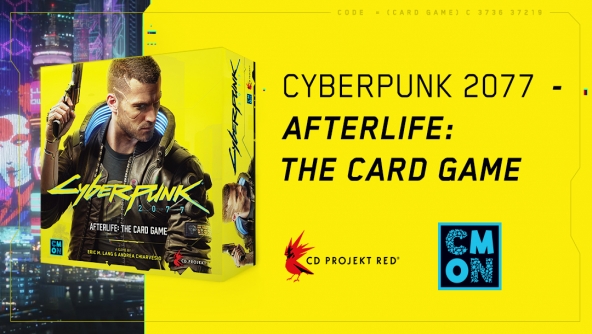 Nous sommes heureux d'annoncer Cyberpunk 2077 - Afterlife: The Card Game, un jeu de cartes physique autonome créé en collaboration avec l'éditeur international de jeux de société CMON !
Cyberpunk 2077 – Afterlife: The Card Game plonge les joueurs dans les ruelles sombres de Night City, où d'impitoyables gangs affrontent les méga corporations dans une guerre sans fin pour obtenir de l'argent, du pouvoir et le contrôle.
Dans ce jeu, vous êtes des Fixers affiliés à un gang, des databrokers et génies de Night City.
Votre job consiste à recruter des membres de gangs, à les équiper et à les envoyer en mission. Chaque mission réussie élève la Street Cred de votre gang et l'expérience des membres survivants du gang devenant ainsi des vétérans, transmettant leurs connaissances et leur expérience aux nouvelles recrues. Dans ce monde imprégné de chrome, la Street Cred est l'unique devise qui compte.
Et rien n'est bon marché à Night City. Vous devez trouver un équilibre entre ce que vous voulez et ce que vous pouvez réellement vous permettre. À l'aide d'une mécanique de conception innovante et d'un tableau de bord spécial, vous devez choisir les cartes que vous souhaitez acheter et celles à sacrifier pour obtenir de l'argent afin d'en acheter de nouvelles.
Cyberpunk 2077 – Afterlife: The Card Game sera disponible en 2020.