Few very interesting screen grabs in this trailer regarding the game UI, progression trees, and etc.
Three cyberware slots for the brain's frontal cortex. One of the ocular system (eyes). Three for the circulatory system. Two for the immune system. Two for teh nervous system. One for the integumentary (skin) system. Two for the skeleton. One for hands, arms and legs. V also has a OS installed. Lots of cyberware customization options.
You can also see that next to Cyberware UI branch is something called "trade".
A look at the five stats. Each stat apparently has 20 levels that can be potentially unlocked. Tech and Reflexes are described in the video.
Tech improves your proficency in crafting items (especially weapons). Furthermore, it improves V's proficiency with Tech weapons and effectiveness against drones, mechs and robots in combat. Each level increases armor by 5%. It also unlocks certain dialogues and opens new pathways to move around the world.
Reflexes on the other hand determine V's reaction speed. It assists in evasion, with each level in reflexes increasing the chance of V dodging an attack by 1%. Reflexes also increases the chances of a critical fit by 1% per level, increases mantis blade damage by 3% per level, and generally improves movement speed and attack speed. Finally, it effects your proficiency with rifles, pistols and revolvers, as well as improves how quickly V gains experience in reflex related skills.
Also, you can see that at the top, these stats are in the "character" UI category. Other categories include Map, Journal and Crafting.
The skill/perk tree looks like it has 16 perks in blades that we can see, with more than 30 possible perk points invested in the tree. Extrapolate that across 12 skills, and that's a lot of possible perk/skill combinations. All of the skills shown in the video give various passive bonuses to V differing abilities.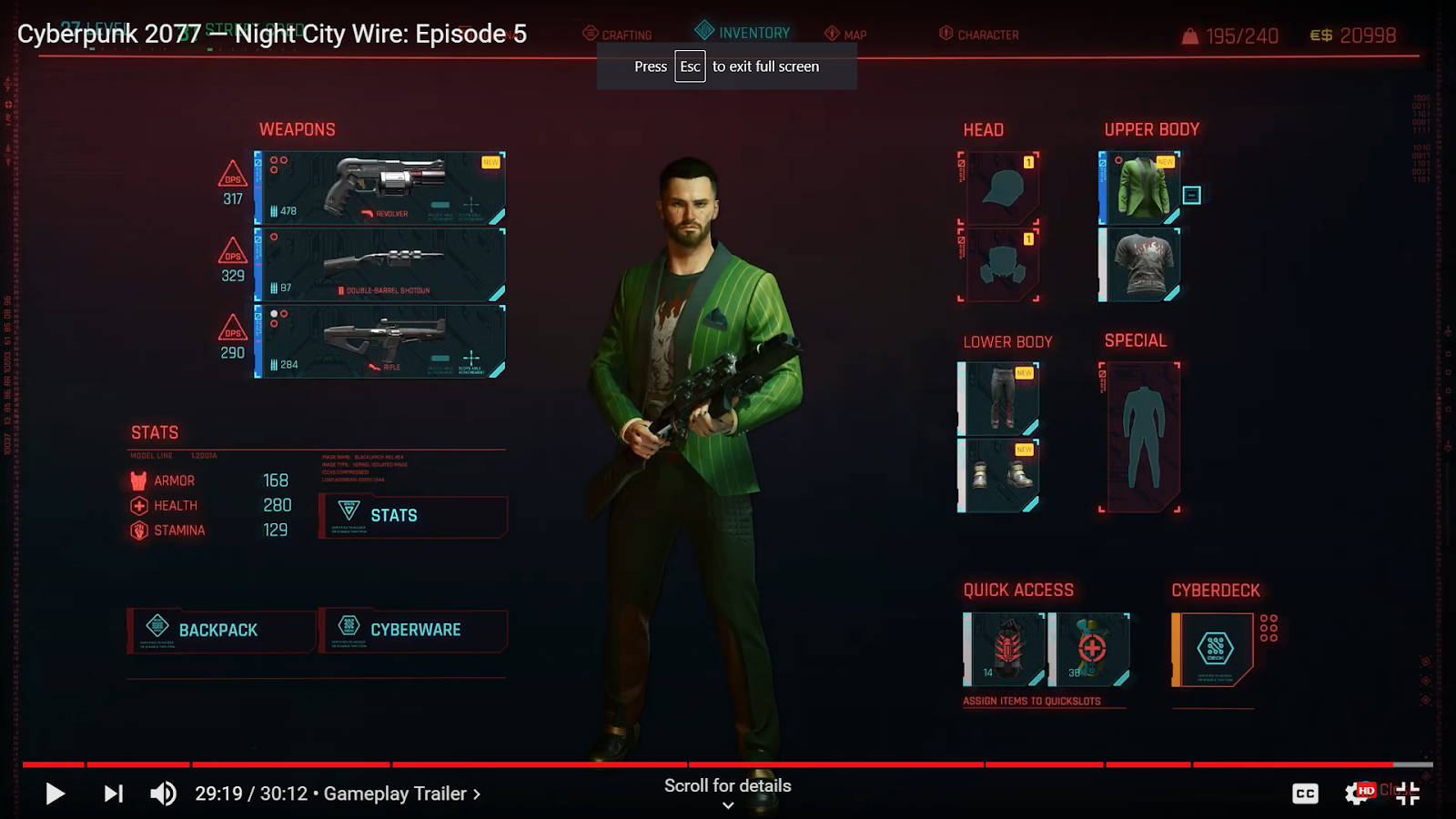 Inventory is the last screen. V carries 3 weapons at a time. (S)He also has places to look at Cyberware and a backpack. Clothing options include hats, masks, pants, shoes, shirts, jackets and "special" (ooh la la!). V also has a cyberdeck and two places for items that V has quick access too (much like in the Witcher 3 if I recall correctly). Each of the weapons has slots for mods or upgrades on them. Looks pretty fun.
Last edited: