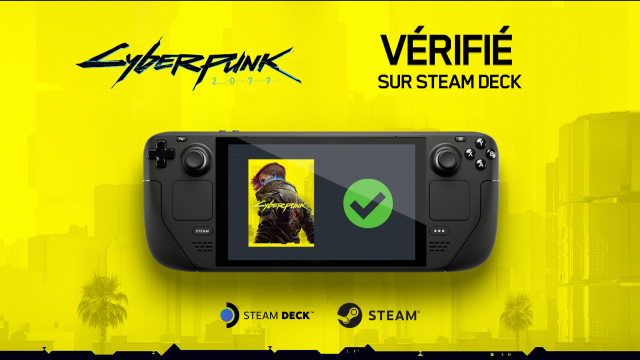 Vous ne vous lassez pas de Night City ? Vous aimeriez pouvoir l'emporter avec vous, où que vous alliez ? C'est désormais possible !
Nous sommes heureux de confirmer que Cyberpunk 2077 a été vérifié pour la compatibilité avec Steam Deck.
Les utilisateurs de Steam Deck peuvent ainsi profiter pleinement des aventures de V. Si vous avez déjà une copie du jeu dans votre bibliothèque Steam, il est prêt à fonctionner sur votre matériel.
Cyberpunk 2077 est notre troisième jeu vérifié sur Steam Deck, après The Witcher 3 : Wild Hunt et Thronebreaker : The Witcher Tales.
Veuillez noter qu'il n'est pas prévu de fournir des optimisations Steam Deck supplémentaires pour nos anciens titres.