I was thinking about this when I wrote other topic.
I was very curious if rather having "Cyberpunk 2078" we would get alternative life path entirely as their next big title. You could start out as Nomad/Street Kid/Corpo, but instead of meeting Jackie, you meet "Henry" who introduces you to drug smuggling operation, you get thrown in jail, waiting death sentence and have to plot your way out, on the way you meet more members of the criminal world and become invested in running tasks for secret entities who you sometimes hear talking in strange language (referring to the Garry conspiracy guy side quest), there you would end discovering entirely new lore and the world revolves in completely different motives than original story. Maybe in this lifepath rather than having an imaginary friend as your companion, you'd actually have a friend like Jackie by your side.
Or another person you could meet like Rachel (the crucifixion story woman) who introduces you to making all sorts of weird BD clips, where you're entrusted of making a lot of scenery, bribing people to commit murders etc, you gain access to TV stations like "channel 54 news" where you get to talk about how the business is running, you're being shown clips of people watching you in interviews and your main goal is to build up huge reputation in the industry of video making, which involves a lot of shady business deals and things going wrong. Eventually after calm open intro you're running the police when someone leaked your most recent BD raw clip and you're now classified as Class A scammer. However you build up quite a reputation with the police so they made you a deal to help them to investigate all sorts of murder mysteries they cannot solve, V becoming basically mercenary for the police to hunt down big targets and solving criminal conspiracies.
Perhaps being a war veteran in some futuristic war, where you're left half impaired and are forced to take artificial hands?
Perhaps you could witness Jackie living his life as he didn't go do the heist mission that (spoiler alert) went terribly wrong. Maybe you could have Jackie as a fixer in this life path where he has climbed up the ladder, there would be another heist and other opportunity to get to "the major leagues", perhaps Jackie and Dexter will have a conflict eventually. Perhaps there could be a news reports about what was supposed to happen in original game and there was actually a heist of the relic, but it completely failed.
I think separate lifepaths (not origins) is something I'd totally pay money to get added in future. I think this game and it's world is a great vessel for future content for even tens of years to come.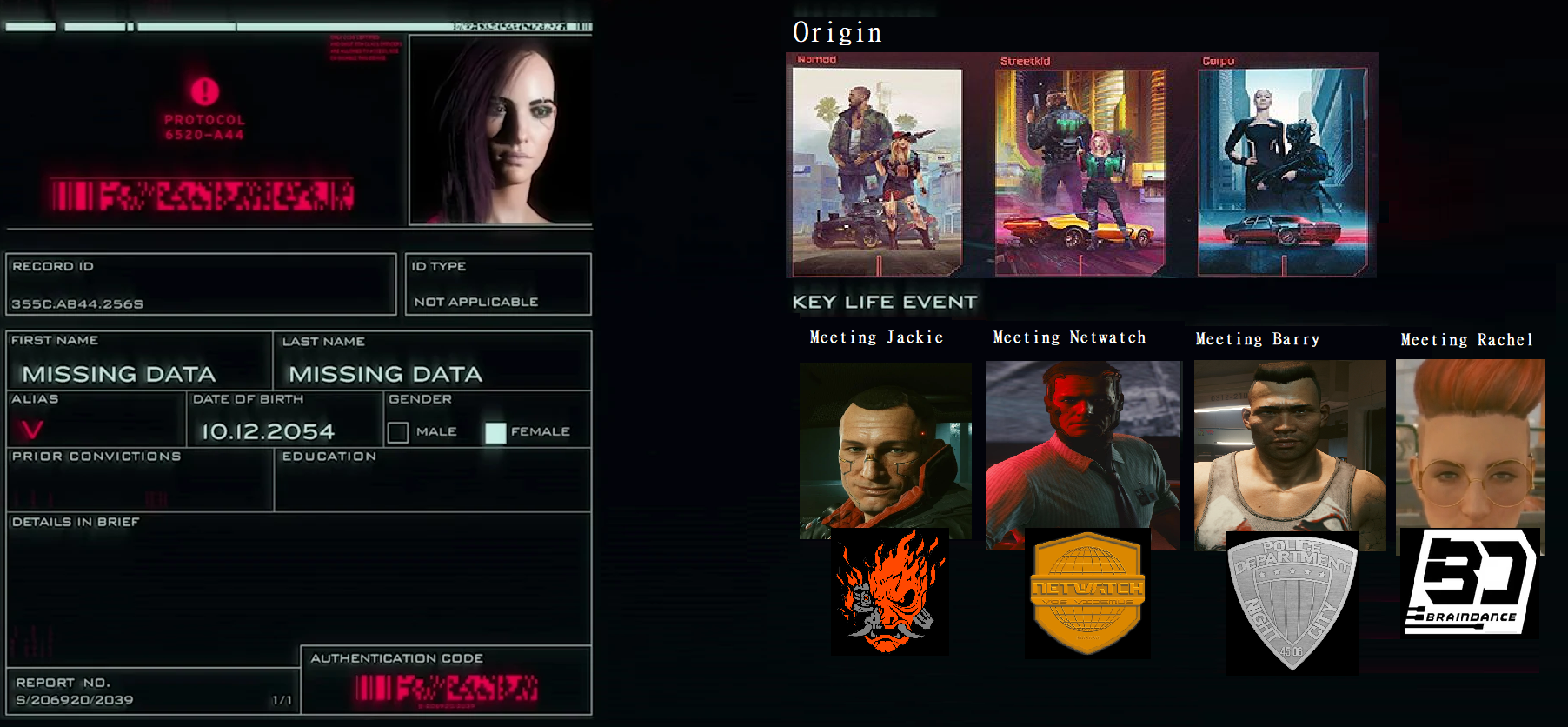 Just an idea what they originally drew as a concept for character creation and my twist on it. Of course these Key Life Events could be put inside the game itself, where an early intro you get to choose who you side with. If you go to first location you'll just meet up with Jackie, but if you pick up phone and call some number you find in note you could meet up with Netwatch agent. If you pick up news magazine, you could find advertisement for "creative personels" seeking a job in BD industry, and you get to meet up with Rachel. Perhaps you see an advertisement in TV and it's about joining the police squad. You get to call Barry who'll ask to join up in the NCPD station, where you're given first task to solve a mystery death. Netwatch would be a tricky one to implement because they'd be looking sophisticated hackers to join them, so you'd have to have intelligence of at least 10 and have to follow the other original life paths until a point you get offered a position in Netwatch. If you choose to go for it, you're given a new mission etc.
Kinda similar way how the Dark Souls DLC's were added into original games and were just some locations where a new NPC would spawn and a portal into a different dimention. In CP2077 case you could have these other NPC's contact you and offer to hire you to do mission for them. You could even go as far to have all the missions like Heist ready to be participated, similar how to
Meet Hanako at Embers
, where you're told "if you go further than this, there's no going back".
It'd be a shame if all we get is just couple of tweaks and few extra expansions and that's it, I'd rather see this game morph into what they originally drafted and allow gazillion of events that influence your future in a branching story. You could have same gangs original quests edited and select to do different tasks for them instead, since for example the first task with Voodoo boys where you go into the mall, you could totally do that with different motives entirely, but also you could get offered something else entirely as a task they also need to get done with.
What kind of new game/story would you like to explore if they were to announce one in 2 years to come?
Last edited: