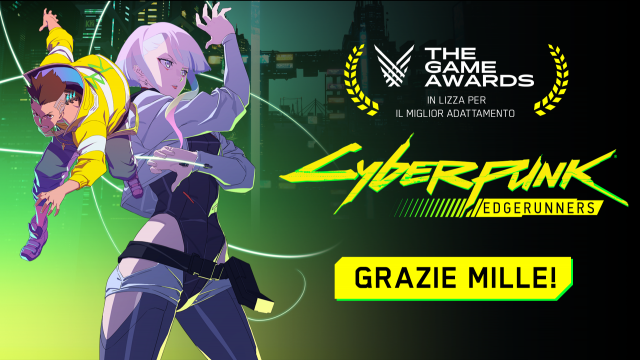 Cyberpunk: Edgerunners è stato nominato nella categoria "Miglior Adattamento" a The Game Awards 2022 — una cerimonia di premiazione annuale che celebra i risultati più notevoli dell'industria videoludica.
Vi ringraziamo per l'apprezzamento per questa serie anime, la nostra prima in assoluto, ambientata nel mondo di Cyberpunk 2077 e creata in collaborazione con l'acclamato Studio Trigger!
Siete voi a decidere chi vincerà il premio e potete votare il vostro preferito su questo
sito web
.
Saremmo onorati se decideste di votare per Cyberpunk: Edgerunners. I vincitori verranno annunciati durante il live stream di The Game Awards, l'8 Dicembre.
Inoltre, se non lo avere ancora visto, Cyberpunk: Edgerunners è disponibile su
Netflix
.