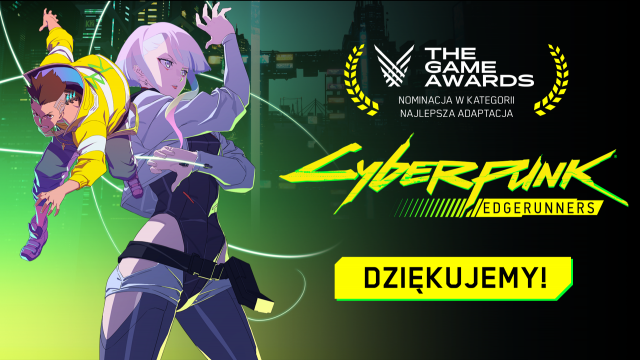 Cyberpunk: Edgerunners zostało nominowane do nagrody The Game Awards 2022 w kategorii "Najlepsza Adapatacja". The Game Awards to coroczne wydarzenie, w czasie którego nagrodzone zostają wybitne osiągnięcia z dziedziny gier wideo.
Dziękujemy za docenienie pierwszego anime w naszej historii, które stworzyliśmy we współpracy z legendarnym Studiem Trigger!
Masz wpływ na to kto wygra — możesz głosować na swoich ulubionych kandydatów poprzez
tę stronę
. Będzie nam bardzo miło, jesli zdecydujesz się oddać swój głos na anime Cyberpunk: Edgerunners. Zwycięzcy zostaną ogłoszeni podczas live streamu gali The Game Awards, 8 grudnia.
Anime Cyberpunk: Edgerunners można obejrzeć na
Netfliksie
.