The Cyberpunker Handbook
-
(Cyberpunk Source Material)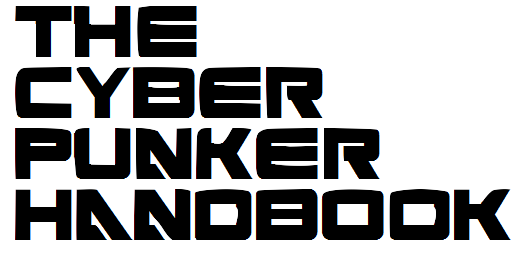 What exactly is Cyberpunk?
The question seems to be continuously resurrected in cyberpunk communities without ever coming to a conclusion as to a definition.
While it is true that cyberpunk may mean different things to different people, there certainly is a common thread.
Cyberpunk is about expressing (often dark) ideas about human nature, technology and their respective combination in the near future.
It consists of basic ideas, such as:​
Impact of technology on humanity
Transhumanism (Mix between man and machine)
Anarcho-Capitalism or Corporativism
The Underground
Low life, high tech
Futuristic Visuals
But Cyberpunk is more than that​
​
Cyberpunk is an

attitude

Cyberpunk is an

awareness

Cyberpunk is a

subculture

Cyberpunk is a

subgenre



And it's just a matter of research to find out more about that, here goes some cyberpunk stuff you can dive in with no worries.
Roleplaying and Board Games:
Cyberpunk 2020

Android:Netrunner

SLA Industries

Shadowrun
CD-I:
Angel Devoid
Burn:Cycle
Cholo
CYBERMAGE: Darklight Awakening
I Have No Mouth And I Must Scream
Paradroid
Circuit's Edge
Snatcher
Rise of the Dragon
Johnny Mnemonic
PC / MAC:
A.I. Wars
Blade Runner
Gunpoint Launch
Distance
Interference
NeuroHunter
CyberKnights
Cell Factor Revolution
Oni
Enter The Matrix
Shadowrun Returns

(Alpha)

BloodNet
Quarantine
Collateral
Neuromancer
Restricted Area
Messiah
Quadrilateral Cowboy
Nikopol Secrets of the Immortals
Syndicate
Cyberpunk 2077
Anachronox
Deus Ex
Deus Ex 2
Chaos Overlords
Deus Ex: Human Revolution

(And Missing Link)

Deus Ex: Mankind Divided
Dex
Dystopia

(A Half Life 2 Source Mod)

G-String

(A Half-Life 2 Source Mod)

HacX

(A Doom II Total Conversion)

Hard Reset
Beneath A Steel Sky
Hell: A Cyberpunk Thriller
Metal Gear Solid
Metal Gear Solid 2: Sons Of Liberty
Mirror's Edge
Hacker Evolution
Hacker Evolution Untold
Hacker Evolution Duality
Defcon: Global Nuclear Domination Game
Darwinia
Multiwinia
Neocron
Syndicate
System Shock
System Shock 2
Frozen Synapse
Reset
Nikopol Secrets of The Immortals
Binary Domain
Uplink
CYPHER Cyberpunk Text Adventure
E.Y.E. Divine Cybermancy
Omikron
Crysis Series
Mass Effect Series
Anarchy Online
Infernal
Dead Space Series
Battlefield 2142
Quake 4
Project Lodus
Dreamfall Chapters
Shadowrun
Lost Planet: Extreme Condition
Lost Planet: 2
OpenOutcast Oasis
Remember Me
Marathon
The Journeyman Project 1: Project Turbo!
The Journeyman Project 2: Buried in Time
The Journeyman Project 3: Legacy of Time
ShadowGrounds
ShadowGrounds: Survivor
Prototype Series
Space Siege
Outcast
Red Faction: Armageddon
Legendary
MDK Series
Project Eden
Gemini Rue
Paradise Cracked
Dark Sector
Satellite Reign
Section 8
Section 8: Prejudice
Hydrophobia: Prophecy
Mercury: Red
Invisibility Inc.
Console Exclusive:
Fear Effect Series
Project Snowblind
Megaman Series
Ghost in the Shell Series
Metal Gear Solid 4: Guns Of The Patriots
Appleseed
Advent Rising
Books:
Neuromancer
Count Zero
Mona Lisa Overdrive
Burning Chrome
Hardwired
Voice of the Whirlwind
Snow Crash
Islands in The Net
Vickers
Mirrorshades
Do Androids Dream Of Electric Sheep
-When Gravity Fails
A Fire In The Sun
The Exile Kiss
Transmetropolitan
Idoru
Otherland Book 1
Otherland Book 2
Otherland Book 3
Otherland Book 4
Cyberdonkey The Tales Of Hatchback Hernandes
Finnegans Wake
Altered Carbon
Donnerjack
Software
Wetware
Freeware
Eclipse
Eclipse Penumbra
Eclipse Corona
Anime:
A.D Police
A.D Police Files (ova)
AKIRA
Appleseed
Appleseed: Ex Machina
Appleseed XIII (ongoing)
Armitage III (ova)
Armitage III: Poly-Matrix
Armitage III: Dual Matrix
Battle Angel
Black Magic-M66 (ova)
Bubblegum Crisis
Bubblegum Crash
Bubblegum Crisis: Tokyo 2040
Cowboy Beebop
Cowboy Beebop: Knockin on Heavens Door
Cyber City Oedo 808
Dominion: Tank Police
Ergo Proxy
Eve no Jikan
Fist of the North Star
Genocyber (ova)
Ghost in the Shell
Ghost in the Shell: Innocence
Ghost in the Shell: SAC
Ghost in the Shell: 2nd GIG
Ghost in the Shell: Solid State Society
Ghost in the Shell: Arise
Heat Guy J
Jin-Roh: The Wolf Brigade
Mardock Scramble: The First Compression
Mardock Scramble: The Second Combustion
Mardock Scramble: The Third Exhaust
Mezzo
Mezzo Forte (ova)
New Dominion Tank Police
Parasite Dolls
Psycho Pass
Real Drive
Serial Experiments Lain
Spriggan
Texhnolyze
Vexille: 2077 Isolation of Japan
Manga:
A.D Police
AKIRA
Appleseed
Battle Angel Alita
Black Magic
Blame!
City of Darkness - (ongoing)
Dorohedoro
Eden: It's an Endless World
Geno Cyber
Ghost in the Shell
Ghost in the Shell 2 Man-Machine Interface
Ghost in the Shell 1.5 Human-Error Processe
Legen of Mother Sarah
Noise
Comics/GNs/Bande Dessinée:
Automatik Kilombo
Avatar (3 volumes)
Bubblegum Crisis
Cyberella
The Dirty Pair
Ficcionario
Hard Boiled
The Monster Tetralogy
Judge Dredd (2000AD)
The Last Days of American Crime
Neurotrans
The Nikopol Trilogy
Ranx

(Formerly known as Ranxerox)

Ronin
Robocop
The Surrogates
Narcopolis
Vampi
Gipsy
Zhong Guo
Last edited: