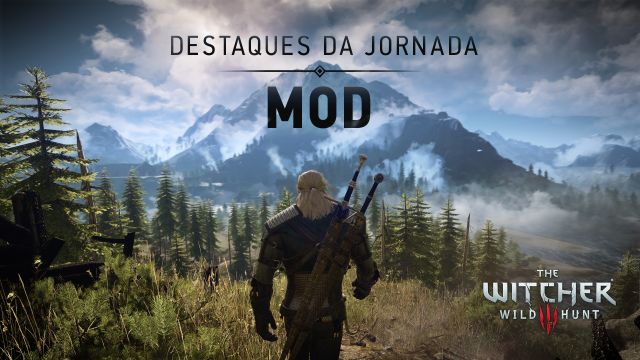 Neste mês de maio, celebramos dois aniversários: 10 anos de The Witcher 2: Assassins of Kings e 6 anos de The Witcher 3: Wild Hunt. Decidimos usar esta ocasião para celebrar VOCÊS - nossa comunidade e suas criações incríveis.
Por último, mas não menos importante, destacamos alguns mods incríveis feitos para os jogos de The Witcher!
Texturas de alta definição para The Witcher.​
Este mod de The Witcher inclui interface redesenhada, retexturização para vários personagens, uma nova armadura, novas cenas com Dandelion e muito mais.​
Um modo de história de detetive noir para The Witcher.​
Melhor textura de ambiente para The Witcher 2.​
Este mod de história inacabado para The Witcher 2: Assassins of Kings apresenta várias horas de jogo e diálogo únicos. Ele foi criado por Philipp Weber, atualmente nosso Designer-Chefe de Quests, que foi contratado pela CD PROJEKT RED antes que pudesse terminar o mod. Uma das missões planejadas e que nunca viu a luz do dia acabou na expansão Blood and Wine de The Witcher 3: Wild Hunt. Qual, você pode perguntat? Aqui vai uma dica: Beauclair, uma artista inspirada, e Geralt nu!​
Farewell of The White Wolf é um epílogo da história apresentada na série The Witcher, criada na engine de The Witcher 2: Assasisins of Kings, contando a história do casamento de Geralt e Yennefer.​
Aumenta a qualidade dos rostos dos personagens em The Witcher 3.​
Muda os tipos de grama em Pomar Branco, Velen, Skellige e Kaer Mohren em The Witcher 3.​
Ajusta a iluminação em The Witcher 3.​
Este projeto visa melhorar os gráficos de The Witcher 3, retrabalhando modelos e texturas para melhor qualidade, preservando o estilo original.​
Escolhemos apenas dez, mas estes não são todos os mods - se incluíssemos mais, este post poderia durar para sempre! Vemos e ouvimos vocês, então, se quiserem compartilhar suas criações conosco, sejam mods, cosplays, fanarts, vídeos ou quaisquer outras coisas relacionadas aos jogos The Witcher, nos envie pelo e-mail
fanart@cdprojektred.com
e podemos apresentá-las em nossos canais de mídias sociais.