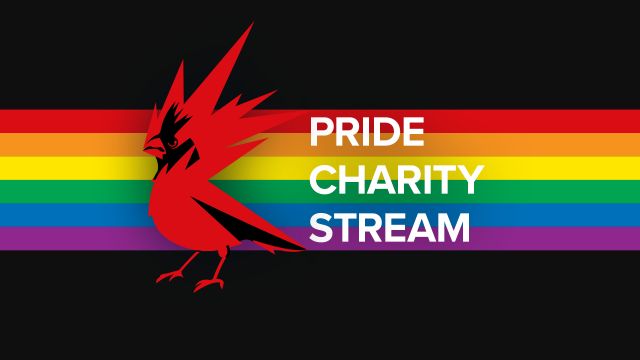 Liebe ist stärker als alles! Um den Pride-Monat zu feiern, veranstalten wir einen Spenden-Stream auf unserem
Twitch-Kanal
— und zwar diesen
Freitag, 18. Juni, von 9 bis 22 Uhr MESZ
. Neun unserer Team-Mitglieder werden über den Tag verteilt unsere Spiele streamen, und dabei Spenden für die wohltätige Organisation KPH sammeln.
Kampania Przeciw Homofobii
(Kampagne gegen Homophobie) ist eine polnische NGO, die sich für Mitglieder der LGBT-Community und deren Familien einsetzt und ihnen soziale Hilfe bietet und rechtlichen Beistand leistet.
Unsere Streamer spielen für euch am Freitag The Witcher, The Witcher 2: Assassin of Kings, The Witcher 3: Wild Hunt, GWENT: The Witcher Card Game, Thronebreaker: The Witcher tales und Cyberpunk 2077. Wir würden uns über jeden Beitrag freuen, der für einen guten Zweck geleistet wird.
Wir freuen uns sehr, dass wir Spenden bis zu einer Gesamtsumme von 50 000 PLN verdoppeln werden. Wenn ihr dabei sein wollt, schaut auf
unserem Twitch-Kanal
vorbei!
Hier ist der detaillierte Ablaufplan des Streams (alle Zeiten in MESZ):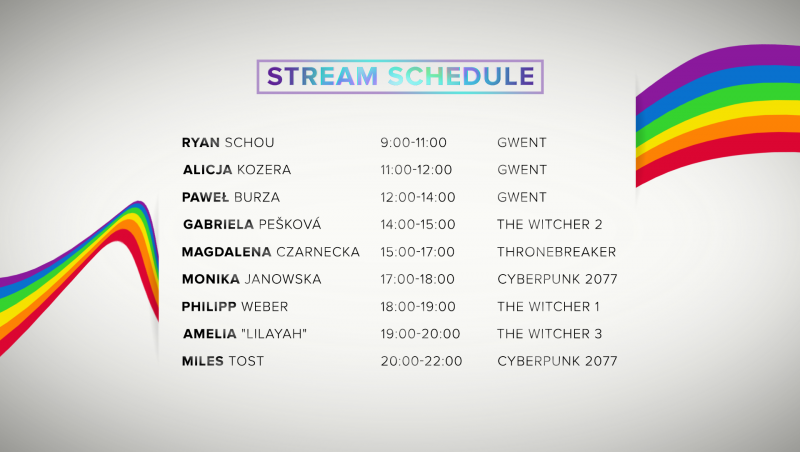 Wo und wann wird der Stream stattfinden?
Der Spenden-Stream findet am Freitag, 18. Juni, ab 9 Uhr MESZ auf dem offiziellen Twitch-Kanal von CD PROJEKT RED statt.
Wer wird am Stream beteiligt sein?
Der Stream wird von verschiedenen Mitarbeiterinnen und Mitarbeitern von CD PROJEKT gehosted: Ryan Shou, Alicja Kozera, Paweł Burza, Gabriela Pešková, Magdalena Czarnecka, Monika Janowska, Miles Tost, Philipp Weber und Amelia Kołat.
Welche Spiele werdet ihr streamen?
Wir streamen GWENT: The Witcher Card Game, Thronebreaker: The Witcher Tales, The Witcher, The Witcher 2: Assassins of Kings, The Witcher 3: Wild Hunt und Cyberpunk 2077. Den Ablaufplan findet ihr weiter oben.
Wohin geht das gespendete Geld?
Die Spenden gehen an Kampania Przeciw Homofobii (Kampagne gegen Homophobie), und sind Teil unserer Unterstützung für den Pride-Monat.
Wie funktioniert die Verdopplung der Spenden?
Wir werden jede Spende aus unserer Community verdoppeln, bis zu einem Gesamtbetrag von 50 000 PLN. Das bedeutet, dass wir insgesamt 100 000 PLN an KPH spenden werden, sollte unsere Community 50 000 PLN während des Streams spenden.