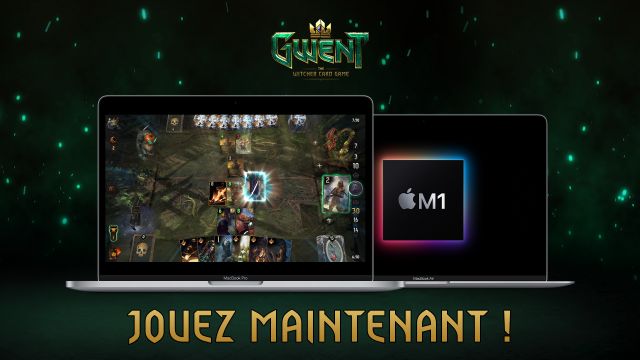 L'attente est terminée. GWENT: The Witcher Card Game est désormais disponible sur macOS, compatible avec la puce Apple M1 !​
La version macOS du jeu comprend les fonctionnalités de jeu multiplateforme et de synchronisation avec d'autres plateformes prises en charge : PC (via GOG.COM et Steam), iOS et Android.
ÉCHØP LE TROLL PRÉSENTE​
OFFRES TEMPORAIRES EXCLUSIVES​
PACK DE DÉMARRAGE ULTIME À -30 %​

​

​

​

​

​

​

​

​

​
Ce pack vous permet d'étoffer rapidement votre collection et de constituer un jeu puissant qui fera des ravages pendant vos parties.​
PACK DE SORCELEUR À -30 %​

​

​

​

​

​

​

​

​

​
Cédez à la curiosité et découvrez une belle quantité de cartes premium de la nouvelle extension de GWENT, Way of the Witcher.
Offres temporaires, en exclusivité sur les versions macOS et iOS du jeu.
Télécharger maintenant