GWENT Open #5 - New Challengers approach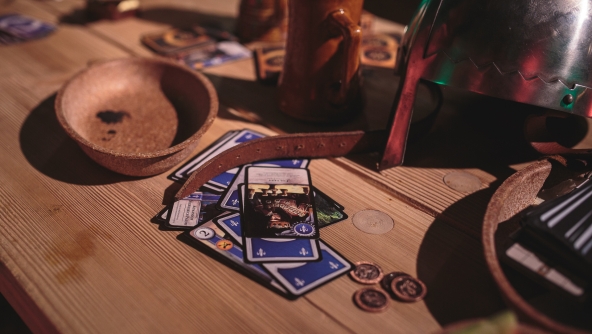 by David "Panda" Gil Nolskog​
The fourth season of the GWENT Masters Pro Ladder Circuit ended just a few weeks ago and GWENT Open #5 is upon us. Seasoned veterans make a welcome return to the main stage but the tournament also introduces new competitors, ready to prove they belong among the elite GWENT professionals. The rivalization is on! A sizeable prize pool and ever-so-valuable GWENT Masters Crown Points are at stake!
Let's talk briefly about the participants. Hanachan and TailBot were both performing exceptionally well in GWENT's most recent esports events. Damorquis and ProNEO hope to improve upon past performances and fight for championship. But there are others. Four new challengers aim to upset the balance of the GWENT competitive scene. Huanshi is the second Chinese player to qualify for a GWENT Masters event, hoping to emulate Hanachan's prominent performances. Nujwk introduces yet another European powerhouse into the mix, representing Spain for the very first time in the official competition.
Finally, we have Fanderman and AndyWand, coming from Poland and Germany respectively. I had a chat with both players, taking a bit of time off their busy schedules of tournament preparations and extensive practice. I found out about their stories, their aspirations, and the methodology they employed throughout the Pro Ladder season to try and make it among the very best. What they told me is what I'd like to share with you.
The Polish Underdog
After a close attempt in season three, Fanderman has finally made it to the big stage. Adzikov and TailBot have already cemented Poland as one of the strongest countries of the GWENT scene. Fanderman hopes to propel them even further. Already experienced in gaming on a professional level, having previously competed in League of Legends, he was eager to transfer his determination and skills into GWENT. Fanderman's journey started right as Open Beta released. Originally, he had no intention to truly commit to playing the game at a competitive level. He played fun decks and climbed the rank ladder, but was quickly found himself at Grandmaster simply by playing subpar decks. A switch flicked in his head — he realized how proficient his play really was and was determined to make a serious assault on the Pro Ladder. This Polish player finished 13th in his first ever Pro Ladder season, signalling from early on that he had both perseverance and skill necessary to compete for the top 8. Having his first brush with the Pro Ladder allowed him to improve his knowledge of all deck archetypes and factions, and further convinced him he had a high chance at cracking the next season top 8 if he fully committed to the idea.
Fanderman was able to close out season four of the Pro Ladder on an impressive third place, finishing with 5,809 MMR in one of the closest seasons to date. Fanderman's crazy rise near the end was mostly due to the 100 fMMR points he gained on his Monsters fMMR after taking up a Consume deck in favor of a Sabbath archetype. Unlike many other competitors, Fanderman's techniques when approaching the start of the season are quite unique and he sizes up the challenge of finishing top 8 in a very different manner. "People generally believe you should play 100 placement matches with each faction first and then continue climbing with the lowest faction of the four. I think that's exactly what you should not do" he said when questioned regarding his approach to laddering. He claims you will need at least two factions over 1,450 fMMR for a top 8 finish, and it's best to play a faction extensively until you achieve said goal. "There's no point in stopping with a faction until I achieve my fMMR goal. That way I'm able to truly master a specific deck and have all the matchups fresh in my head as I play" he said. For Fanderman's season four attempt, he relied heavily on the one thing that couldn't deceive him — numbers. Using winrate stats from specific deck archetypes and card deck choices, Fanderman was fine-tuning his decks daily to counter the meta and get the best results possible. For the most part, he operated as a lone wolf — making his own decklists and rarely discussing strategy with other top players.
With his spot secured for GWENT Open #5, it was time to focus on a completely new aspect of competitive GWENT — tournament preparation. In the days following the end of the season, Fanderman joined Topdeck's competitive team. Alongside established players like Kolemoen, I_aPOROgise and the rest of the tight knit team, they worked behind the scenes, going over matchups, statistics, and past tournaments. "The general strategy was to analyze previous tournaments. We tried to find specific patterns: what decks were brought, why specific strategies were successful. Then we try to emulate it" he said. Once the theory was revised, it was time for scrimming specific matchups and grinding Pro Ladder, whilst trying out different deck variations. Fanderman seems grateful for extra support in the tournament preparation. The change from his solo play to team preparation also allowed him to test himself against skilled practice partners, like Kolemoen, in a more controlled environment.
Fanderman is ecstatic to prove his worth in the upcoming tournament. As an avid gamer and an esports enthusiast, his true dream is to work full time in the pro gaming scene. Now he has a golden opportunity to do so. He believes the GWENT Masters Circuit has an incredible player support structure — if you have the necessary skill and put in the work, you'll be rewarded with a sustainable profession. After the huge amount of time he's invested trying to carve out a career within GWENT's competitive scene, he defends it as one of the best he's seen, especially in terms of feeling taken care of. For Fanderman, balancing pro play and his second year studying computer science is not an easy feat, and he confesses his performance in GWENT Open #5 will have a vital importance in deciding his future.
The Last Minute Miracle
AndyWand is no stranger to competitive GWENT. Unlike most newcomers to the official GWENT Masters Circuit, he's already experienced what a main event has to offer: the tough competition, the nerves, and the focus required to come out on top. Ilias "AndyWand" Karamanis joins a lineup of participants from an already well-represented country on the GWENT esports scene — Germany. The player states his evolution since his debut at GWENT Slam #2 is formidable, and he hopes to put on a much better show this weekend, during GWENT Open #5.
AndyWand's last minute climb secured him the very last qualification spot for the GWENT Open #5. He couldn't be happier — it took a lot of hard work. Many would have given up altogether, but this player's determination and resilience shone through, beating out 9th place Nujwk by a single point — truly a fitting, and very emotional end of season for AndyWand. Most players play by the numbers, analyze stats, and try to rationally give themselves an edge, but AndyWand has a very different approach to the Pro Ladder grind. He plays what he feels like playing, when he feels like playing it. He defends that playing comfortably will give you an edge in the end, and although he has made changes and professionalized his approach when comparing to GWENT Slam #2, he still believes in making some decisions that simply feel right.
AndyWand's tournament preparation has changed drastically though, he confesses. "It was a different time back then, in GWENT Slam #2. I was the real new kid on the block, definitely one of the worst players on the stage. I wasn't consistently playing at top level like other Pro Ladder players. One weekend, I had a good run through the online qualifiers and suddenly found myself playing in Vienna against some of the best players in the world". For GWENT Open #5, he has a different outlook altogether. He states there's an equal playing field, and he has the resources to truly prepare, unlike GWENT Slam #2. Ilias believes TailBot, the Chinese players and his teammate Damorquis, will be extremely tough to beat, but his goal is clear: to win and prove his competitive outlook has changed drastically in the past few months.
AndyWand's biggest problem going into GWENT Slam #2 was his lackluster preparation. As a new kid on the block, he had little contact with some of the top players, and no real chances to discuss strategy or practice matchups through scrims with other high level players. This time around, all of that has changed. AndyWand is now part of one of the strongest competitive organizations in GWENT, Team Aretuza, and this gives him the resources necessary to make a run for the money. Once again, Team Aretuza is greatly represented at GWENT Open, with Damorquis making a repeat appearance and AndyWand taking the place of Ibdutchboy. Both players have a dedicated group of people behind them, discussing strategy, analyzing matchups and creating the most ideal deck compositions possible going into GWENT Open #5. "Team Aretuza has greatly helped me to improve. I take a lot more time now when playing and don't make as many impulsive decisions" he states. Not only was the preparation better, the team has also helped AndyWand with motivation, being a decisive factor in convincing him to truly commit to GWENT and leave his university studies behind for a little while.
Although Ilias is definitely more prepared, a tough tournament lies ahead of him. "As I mentioned before, the guys I have the most respect for in the tournament are both Chinese players, Hanachan and Huanshi. They're not scared of bringing riskier lineups, unlike most players. Even I fear them a bit." From the last tournament he attended, viewers remembered AndyWand for his contagious smile as well as upfront answers during interviews. This has not changed. "I also don't want to face TailBot as he's a great player, and especially not my teammate Damorquis, otherwise he would have to leave in the first round" he jokes. GWENT Open #5 is yet another opportunity to prove AndyWand means business.
Will Fanderman show that Poland is no short of great players? Will AndyWand's improved preparation and focus propel him to a championship victory? Find out this weekend at
twitch.tv/cdprojektred
, starting today at 4 PM CEST!