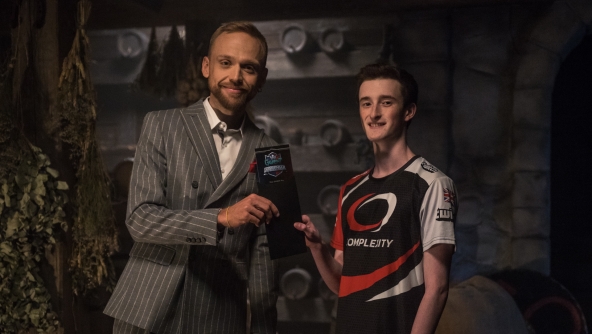 by Alex "sprackles" Sprackling
​

​
MegaMogwai put it perfectly. This was the send-off for "Vintage GWENT". And what a send-off it was! The seventh GWENT Open would mark the end of an era for a project that has left such a profound effect on so many. But before we "come home", let's look back at eight players who over the weekend, and for one last time, were battling it out for a $25,000 prize pool.
kacper322 vs. GameKingAT
Day One kicked off with kacper322 taking on GameKingAT, who was looking to redeem himself after an early exit from Challenger #4. The veteran of GWENT had fallen short to TailBot, who defeated him in a tight 3-2 set. This time, the young Austrian was soft-targeting Alchemy Nilfgaard, which his opponent had brought. Their first game was Alchemy vs. Veteran Skellige. Kacper looked set to steal a win with his reverse Petrify draw — an old phrase that Merchant coined for somebody who draws all their Golds. Even an unlucky Vicorvaro Novice pulling him two dead Ointments didn't stop kacper322 from securing the first game. Despite this, a poorly timed Dijkstra on kacper's part saw GameKing winning the fifth game.
TailBot vs. Adzikov
Next up came a Polish Civil War, an auto-include for most GWENT tournaments! Challenger #3 champion TailBot rivaled Adzikov, the undisputed king of Pro Ladder, who had brought a line-up geared towards beating Consume Monsters. They opened with Crach An Craite taking on a spicy Dagon Sabbath list. Both players were in top form and ended up at a tie to force a re-game, which TailBot won. He looked to be in 3-0 territory but Adzikov was able to recover and perform the reverse sweep with a clutch Miruna (Succubus) play. The king of Pro Ladder had proven that TailGod himself can be targeted. It just took six games to do it!
Freddybabes vs. Nujwk
Legend has it that if we "try-hard" too much, Freddybabes is summoned to provide some much needed meme relief. The notorious British player made his return to live GWENT — his first appearance since Challenger #3 — with his devoted partner in tow. That's right, Lambert was back with a vengeance! This iconic duo took on Nujwk in yet another tight set of five games. The first game saw Freddy with some bad draws that couldn't make full use of his gold weather and it looked to be early doors for the returning champ. However, in an emotional game four, Freddy calculated his Aglais perfectly and was able to secure his comeback. He went on to win 3-2.
kams134 vs. radu.andrada
The final set of Day One was a GWENT Open first, with radu.andrada — the first woman to qualify for a live GWENT event — taking on kams134. Their opening game saw Calveit taking on Foltest. Kams134 made good use of his Assire to shuffle back one of Andrada's Blue Stripes Commandos, which would later brick her Stennis and cost her the game. In yet another five game set, the final match saw Kams' Eithné list fall short against Andrada's Foltest. This was a deck she admitted to having a love/hate relationship with but one of these feelings prevailed and it was her love for Dijkstra that won her the day.
GameKingAT vs. Adzikov
On Day Two GameKingAT had a mountain to climb. Adzikov's line-up was geared towards defeating Consume and he began the set highly favoured. The Polish player had a solid opening with his Calveit against Arachas Queen. An early pass in round one prevented his Leader from getting banished and enabled him to set up a clutch round two Sweers. GameKing was able to secure one win but that would be it for the Austrian GWENT veteran. The final game saw Adzikov use his Muzzle to ensure his Priestess of Freya wasn't bricked in round three. He won 3-1, advanced to the finals and guaranteed himself a place at Challenger.
Freddybabes vs. radu.andrada
Freddybabes and radu.andrada were up next to fight for a place in the finals and the returning champion looked to have the edge over the online qualifier. That said, in an almost series-defining upset, Andrada was able to win game one in the Nilfgaard Soldiers mirror. Even Lambert couldn't secure Freddy the game and the Romanian won round three with a slightly strengthened Vicorvaro Novice. This blue coin victory set the pace for the next game and she could definitely pull off a 3-0 against the young Brit. However, Freddy is anything but a pushover and doesn't go down without a fight. With his pride on the line, he was able to make it to game five and successfully capitalised on Andrada's round one miscalculation. It was a glorious multiple Scorch from Schirru that secured him the win, but Andrada deserves huge props. Never underestimate the qualifier winner. I'm sure she will be back.
Adzikov vs. Freddybabes
And so it came down to this — Adzikov taking on Freddybabes once again. Over the course of GWENT's history, these two tyrants have clashed on several occasions. But there has only been one winner. Against all odds — bricked Kaedweni Cavalries included — Freddy has always come out on top. Therefore, was it any surprise that Adzikov was out for revenge?
Their first game was unshakable for Adzikov. His Imlerith: Sabbath proved to be as obnoxious as ever and just wouldn't leave the board. Freddy was unable to draw into his Vilgefortz to counter and his soldier tempo simply couldn't outclass this notorious Wild Hunt Gold unit. The Polish player and Pro Ladder king looked good to achieve redemption, but Freddy had other ideas. The CompLexity player showcased how powerful his weather-orientated line-up was against the unprepared and he secured victory in a 3-1 set. The final game saw Freddy use his Dagon list to outtempo Adzikov's Eithné Spell deck and win with a solid Cockatrice reset. This would be his third victory at a live GWENT Masters tournament. But commiserations to Adzikov — this is a player who has come a long way since the early days of GWENT Masters.
Fare thee well, Vintage GWENT. It's been not bad. Not bad at all.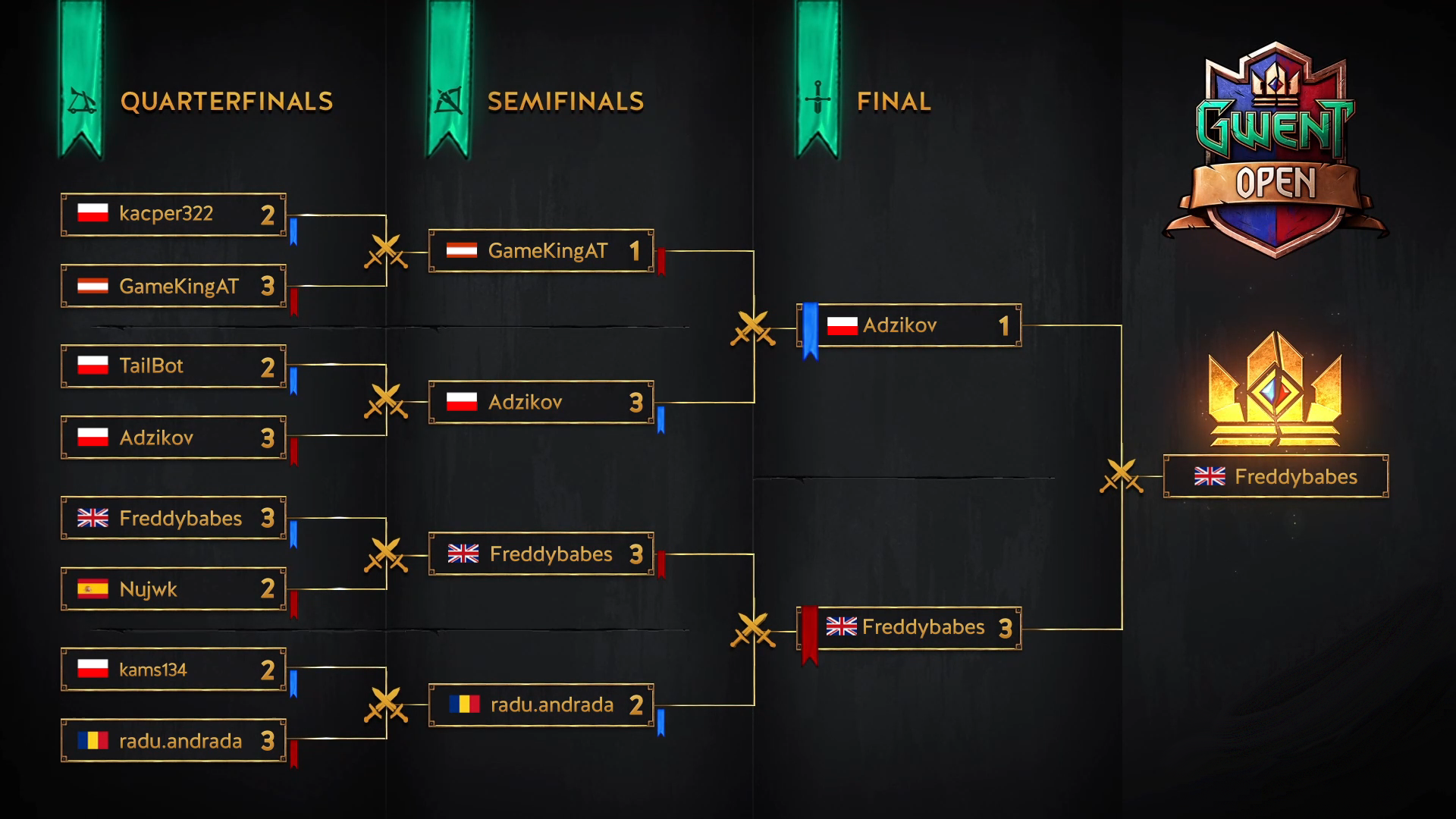 The final standings for the tournament:
WINNER
Frederick "Freddybabes" Bird (UK)
FINALISTS
Frederick "Freddybabes" Bird (UK) — $9,650
Andrzej "Adzikov" Bal (Poland) — $4,600
SEMIFINALISTS
Andrada "radu.andrada" Radu (Romania) — $2,800
Raffael "GameKingAT" Iciren (Austria) — $2,350
QUARTERFINALISTS
Damian "TailBot" Kaźmierczak (Poland) — $1,400
Mikel "Nujwk" Besga Aristizabal (Spain) — $1400
Kacper "kacper322" Sobkowicz (Poland) — $1400
Paweł "kams134" Skoroda (Poland) — $1400