Good interview composed of three sessions. I translated the most parts.
Episode 1
・・・​
▶︎ A brief history of Hiroshi Sakakibara currently working for CDPR as an Environment Artist: (1:06-)​
Majored in Western history, Kyoto University, Japan; His research theme was "Trade in the Indian Ocean.
Graduate school research on Africa. Conducted field research on architectural decoration in Tanzania.
Began working as a CG artist for a game company (2K Czech) in the Czech Republic. (2012-)
After living in the US for a while (for transferring to Hangar13), moved to CD PROJEKT in Poland (2017-)
Q: Why did you decide to go into the game industry when you studied Western history at university? (
1:11-
)
I've always liked drawing pictures and building model kits since I was a child. At the same time, I was also interested in history, so I went into that field at university, but while I was still in uni, came to think about doing actual fieldwork, not just historical research, so I decided to go to Africa during graduate school. The destination was Zanzibar Island in Tanzania, a trading city crowded with people from Africa, India, and the Arab world. It was a city where wealthy merchants had a tradition of decorating the front doors of their homes with gorgeous wood carvings, and many of these decorations still exist today. In order to study the local architectural decorations and find out how the locals made their designs, I apprenticed myself to local craftsmen and worked with them to actually make doors on my own with chisels. As I did this, I began to realize that I preferred to make things myself.
Also, one of my friends from uni was a big FF14 fan, and when I watched him play, I had a feeling that game environment design was so amazing, which was connected to my experience in Tanzania, and I finally came to the conclusion that making game background would be the best for me. After that, I decided to start studying not only CG but also painting again, which was always my favorite since I was a kid. Then, I put together a portfolio of my work and sent it to a game company, which led to my being hired.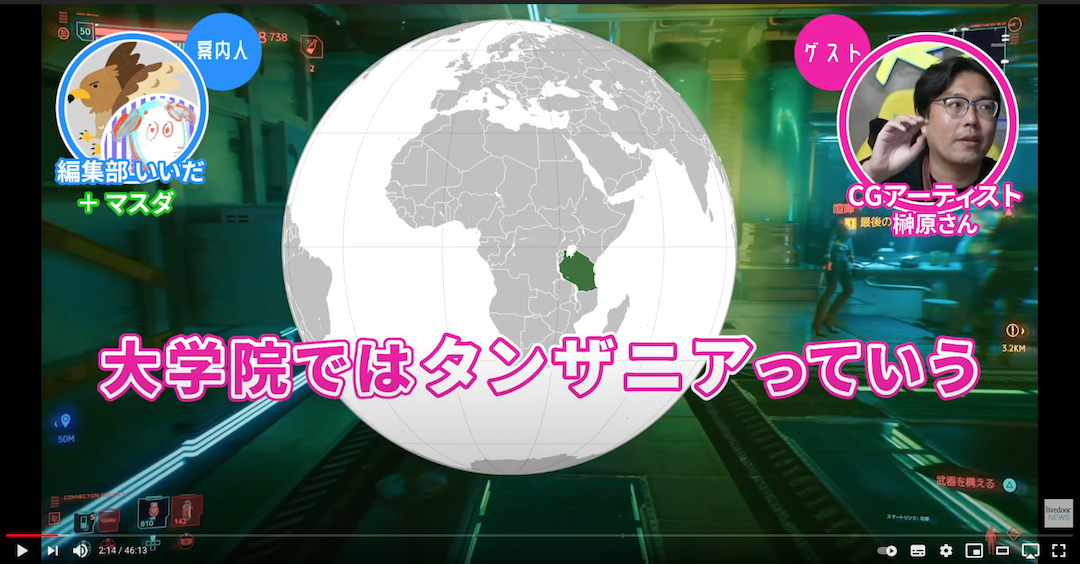 Q. Is it possible to get hired even if you have no experience in the game industry at all? (
4:24-
)
That was not the case for me, and of course it will be different for companies that need people who can work immediately. One thing I can say is that some kind of ability like "drawing pictures" is one of the highly valued skills in the CG industry because even if you learn the software to make CG, it is meaningless unless you know what kind of pictures are cool. If a person who wants to go into the CG industry in the future has a special skill such as "drawing cool pictures" or "making cool models", then it can be said that (s)he already has enough qualities to enter the CG industry.
Q. What kind of study do I need to do to become a CG artist? (
5:16-
)
It doesn't matter if it's painting or 3D. I think it is important to have the skills to create something "cool" by yourself, whether it is pictures, models, or anything else. Just learning CG software is not good enough; there must be a lot of people who are hired without it. At least in my case, the drawing skill helped me in my career.
Note: If you want to know more about Mr. Sakakibara, his twitter is here.
Also, I recommend this page, which is in Japanese ofc, but I think Google translation is good enough to understand.
・・・​
▶︎ Afterlife(7:13-)​
Since the Afterlife was a converted mortuary to bar, the morgue tables are still in use, and the many grooves on the floor are probably to drain something (like blood) from the corpses. Underneath the table, there is a sign that reads "Wear Protective Equipment," which is probably another remnant from the days when they used to treat contaminated corpses. It might be fun to have a drink at a table like this, though I'm not sure if the sterilization process is thorough in Night City [laugh]
.
Probably the gutter on the table (
8:55-
) is for the drains too; it was pretty depressing for us at the time because we had to look at all sorts of authentic photographic materials when we built this place [laugh].
Q. Where do you get such photos? (
9;20-
)
I usually search the Internet. I don't use them as they are of course, but search for images on Google as a way of collecting materials. I also use Pinterest a lot because it's very useful. If the game is set in the Middle Ages, like The Witcher Series, I would use books on medieval architecture, but in cyberpunk, there are many reference materials scattered all over the Internet.
Q. Where do you get your inspiration? (
10:46-
)
It varies. Not to mention the original 2020, but in some cases, each concept artist and 3D artist find materials on the internet and incorporate cool shapes in their work. And of course, a lot of devs like AKIRA and Ghost in the Shell, so they are often inspired by that.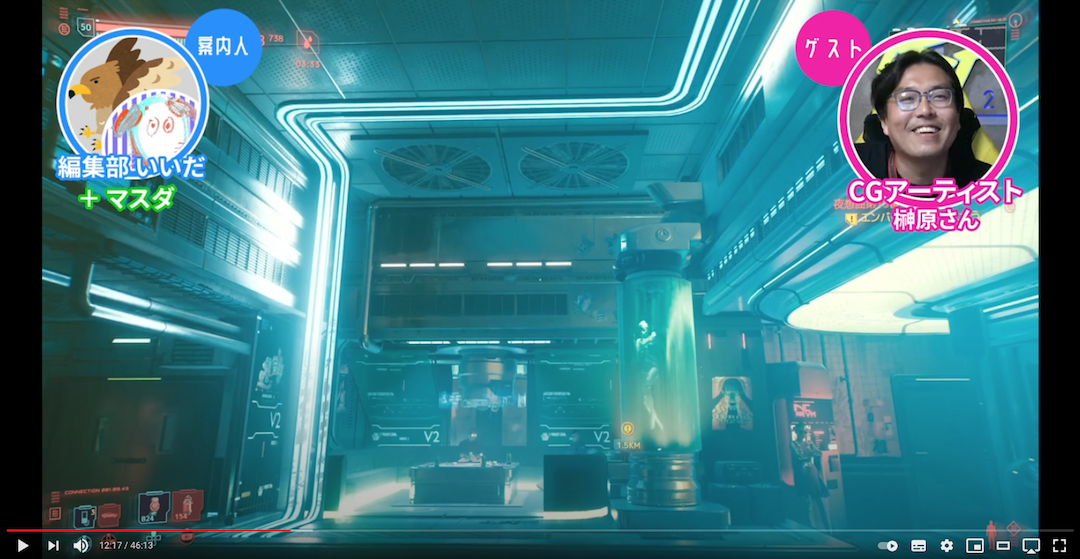 Q. Who decides on the lighting design and at what point in the development process? (
11:35-
)
To some extent, the direction of the design is decided at the stage of concept art. However, as development progresses, we all make changes little by little, so someone sneaks in from time to time and changes something, like "I think this is better!"
For example, the lighting in the Afterlife was done by a 3D artist, a colleague of mine, who was committed to it and made many changes to improve the quality. That's why some parts have changed from the original concept art. We also have a lighting team that specializes in placing the lights, and they make further changes to the placement of the lights every now and then. All these works add up to the final product of the Afterlife.
Q. What's the significance of the lighting in the Afterlife restroom? (
12:59-
)
Not sure. I guess… the lighting artist decided to make it this way? I don't know [laugh].
In any case, there are four different styles of restrooms in Cyberpunk 2077. Of course, this is not limited to restrooms, but it's a whole
concept
that runs throughout 2077. That's why there are four different designs for smartphones, vending machines, and even toilet bowls. When it comes to restrooms, The Afterlife is Entropism style. The Konpeki Plaza, on the other hand, is Neomilitarism.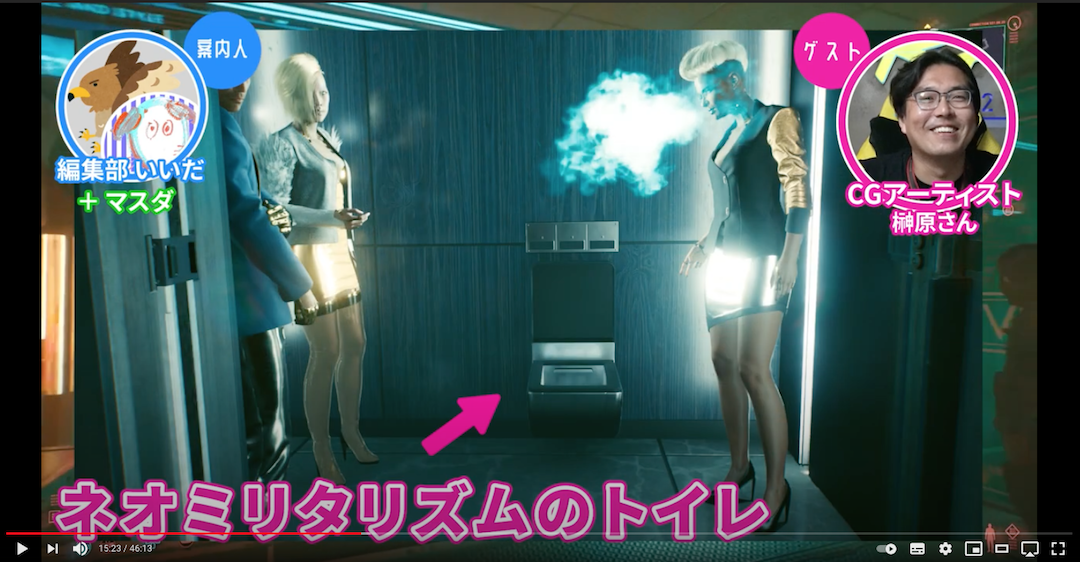 Q. A lot of stickers on the tables, walls, etc. are put up by each person as they please? (
15:24-
)
Well, yes. The 3D artists in charge just put them up.
By the way, the image data for these stickers and posters is very big. On the other hand, when it comes to objects such as concrete or steel plates, we only need to repeat images (called "tiling") with a size of, e.g. 2m x 2m, so even if there is a 10m pillar, the texture image data is only for 2m. Stickers, on the other hand, have a different design for each one, so they eat up a lot of memory. That's why programmers get very angry when we put up a lot of stickers and posters. From our point of view, "I want to put up lots of different kinds of posters to make it more lively!" But sometimes we are forced to remove stickers to reduce the number of textures [laugh]. The Afterlife has quite a variety of stickers, but that's only because the programmers worked hard to make it possible.
CG is basically made up of "models" and "textures". A model is a 3D representation of a shape, which image data is not as big as texture data. Even textures won't be a problem when they can be used repeatedly, such as wall tiles, but since Cyberpunk 2077 has a ton of textures with individually different designs like stickers, which causes so much data, it's hard for us. From an art director's point of view, "This place needs to be filled with more graffiti!" But if the programmer says, "You're going to get in trouble if you do that", then both parties have to find a happy medium.
The tunnel to the Afterlife (
22:19-
)
This back alley leading to the entrance of the Afterlife was added towards the end of the development. Initially, we had to take a detour from V's home to reach the Afterlife, but after receiving requests from level designers and quest designers that the Afterlife was visited so often that it had to be easily accessible, we decided to renovate the building and add the tunnel later.
・・・​
▶︎ Corpo Plaza (25:12-)​
Q. Will there be any inconveniences when the teams in charge of each area create their own maps and combine them at the end? For example, roads and streets sometimes don't fit together as planned? (
25:52-
)
It does happen sometimes. However, the Night City in this game is basically a collection of modules, and the buildings themselves are made up of many small parts as well. For example, if we assemble a building with a 6m wide by 4m high wall piece, and want to expand it later, we can do so easily by adding one more piece, just like LEGO blocks. The same goes for roads and sidewalks, which can be quite flexible in various forms.
Another way to create an open world game - which varies from project to project and company to company - is to model the building itself as a single unit (not as LEGO blocks as we do). For example, from what I've seen from the outside, Rockstar Games probably uses that method (GTA, RDR) . I guess that's the way that best fits their art direction and their idea of what kind of city they want to create. This time we needed to build a diverse and flexible Night City, so we decided to develop it in a modular way.
Q. From a game developer's point of view, what aspects interest you when you play other developers' games? (
28:22-
)
The first thing that catches my eye is the repetitive patterns. For instance, when I see the marble texture used in the staircase (
28:45-
), I wonder how this texture is used repeatedly. By understanding this pattern, I can estimate not only which parts are reused, but also the border and even the image size of the texture.
As I mentioned before with the stickers, image data is big, so repeated use of textures is an inevitable part of game development, but how often are they reused? Also, texture repetition is particularly noticeable in roadways. In those cases, sometimes another texture is added on top of it. We use a variety of techniques in this game of course, but how do other games hide it? There are many ways.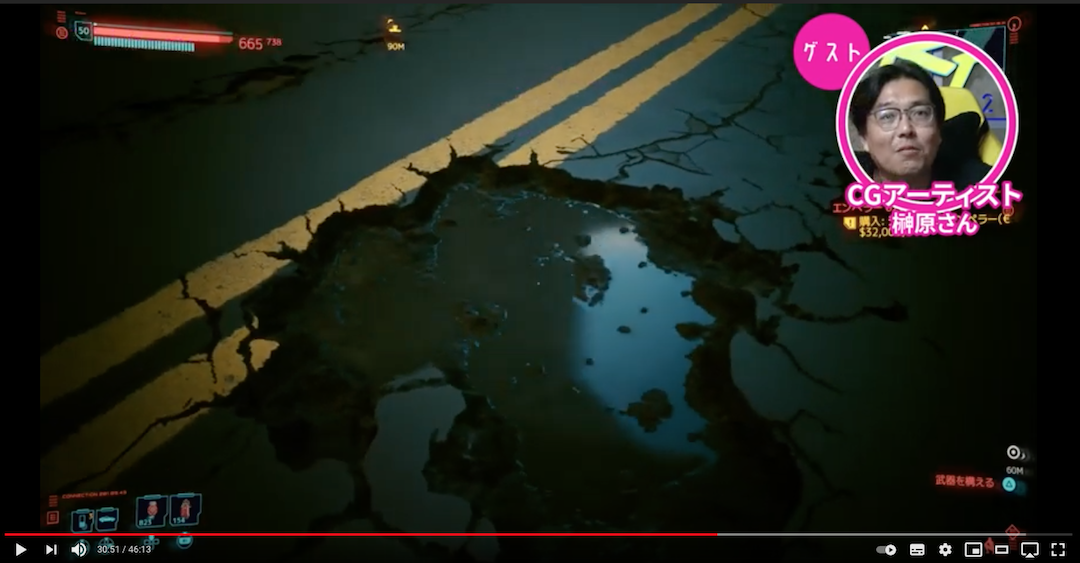 For example, the crack in the asphalt that you see now. That's called a decal, which is applied over the top like a sticker. On the polygon, it is completely flat, but using the latest technology (like
parallax mapping
), it gives you the illusion that it is really uneven.
Q. No matter how I look at it, it looks like it is concave...
In fact, it is not concave at all. It is completely flat. This decal is pasted on top of the asphalt texture that was originally there to hide the repetition of the texture.
Anyway, that's what I can't help but pay attention to the other game, How do other developers hide text repetition so that the player doesn't notice it? How do they try to make changes in the repetition? That kind of thing.
・・・​
▶︎ Designers VS Artists (33:54-)​
In game development, this kind of exchange often takes place between the designers, who work hard every day to make the game play more interesting (such as a level designer and a quest designer), and the artists, who are mainly in charge of the game's appearance (such as an environment artist and a character artist):
For example, do you know why this traffic light pole is so thick? There are two reasons.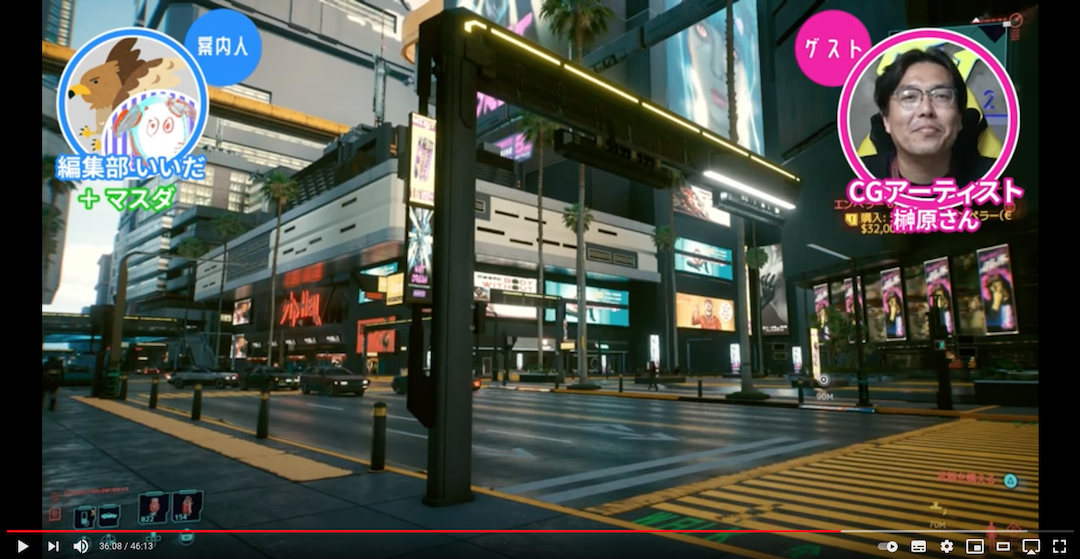 Because when the player is driving, we need to make him/her sure that "this traffic light will not break". In order for the player to be able to judge in an instant that it is unbreakable, it must not be halfway thick. That's why the designer must demand that the artist make the traffic pole thick enough to appeal to the player that it is unbreakable. Even if the artists think that such a thick signal is unnatural, they have to design it in a cool way within those constraints.
Another reason is that the player must be able to instantly determine whether or not (s)he can take a cover position with that object.
This criterion exists in all shooting games with cover actions, and they usually have a restriction such as "objects in which the player can take cover need to be at least one meter wide" (the number varies from game to game). If an object is slightly less than one meter wide, we can't make such a pole because the player won't make sure if it's available or not to take cover. On the other hand, if the pole is less than 40cm, it's fine because the player will understand immediately it won't be the place. Even if the artist thinks that "this traffic light with 80cm wide pole would be the best", it's very common that the pole has to be either 1m or 40cm. (in this case, there is no pole in the game that is less than 1m and more than 40cm)
These restrictions exist not only in the width but also in the height, so the height of all objects that can be covered is set to "the perfect height" so that the aiming point is slightly above the object when the player aims. All these settings, which are designed not to interfere with the gameplay, are all thanks to the level designers.
It can be said that a large part of the work of an environment artist is to take into account the constraints of shape, height and width, and then make it look natural and realistic within those rules.
Last edited: