Media has been touting that CDPR is in serious trouble only selling what some have estimated in around 1 million games during Q1.
Is this bad? Lets compare to GTA 5 sales in 2013.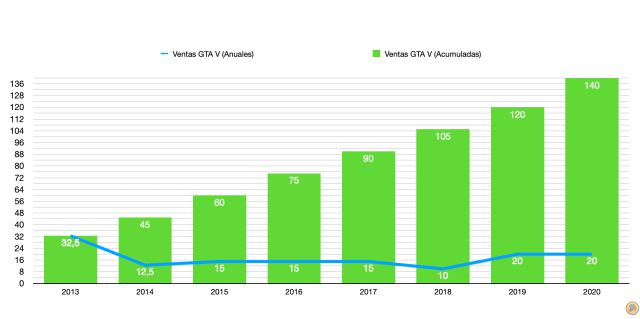 GTA 5 sold approximately 32.5 million units in year 2013, after being launched September 17.
There were news GTA 5 sales were in
1.0 billions in earnings
in just 3 days after launch and
according to some statistics I was able to find
, the average earning is
36 dollars for 60 dollar game
. Assuming GTA 5 sold in 4 weeks over 1 billion profits we can estimate 28 million copies being sold in Q3.
Q4 GTA 5 sold 4.5 million copies.
But remember that December is Christmas holidays.
So we can estimate from remaining 4.5 million sales. November and December amounted to 3 times regular sales of normal month, thus
6/7 of sales came from 2 months of red spike
, in normal month after release of GTA 5, the sales could be 4.5mil/6 = 750 000 units.
Thus, on
a non holiday season
GTA 5 would have sold 2,25 million units in a quarterly earnings after its initial sales peak.
Now Cyberpunk 2077 sold initially 13.7 million copies.
13.7 million / 28 million = initial sales difference multiplier with GTA 5 is
0.4893
Of course that multiplayer was only relevant
IF
we can assume that consumer enthusiasm didn't change in first Q1 (which we could easily argue being the case since there wasn't large gameplay improvements apart from old consoles crashing reductions and improvements, not a lot of features got really fixed in large scale). There could have been enthusiasm to buy the game old base gen consoles when 1.1 rolled out, but Base Gen players probably amount to 5-10% of total CP playerbase (as if I remember correctly something like 83% was for PC). But for argument sake lets say enthusiasm toward the game was exactly on same levels.
Cyberpunk should thus sell 2,25 mil * 0.4893 = 1,10 million units, which seems a bit lower than what was estimated.
So it really isn't
that bad
earnings for Q1. It's slightly below expectations but considering the reception and how little visible improvements was made, it's on that range. CDPR certainly has long way to convince gamers that the game is going to be as polished as Red Dead Redemption 2 as they have touted. You could expect then consumer enthusiasm increase as the game starts to appear more "finished" and AI, Traffic and Police get upgraded, new DLC content gets upgraded etc.
But even if nothing got upgraded, the game would still likely keep selling 900 000 units per quarter, making it 300 000 a month, and with the 16 month math (10*1 regular month sales + 3*2 for the red month sales) ~= 5 million copies a year.
If using the GTA 5 sales on 2014 where they made 12.5mil, that multiplied by 0.4893 you get 6.115. So in both situations below 20 million in total IF NOTHING GOT CHANGED.
-- Another topic --
There was also same thing when it came to multiplayer. A ton of media platforms just intentionally lied to their audience and told CD Projekt is going to cancel multiplayer.
This news is from
TechRadar
:

There are people in media who use these stories to make vastly disinformative claims, even if it's by accident.
CDPR's own Job Offerings website has Multiplayer Cyberpunk 2077 recruitment OPENLY going on, and they've stated in past call that they've had this going on at least 2 years with a small team. Nowhere they've ever stated them abandoning the multiplayer and yet these "news" websites claim "maybe CDPR is going to just leave Cyberpunk world behind".... what? What gave you that idea?
-- Another topic --
Some news medias paint pretty apocalyptic picture of any kind of staffing change when it comes to CDPR, strangely.
CDPR has over 1000 employees. On any given year,
even if everyone working from day they were born
,
to day they would die,
12.5 people would still "quit" the company every single year... assuming life expectancy was 80 years for Polish people and everyone in their staff falls equally in each age category.
Nowadays I have hard time trusting anything I don't hear from TRUSTED news source that doesn't speculate on rumors. Just too many clickbaiters.
And so tired of this constant unwarranted baseless bashing just because it became popular.
Last edited: