Hello, fellow GWENT players!
There are some cards in the game that cannot be transmuted, and questions about such cards pop up every once in a while. Usually in the form of bug reports.
This thread is meant to not only be informative but also reduce the number of such (Technical) threads.
In short, cards from starter sets and Thronebreaker cannot be transmuted. These cards can be identified by the crown and lion icons, respectively, in their full-size previews.
As an example, here is Pavko Gale, a starter set card. I do not own a premium copy of him (sadness) but the option to transmute still does not exist: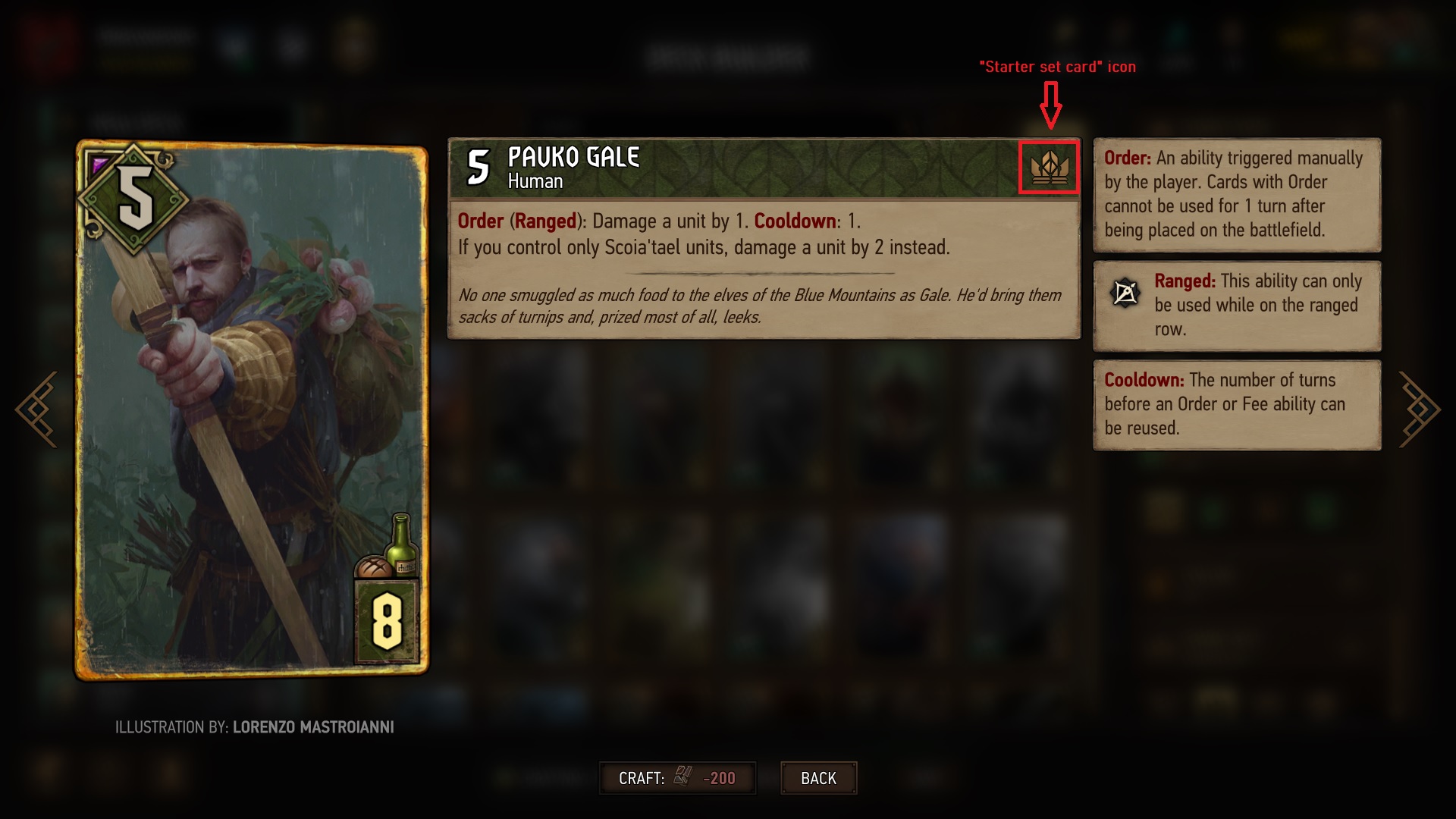 Thronebreaker cards are marked in the same way, except with a lion icon. Additionally, it is not possible to craft premium Thronebreaker cards either, as you can only acquire those premiums from Thronebreaker itself.
STARTER SET CARDS (alphabetically and by faction):
Monsters:
Abaya
Alpha Werewolf
Archespore
Celaeno Harpy
Ghoul
Harpy Egg
Ice Giant
Nekker
Old Speartip: Asleep
Ozzrel
WIld Hunt Navigator
Wild Hunt Rider
Neutral:
Dorregaray of Vole
Elder Bear
Geralt of Rivia
Nilfgaard:
Alba Armored Cavalry
Alba Pikeman
Alba Spearman
Auckes
Emissary
Impera Brigade
Nauzicaa Sergeant
Nilfgaardian Knight
Serrit
Slave Infantry
Sweers
Northern Realms:
Anna Strenger
Ballista
Blue Stripes Commando
Field Medic
Lyrian Arbalest
Nenneke
Prince Stennis
Reinforced Trebuchet
Ronvid the Incessant
Siege Support
Siege Tower
Temerian Drummer
Tridam Infantry
Scoia'tael:
Dwarven Agitator
Dwarven Skirmisher
Elven Wardancer
Ida Emean aep Sivney
Mahakam Defender
Mahakam Marauder
Mahakam Volunteers
Milaen
Pavko Gale
Sheldon Skaggs
Vrihedd Dragoon
Vrihedd Officer
Skellige:
An Craite Longship
Brokvar Archer
Dimun Light Longship
Dimun Pirate Captain
Donar an Hindar
Giant Boar
Heymaey Herbalist
Heymaey Spearmaiden
Svanrige Tuirseach
Udalryk an Brokvar
THRONEBREAKER CARDS
(
alphabetically and by faction):
Monsters:
Keltullis
Glustyworp
Neutral:
Bomb Heaver
Count Caldwell
Eyck of Denesle
Gascon
Gimpy Gerwin
Ivo of Belhaven
Prince Villem
Strays of Spalla
Xavier Lemmens
Nilfgaard:
Isbel of Hagge
Traheaern var Vdyffir
Northern Realms:
Black Rayla
Reynard Odo
Scoia'tael:
Barnabas Beckenbauer
Gabor Zigrin
Skellige:
Dagur Two Blades
Lippy Gudmund
That's it.
PS. A list of all the cards listed above, sorted by nothing except name, because sometimes that is the most convenient form:
Abaya
Alba Armored Cavalry
Alba Pikeman
Alba Spearman
Alpha Werewolf
An Craite Longship
Anna Strenger
Archespore
Auckes
Ballista
Barnabas Beckenbauer
Black Rayla
Blue Stripes Commando
Bomb Heaver
Brokvar Archer
Celaeno Harpy
Count Caldwell
Dagur Two Blades
Dimun Light Longship
Dimun Pirate Captain
Donar an Hindar
Dorregaray of Vole
Dwarven Agitator
Dwarven Skirmisher
Elder Bear
Elven Wardancer
Emissary
Eyck of Denesle
Field Medic
Gabor Zigrin
Gascon
Geralt of Rivia
Ghoul
Giant Boar
Gimpy Gerwin
Glustyworp
Harpy Egg
Heymaey Herbalist
Heymaey Spearmaiden
Ice Giant
Ida Emean aep Sivney
Impera Brigade
Isbel of Hagge
Ivo of Belhaven
Keltullis
Lippy Gudmund
Lyrian Arbalest
Mahakam Defender
Mahakam Marauder
Mahakam Volunteers
Milaen
Nauzicaa Sergeant
Nekker
Nenneke
Nilfgaardian Knight
Old Speartip: Asleep
Ozzrel
Pavko Gale
Prince Stennis
Prince Villem
Reinforced Trebuchet
Reynard Odo
Ronvid the Incessant
Serrit
Sheldon Skaggs
Siege Support
Siege Tower
Slave Infantry
Strays of Spalla
Svanrige Tuirseach
Sweers
Temerian Drummer
Traheaern var Vdyffir
Tridam Infantry
Udalryk an Brokvar
Vrihedd Dragoon
Vrihedd Officer
WIld Hunt Navigator
Wild Hunt Rider
Xavier Lemmens
Last edited: