Hello, Edgerunners! This is our provisional thread of assorted Media and Reports and discussion of same. You may -also- make threads to focus on what interview interests you, but we will (eventually) merge those here so as to reduce clutter - and archive the discussion for posterity.
FIRST: The Gameplay Demo! 48 minutes long!!!
Starting with E3 and moving down along the timeline, the most recent at the bottom: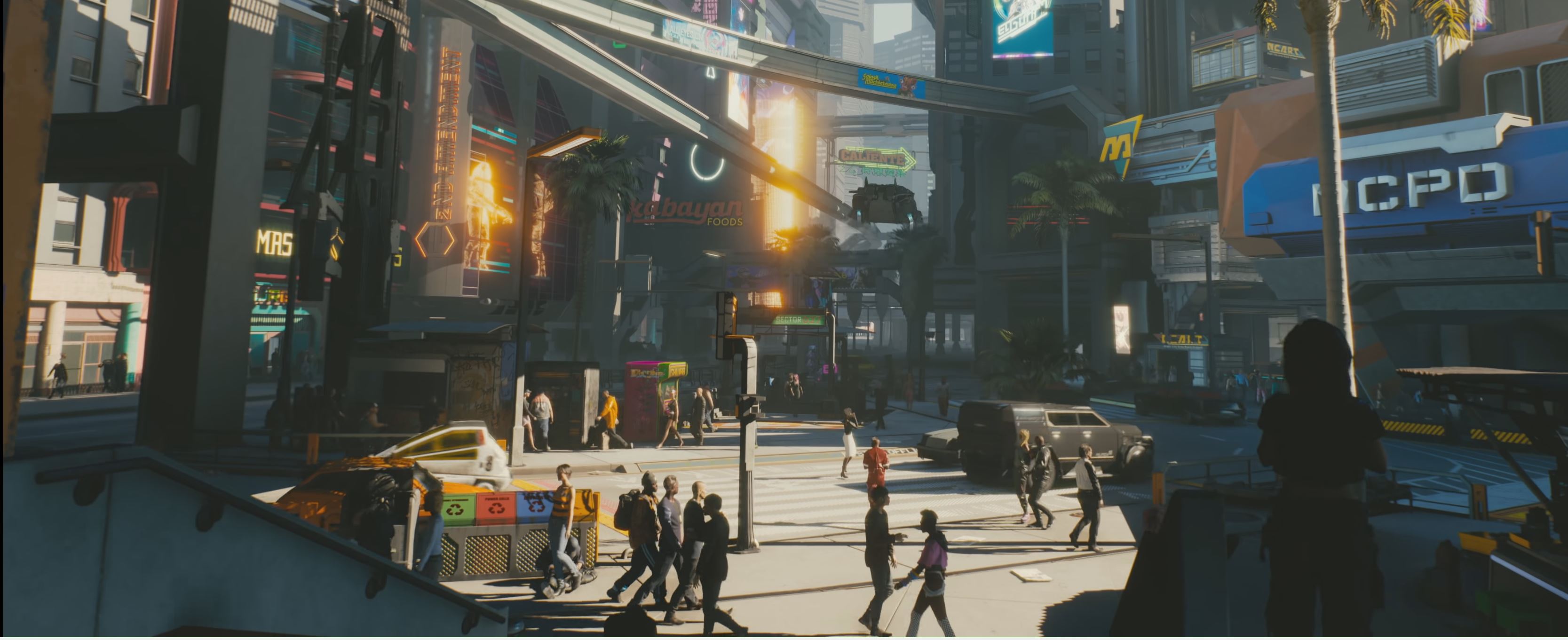 1. From IGN:
E3 2018: First Cyberpunk 2077 Details: Game is a First-Person RPG, More
2. From IGN:
E3 2018: Cyberpunk 2077 Doesn't Look Like The Witcher, But It Does Look Incredible
3. Super Stills!
Hi rez screenshots from Gamersyde
4. From VG247:
Cyberpunk 2077 is a FPS with third-person vehicles, but don't worry, it's all RPG
5. From GameInformer
Cyberpunk 2077 Is Not What You Think – Impressions And Details From 50 Minutes Of Gameplay
6. VG247
Cyberpunk 2077: Banging, C-bombs and bullet-time – everything we know from 50 minutes of gameplay
7. KillaPenguin
You can invest in properties and end conversations with a bullet.
8. PC Gamer
Cyberpunk 2077: Everything we learned from the jam-packed E3 demo
9.
E3 Coliseum video:
10. Eurogamer
We watched 50 minutes of uncut Cyberpunk 2077 gameplay and interviewed CD Projekt about it
11. Destructoid
Cyberpunk 2077's E3 demo was incredible and massive, here's everything we learned
12. Metro/GameCentral
Cyberpunk 2077 preview – the game of the (next) generation
13. RPGSite
Cyberpunk 2077 Impressions from E3 2018
14. Rock, Paper, Shotgun
Cyberpunk 2077's demo at E3 was a vivid, drug-huffing first-person romp of guns and butts
15. PCWorld
Cyberpunk 2077: What we learned in the most mind-blowing game demo we've ever seen
16. Gamespot
E3 2018: Cyberpunk 2077 Is Even More Ambitious Than You Think It Is
17.
YongYea
YongYea Ask Me Anything on the Trailer
18.Gamespot Summary
Everything We Know About Cyberpunk 2077
19. Interview with Art Designer
Cyberpunk will be Huge!
>
Post E3
20. Mike Pondsmith Runs Cyberpunk 2020 for IGN!
Tabletop Style With The Master
21. Wcctech reports from Playstation Magazine that
CP2077 has a Ten Man Writing Team and Villains are Not Silly.
22. Polygon talked to MaxMike.
Mike Pondsmith played Cyberpunk 2077 - Beyond the Demo.
23. Multiplayer.it learns:
Cyberpunk 2077 will have Dynamic Weather (not yet player flown vehicles though)
24. GamesMaster magazine via wccftech tells us
Player choice more impactful in Cyberpunk 2077
>
GAMESCOM
25. By way of Youtube, from IGN at Gamescom:
IGN Interviews Kyle Rowley: netrunning, cyberpsychosis
26. Nvidia has 4 minutes of 2077 - stats count in combat.
Gamescom Nvidia Interview
27. Engadget has Big News:
GAME IS PLAYABLE FROM START TO FINISH. YAY!
28. IGN covers demo differences:
E3 Demo to GC Demo - Why You Should Kill (Boosters) for Style
29. Ausgamers has a really well-written article
On The World Reacting To You and Why CP2077 Is Different
30. Eurogamer does a nice piece on their demo experience
Cyberpsychosis, In-demo choice, sexuality and the WASTELANDS are in!
31. VG247 has some great stuff:
Communities, Community Systems....and a desert!
32. Windows Central says Best Game of GC
"Could be a World Sim without equal"
33. IGN - Could be a Game Changer Video
Looks like the (Dark) Future of Gaming!
34. Wcctech - Has some summary of the German Interview
Shooting fine tuned by CS player and building inspiration from..
>Post Gameplay Demo
35. IGN talks to the Devs about the Gameplay Demo
So Now It's All Public!
36. Dualshockers talks to Patrick Mills
Looking into Motion Sickness and related issues.
37. Metrogaming UK talks Saving The World
CDPR on Building The Pyramids in Gaming
38. The fandom interview
We think we've found a new way to immerse the player!
39. VG247 -believable NPCs and
Dismembering People With Katanas!
40. Cgmagonline - Building the World.
It's a Never-Ending Process (Release Date: Infinity!)
41. Dualshockers - Quest design and the Timelines.
Dialectical Conundrum! Also, NPCs remember you - and what you look like! Shooting everyone could be a problem!
42. In german, but OH SO RICH
PC Games Hardware.DE talks to Miles about a lot: First person, reflections, HUD.
Last edited: