(EDIT) WARNING - CHECK LAST POST FOR MOST UPDATED GUIDE PLEASE.
Hello everyone.
I know everyone is focused on the upcoming expansion and wants to talk about that, but i've had a few ideas for some gwent guides and helpful lists i wanted to share, and instead of creating a thread for each, i'll use this single thread and update it regularly - i'll edit the title to reflect the latest guide.
Im aware of the 'services' provided by the meta snapshots, which provide detailed guides for the strongest decks. In here, i'll opt to focus on interesting, often underused cards, which have a lot of untapped potential.
This means these guides aren't just aimed at new or intermediate players - even advanced players might find something new here, or contribute with their own strategies, which i'll edit/add to my guide post.
And without further ado, i'll begin with a card that opens up many possibilities...
Post automatically merged:
PORTAL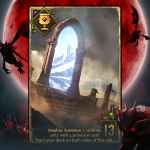 It's an artefact, 12 provisions (the image is outdated, it was 13 when released, but on an update it was buffed to 12)
It's neutral, so it can be used by all factions, and i'll go through each one individually, and list all units that work well with it.
The main aspect is it only summons the 4pr units, so any deploy units ARE NOT ADVISED to be used with Portal. You want 4 prov. units with passive abilities.
ADVANTAGES:
+usually provides 6/7/8 points on 2 bodies instantly, for 12 provisions... might sound bad, but dont forget the thinning.
It plays 3 cards in 1 play, the same thinning provided by witcher trio, at about half the prov cost
+can be used to bring 2 engines immediately, and your opponent probably wont be able to counter both on 1 turn
FLAWS:
-limits your deck building. since the effect its random, the only way to assure you get the 2 units you want summoned is to only put those 2 units with 4 prov. on the deck, but then you risk bricking, if you get portal+one of those units in hand
-if you summon 2 equal units, you become extra vulnerable to Gimpy Gerwin. If those units are 3 points, Gimpy can immediately shut them down
My advice to minimize these flaws is to mix and have at least 2 different 4prov bronzes. I recommend having 3-5 bronze units with 4 prov you want to be summoned with Portal.
NR:
Lyrian Cavalry (3pt) - very popular play in current Henselt metadeck
Tridam Infantry (3pt) - powerful engine on boost and Meve decks
NG:
Nauzica Sergeant (3pt) - great engine that finds value in almost all NG decks
Infiltrator (4pt) - good for messing with opponents deck, should be used R1
Fire Scorpion (3pt) - damage engine for tactics decks
Ducal guard (4pt) - assimilate engine, popular play in the current Assimilate metadeck
SK:
Svalblod Fanatic (4pt) - basically its a svalblod totem, without order ability, costs more prov, but provides thinning
Heymaey Protector (3pt) - good self-damage engine
Brokvar Hunter (3pt) - deadly engine for Bran discard decks
An Craite Blacksmith (3pt) - synergizes with warrior decks, works well with Brokvar Hunter
SC:
Elven Swordmaster (3pt) - damage engine for elf decks
Dryad Fledgling (4pt) - Harmony engine, can be used with Waters of Brokilon to have 4 Fledglings, 6 with Francesca, in just 2 turns
Elven Scout (3pt) - trap decks engine
Pyrotechnician (3pt) - synergizes with artefacts, you can use it to destroy portal since it has already done its purpose
MO:
Ancient Foglet (1pt) - only 1pt, but can be used with forktail next turn to trigger the DW, to get these to 5pts
Foglet (3pt) - risky, since you dont want to summon both foglets, only 1, to consume and summon the remaining
Nekker Warrior (4pt) - thrive engine
Vran Warrior (3pt) - great for Arachas decks. dont play this portal early or the Vrans will be removed by the time you start using Forktails and Glustyworp
Last edited: