Imagine if
Invigorate
from ST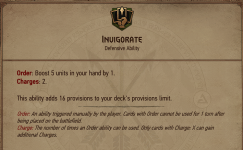 Would give 1 power to ALL units in your hand when an enemy is damaged, now imagine ST had as much damage ability as SK, now imagine Invigorate ALSO had 2 charges of 3 dmg just for good measure! WELL THAT'S PRETTY MUCH WHAT
Onslaught
is right now (it's even 16 provisions lol).
90+% of the armor you get you CAN transform into points pretty damn easily
(and if the opponent is trying to dmg you back then it's 100% of armor to points conversion since you're denying him damage and keeping your stuff alive which is actually over 100% worth cuz your stuff living allows them to continue to have effects AND you for example deny Deathblow effects so it may be a 150% armor to points conversion)
, and not just boost points but removal points as well.
Also any deck that relies on doing dmg is pretty much screwed cause his units will be loaded with armor so you can't do anything, though all of your stuff will die so the only damage you can do will be from specials.
Only no-unit decks (which happen to be so popular rn) can stand up to it (if the Onslaught player is a good one) since they don't give him as much targets to dmg so can't get his worth from the leader.
Now Imagine Mahakam Forge leader gave 1 armor to all Dwarves and machines in your hand every time you play a Dwarf (cept even this way, you can't proc it 2 times in a turn I think). :] Broken, right?
Suggested change:
Cannot give armor more then once per turn, only gives on the 1st dmg. It would only give 1 armor to ONE unit (ship/pirate) and only at bloodthirst 3 could it give to all units (make it include the unit you just damaged). Then still reduce it's provisions to 15 and/or make it 2 charges of 2 dmg.
The only difference between ST no-unit and this is that ST is "no units for anyone until my last big play" while SK is "units for me but no units for you. :}".
Last edited: