I believe the bug arrived with Patch 1.2 due to the following change:
Takemura will no longer teleport to Wakako if the player chooses to go alone in Down on the Street.
After the docks scene I chose not to go with Takemura to Wakako and side tracked to the gigs, doing a LOT of gigs; 10+ hours of gameplay later I decided to go back to the mission and found the bug.
I went to Wakako, but Takemura was nowhere to be seen; took me a while to think about this, but I went back to the docks and there he was, frozen.
He still says some things when I throw grenades, but doesn't move at all. Found no work around and though someone might have.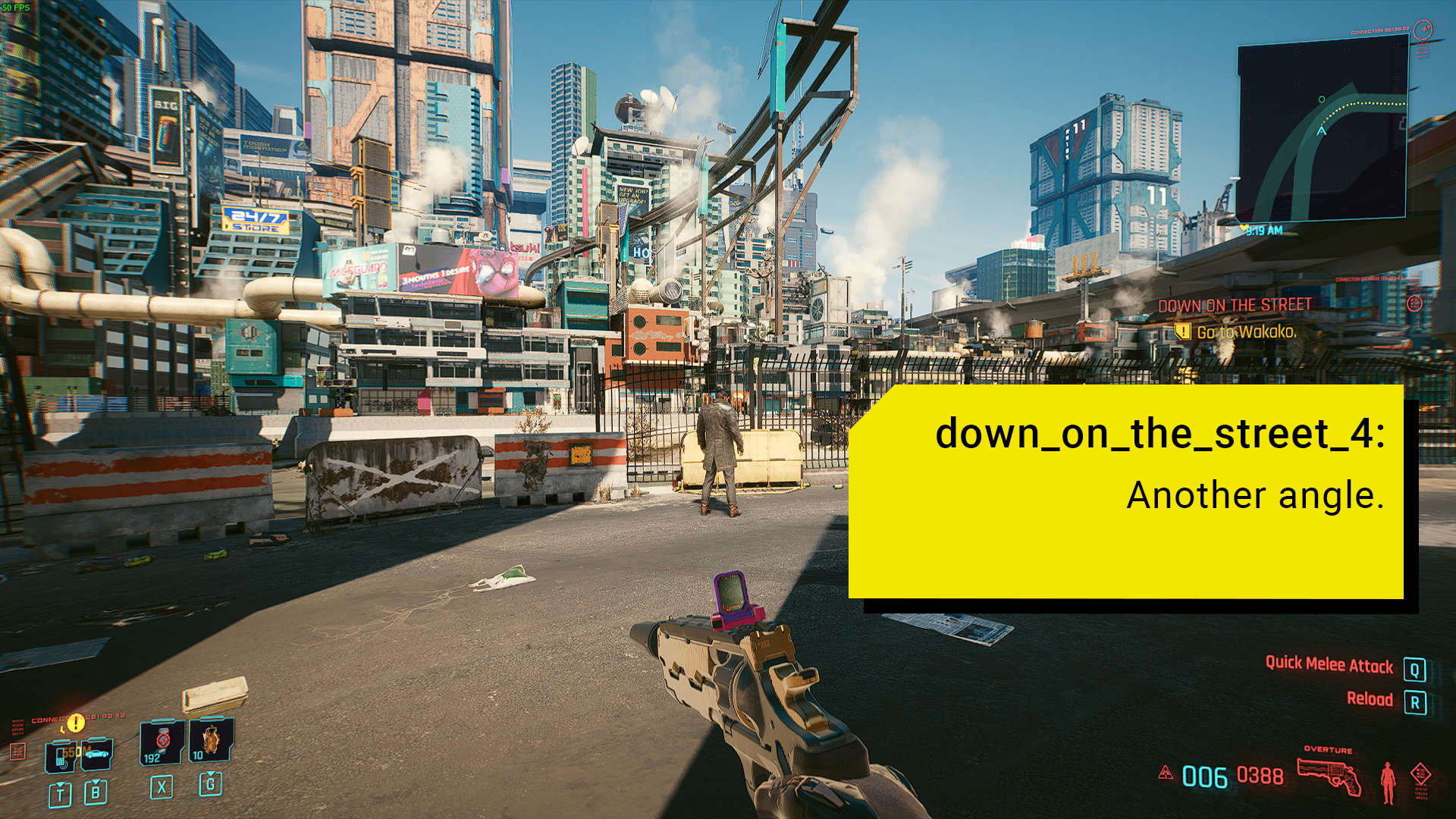 I have 50 hours in this character and really don't want to restart. I'll keep making side quests till where it is possible and will wait for a fix or possible work around.
EDIT: 2 weeks or so after Patch 1.2, CDPR got us Hotfix 1.21 that has the following relevant update for this bug in specific:
Fixed an issue in Down on the Street where Takemura would get stuck in Japantown Docks after player chose to go to Wakako alone and left the area too early.
In my own experience and by seeing some comments, I assume the Hotfix does not work in saves that already have this quest bugged (at least in some cases, if it worked for you, let us know). The fix would only prevent this from happening in future saves, which sucks for us that have already spent more hours in the character than we would be proud to admit.
If you have the same issue, post it in the comments: more comments = more relevance and bigger the chances for the devs to help us. And if by any chance you know a work around this, be the hero and share with everyone.
EDIT 2: THE BUG IS FIXED
CDPR released yet another update: Hotfix 1.22. This one has a specific patch to all the people that still have this mission bugged. It is the following:
Added a retrofix for the issue we fixed in 1.21, where Takemura could get stuck in Japantown Docks in Down on the Street - for players who already experienced it before update 1.21 and continued playing until 1.22, Takemura will now teleport to Wakako's parlor.
Well, it does just that. Worked fine with me and I came here to update this threat as soon as I finished the mission 'Down on the street', to be sure everything would work flawlessly. I hope it will work for all of you as well, and if it still doesn't, feel free to share it here, because it seems devs were paying attention to this issue.
Thank you for sharing the issue in the comments and/or reporting this to the bug report system for Cyberpunk 2077, this creates relevance and made enough attention for the devs to give us yet another fix.
I will now resume my game.
Last edited: