Can u guys pls rate my deck? What should i change? Ty
I run a few different golds and I teched mine a bit for the matches I'm facing right now. I believe Triss: Telekinesis is a much better option to Letho: Kingslayer. You run only 1 tactic in your current deck, and that can brick Letho. Triss is much more reliable and can give you a very strong opener (Triss + Roach + Recon Into Medic + Beer = 24 points). And in the late game, she can provide you with an additional Ointment for that last Witcher. Geralt: Igni is fine, but I prefer Vilgefortz, the art is much more sick and cool
. But seriously, Vilgefortz tends to synergize better with Cahir. But that's more of a personal taste.
My deck follows below.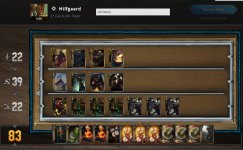 Like I said, I teched against a few archetypes I'm facing. The Shackles works wonders against Consume, along with Mandrake, shutting down Nekkers right on the beginning of the match, and also resulting in a few rage quits. And the 27 cards is to counter some nasty Mill decks I was facing lately.
Post automatically merged:
Doesn't this deck need more 'monster' cards(I don't know the right name).

You have 12 special cards. Isn't that too much?? Maybe I'm wrong, I'm also just a newbie. But with Magic I always had a ratio of max 35% special cards and the rest are monstercards (again; please help me with the right name). But this was only with special decks who rely on special cards. Normally I would have a 25-30% special card and 70-75% monstercard ratio.

But please correct me if I'm wrong and this can be usefull in Gwent.
There are a few decks that run more special cards then usual. I can name 2, one is the same we're talking about right now, which is the Alchemy Nilfgaard, and the other is the Spellatael (or Spells Scoia'tael) . I'm climbing the ladder with the Alchemy one and a few other decks I like to play with. If you need any hint on this specific deck, PM me, and maybe we can run some friendly matches in the game.
Last edited: