You can also pick up two hookers.
Who have clothes on in the following scenes. I've done Judy scenes and Im pretty sure those didn't go further than glimpse of a nipple.
Overall, it feels like every scene which was shown to feature nudity in the advertisements, was replaced with clothed versions.
Did this stripper have bra in the trailers? I don't think so.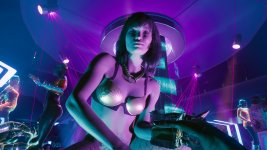 It is clear they backpedaled with the nudity, for reasons Im not sure of. Probably to avoid further controversy and sell more.