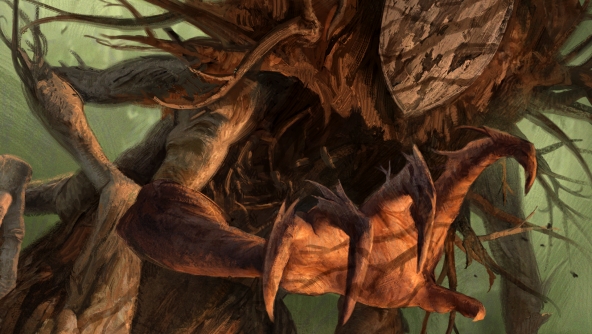 Coloro che non sono riusciti ad assistere alla
diretta streaming di oggi
, non hanno nulla di cui preoccuparsi. Ecco una breve panoramica dei nostri piani per GWENT: The Witcher Card Game:
Innanzitutto, stiamo pensando di aumentare la frequenza per quanto concerne i cambiamenti iterativi:
hotfix – quando necessari
patch – ogni mese
espansioni – ogni tot mesi
Non vogliamo "reinventare la ruota", ma focalizzarci sul bilanciamento del gioco. Di seguito qualche esempio per farti capire su cosa stiamo lavorando al momento:
tornare al vecchio sistema di ripescaggio per round
bilanciare i comandanti con costo di reclutamento anzichè numero di ripescaggi
cambiare il funzionamento del limite per mano
Per quanto concerne la pubblicazione regolare di nuovi contenuti, al momento stiamo lavorando all'hotfix di dicembre, che sistemerà diversi bug e problemi di performance su console.
A gennaio, aggiungeremo 5 comandanti, che probabilmente avrete già conosciuto in Thronebreaker.
La prossima grande espansione è pianificata per la fine di marzo ed includerà oltre 100 carte. Inoltre, aggiungerà nuove meccaniche di gioco, ma il focus principale sarà di far girare al meglio gli archetipi già esistenti.
Successivamente ci concentreremo sul migliorare il gameplay, per renderlo più veloce, dinamico e bilanciato, introducendo alcuni aggiornamenti che migliorano la qualità complessiva del gioco cosi come la funzione recente della panoramica del mazzo, oltre a pulire l'estetica (aggiungendo diversi accompagnamenti che si sposino con il mondo di The Witcher.)
Che altro? Aspettatevi nuovi aggiornamenti all'inizio del 2019!