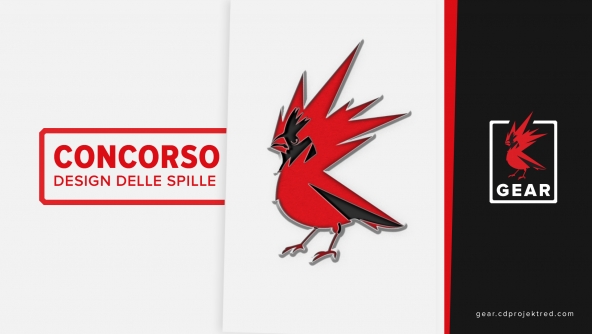 Sprigiona la tua creatività e progetta una spilla di metallo
CDPR GEAR
!
Di cosa si tratta?
Vorremmo che voi prendiate ispirazione dai nostri giochi e disegnare una spilla che vorresti vedere sul tuo zaino, borsa, giacca o qualsiasi altra superficie.
Il concorso è diviso in quattro categorie ed è possibile inviare un design per categoria (fino a quattro spille in totale):
CD PROJEKT RED
Serie di videogiochi di The Witcher
GWENT: The Witcher Card Game
Cyberpunk 2077
I quattro design vincenti (uno per categoria) saranno trasformati in realtà: un set di spille a edizione limitata Community, e il nome del designer verrà pubblicato sul sito dello store. I vincitori di ogni categoria riceveranno una gift card del valore di 150$ per CDPR GEAR e il set di spille per cui avranno contribuito.
Come partecipare?
Prepara un file .JPG con il tuo design (assicurati di seguire i requisiti tecnici elencati qui nel paragrafo 4).
Invia un'email a store-contest@cdprojektred.com con il file in allegato.
Attendi i risultati!
Potete mandare i vostri design fino al 31 luglio ore 23:59 CEST. Il regolamento completo è disponibile qui.
Non vediamo l'ora di vedere le vostre creazioni!