gr8 story needs a gr8 ending with a good dose of significance in it! how do you think - what should be the final boss of cp2077, its "pinnacle of challenge"? i would like to know your thoughts on that.
here are some of my ideas from the poll:
1. Dragoon
most powerful combat armor of the cyberpunk's universe, able to destroy armored vehicles and infantry alike. possessing overwhelming firepower and probably some close combat abilities up its sleeves too, this corporate killing machine would definitely be a worthy opponent for endgame V, dealing great damage with its firepower and making a good final boss candidate.
2. giant mech
nothing gains so much respect from the players like giant mechs that can fire barrages of missiles and cut the buildings in half with one cut of their giant blades! this boss could be equally as dangerous in close combat as in the ranged combat. one of the best examples would be Metal Gear universe mechs.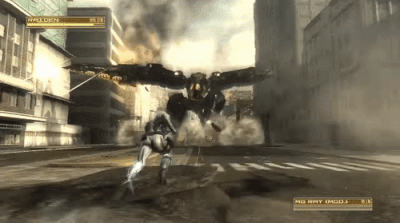 3. cyberninja
theme that's also very close to the Metal Gear universe - cyberninja. cyber enhanced, bioengineered or both, cyberninja is a bullet timer that can cut the enemy troops in pieces in the blink of an eye with blade for which the armor is nothing. it's definitely one of the most fearful opponents you could face. duel with bullet dodging boss that can perform bullet time attacks on v could be an ultimate test of player's reflexes and endgame tech enhancements / weapon mastery.
Last edited: