- Next patch (1.3) is coming in "few weeks", could be just before the E3 or potentially in end of this month.
- They are having one-third of staff currently working on new project (unannounced, probably Witcher 4, but they could surprise us with anything)
- Sony will be monitoring the situation with game and there's a process of which metrics CDPR need to fill in order to relist in store and they are in "middle" of getting there (
*speculation*
based on how PS4 base gameplay in 1.22 performs it could be quite well expected to be smooth enough in between 1.3, 1.31, 1.32 that'll likely be within the summer holiday season)
-
*speculation*
the next gen re-release will likely hit winter holiday 2021 just because the timing would make a lot of sense having most sales in holiday season
-
*speculation*
the sales of Cyberpunk 2077 in Q1 2021 reflect on the sales of Witcher 3 Q1 of 2016 and with the re-release, I'd say estimate of 2021 total sale could be in range of 50% of initial sale, could be higher if the next gen upgrade would surprise us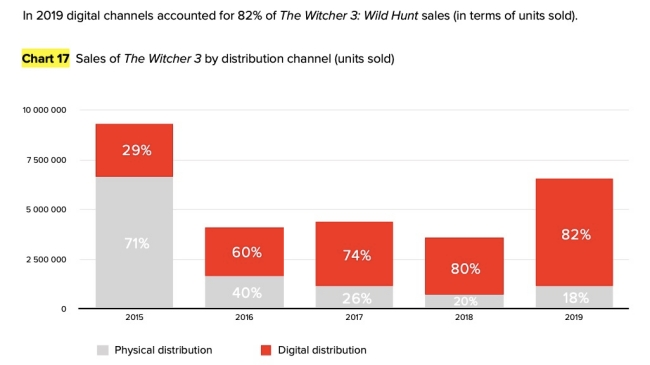 Sooo somewhere from 13.7 million 2020 sales to ~7 million sales 2021 making it total 20 million sales in end of 2021.
Looking at Witcher 3 initial sales being 8 million, and Cyberpunk being 13.7 million, Witcher 3 selling 30 million in end of 2020 after 5 years, I'd say Cyberpunk 2077 will likely sell ~50 million copies in end of 2025.
Taking into account this game is direct competitor to GTA 5, it selling 30 million it's initial year, and having sold 20 million units in 2020, 7 years later. Cyberpunk selling roughly half of what GTA 5 sold, could indicate the game making 10 million unit sales 5-7 years later if they could keep up pushing more content and making a polished online experience. Of course with game going in sale and having all sorts of "definitive editions" I'd say they'll likely keep making 25% of cost of initial product (GTA 5 selling nowadays 15€ for example), likely earnings from Cyberpunk will be in range of 50-100 million euros yearly as sales may increase while product is being sold in sales.
So it's not question if the game is going to continue being profitable, but whether how much effort CDPR is willing to put into the game, how much will they put focus on multiplayer, perhaps releasing it along with next gen version, which would fit well with the end of the year.
I think a lot of stock holders interest will rely of what will they show in E3, how much will they be able to show progress being made, what will they do with the story and so on.
According to
SimplyWall.St
the stock price is 63% undervalued, though the reason is mostly because of their future being
very much in the dark
,
especially with the negative reception game has gotten from both review score bombing and how many felt disappointed on features game had on launch.
Considering the need to shine some positive light for the future of the company, and how there has been talks in past CDPR calls about "starting to turn things around", 60% of staff working on new content, it could be pretty reasonable expectations of seeing some sort of teaser for E3 along with some new gameplay footage of next patch which will likely follow up with 1.2 in "taking steps in right direction" with things like police.
And considering that police driving has been around since launch with help of Mods (though a lot of issues) I'd expect this being brought to live in 1.3 with the patches 1.21 and 1.22 vastly increasing police response in both ability to chase longer and not spawning in unreachable positions, I'd expect some form of vehicle driving to be implemented. If you've been looking at the modding scheme, you'd come to expect things like motorcycles in traffic and police spawning in cars.
According to
sources
,
CDPR
has spent over ~100 million euro on Cyberpunk 2077's development when game launched and them no longer going to be spending marketing campaign similar to 2020, I'd say future costs are going to be in the 50 million range for development, along with 100 million for marketing next gen and expansions, and considering Witcher 3 development cost was in the range of
34 million
it's likely enough to bring all sorts of new improvements and cool new expansions.
Still with all the disappointment in sales, I think something positive is looming in horizon, with the coming anime for 2022 and multiplayer development, hopefully boosting sales next year, similarly how Witcher 3 gained boost in sales with the Witcher series release.
Tell me what you think, did I get anything wrong you'd want me to correct?
Last edited: