Quests, in your opinion, have poor endings or ones that need to be improved.[Spoilers]
During the game some quests give me an impression of being
incomplete
or they have a very confusing story line.
Race of nobles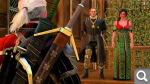 A strange quest, the ending seems to suggest there will be some more.... I'd rather make Maria Louisa ask Geralt to help her with some business and after that, in case the witcher saves her son in TW 2, she asks him out to her mansion where they spend a night together.

Return to Crookback Bog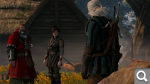 This is a very grim story.
Its problem is that the player doesn't feel any satisfaction from the children being alive and well. Nothing is said about their fate, and there are not even any more scenes with their involvement.
The knowledge that the Baron and his wife survived would be much more pleasant. But in this case the children die...
I think there should be a third variant where the Baron's wife dies, and Geralt persuades the Baron to look after the children, and thereby purges himself of his suicidal thoughts.

Fencing Lessons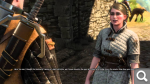 Still can't understand why Geralt jumped on Rosa - she's not responsible for the death of her offenders. It's like accusing a
negro
afroredanian of attacking skinheads.
Last edited: