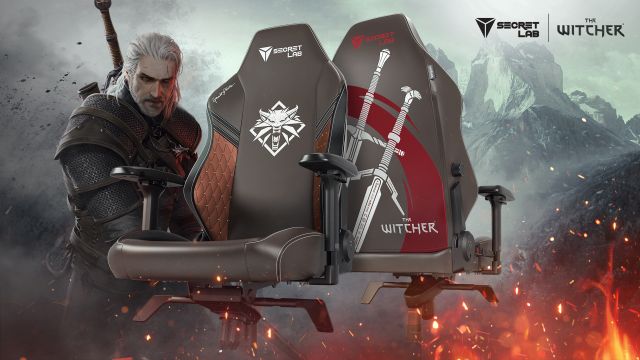 Mit dem Secretlab TITAN Evo 2022 The Witcher Edition seid ihr bestens ausgerüstet, um alle Arten von Monstern und anderen Gegnern zu erledigen.
Wir haben uns mit Secretlab zusammengetan, um das düstere Fantasy-Reich des The Witcher-Universums zu euch nach Hause zu bringen. Dieser besondere Stuhl der Witcher Edition ist eine Hommage an Geralt von Riva — aufwändige Designelementen, die von seinen Waffen inspiriert sind, bis hin zu den metallbeschlagenen Akzenten der legendären Wolfsrüstung des Großmeisters an den Seitenflügeln werden durch das ikonische Medaillon der Wolfsschule an der Rückenlehne vervollständigt.
Der Secretlab TITAN Evo 2022 in der The Witcher-Edition ist mit den neuesten ergonomischen Upgrades ausgestattet, um Spieler und Spielerinnen durch Hunderte von Stunden der Erkundung des Kontinents zu begleiten. Und als besonderen Leckerbissen für GWENT-Spieler enthält jeder The Witcher Edition-Stuhl zwei GWENT-Sammelkarten, um die eigene Sammlung zu erweitern!
Hol dir noch heute das volle The Witcher-Erlebnis. Erhältlich in den Größen "Small", "Regular" und "XL". Hier kannst du deinen Stuhl vorbestellen:
https://secretlab.co/thewitcher