Just read this for the first time.

I always thought of the Rockerboys as some classic sort of rocker punks. Yes, also rockers can be punks. Think of these Hell's Angels, that's what comes to my mind when I think about this class in a videogame. The Hells Angels Gang basically is nothing but a organized gang of punks. It actually really surprises me that you as the uberfan think of Rockerboys as you do here. Concerts? What the fudge? Not in the game, that's for sure.

I instead think of very brute, organized gang criminals on floating motorbikes roaming the wasteland, similar to the Nomads.
Um... what????
Just curious mate, but where are you from? I only ask because while both bunks and bikers live on the outside of society, no one here in America really calls a biker a punk or a punk a biker... at least not in a descriptive term.
And what book are you reading?
The core Cyberpunk book describes the Rockerboy class pretty straigthforward. Rockers are people who use their power of personality to sway the minds of others. Now in the game the role describes politicians, religious leaders, and activists.... but the most common form a rockerboy takes is that of a musician. Lets take a look at the cover of the Rockerboy sourcebook shall we?
Here is the most Iconic Rockerboy in the game, Johnny Silverhand, looking oh so bon-jovi. This is also the image used in the description of the class in the orginal 2013 game and the first edition 2020 rulebook.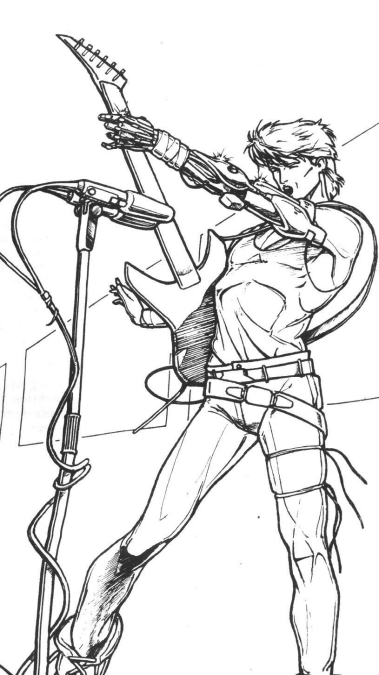 Here is the image from the 2nd edition 2020 rulebook, with the revised euro art.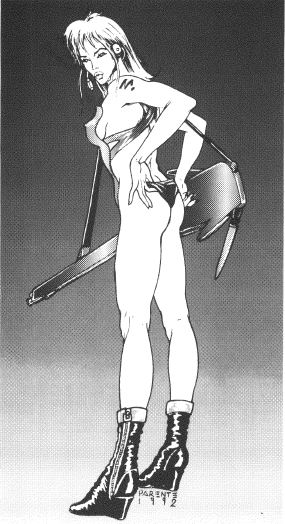 Here is the image for Rockerboy promotion from the Cyberpunk 2020 card game.
As for the Hell's Angels, they are pretty much stereo typical nomads, or just another street gang, depending on which chapters your are talking about.
Now this isn't to say a rockerboy can't be a member, or even a leader, as Rockers tend to make very charismatic leaders (their special ability is called charismatic leadership after all), but yeah, typically they are portrayed as musicians in the game. While the majority of the game art for them portrays them more as glam rock hair bands, they are described as being more Rage Against The Machine, The Clash, The Goats, Public Enemy, U2, and other highly political groups who infuse their music and messages heavily with calls for change, fighting the oppressors, and other activism.