Hello,
This is my first post on the forums. I was wondering if it was the right place to post these, and report issues.
My playthrough is, for now, going smoothly. So I just want to point out some things I have noticed here and there, if I may.
Automatic Love
Before quitting the Cloud, we can find a room with Evelyn's jacket. Johnny will then appear for a talk. After he finishes the talk and disappears, we can still scan him where he was sitting.
Again, during Automatic Love, if you run fast enough, you can avoid the final fight, and get your inventory back. The alerted guards will then see you through the wall and even shoot at your direction (they won't hurt you, though). As you can see in the next screenshot, they can see the player, and their alertness (eye) gauge will fill up.
There is one point where you finish the mission, take an elevator, and Johnny shows. He talks and his cigarette keeps floating: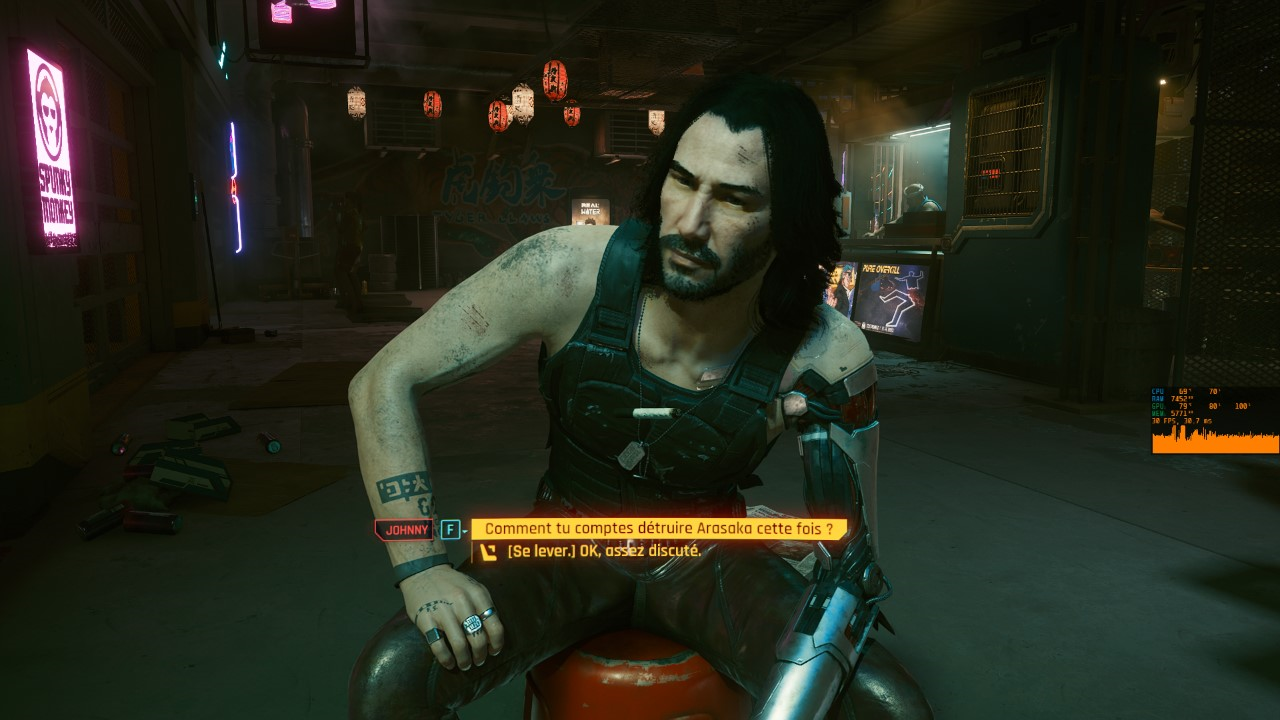 The cigarette keeps floating even after Johnny disappears.
Disasterpiece mission
Was walking in Jig-Jig Street and investigating. Saw this woman sitting on nothing: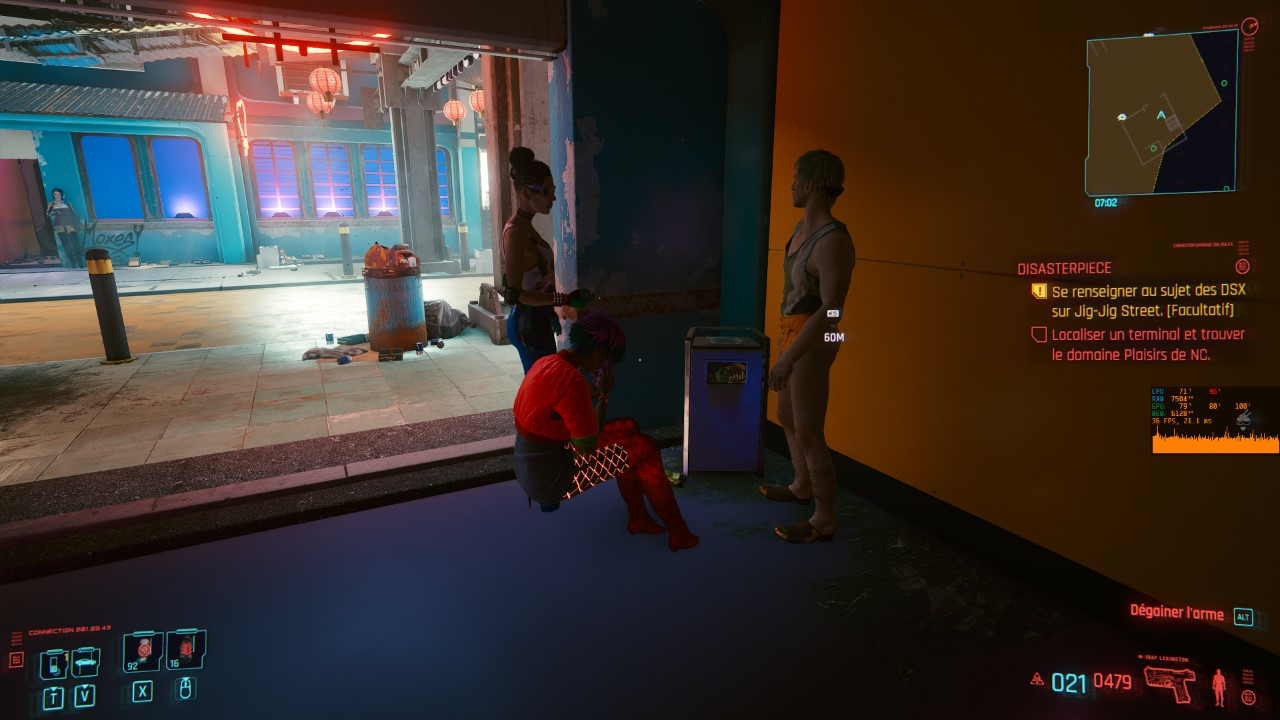 During Disasterpiece, when you're looking for Evelyn, you can come across two people who can't see you because their vision is inverted. I'm not sure if it's because they are using VR or their vision angle has glitched. You can see it on that screenshot:
Double Life
During Double Life, you are given the choice to sit on the bed. I don't know why, but the player's shadow at that point is completely messed up.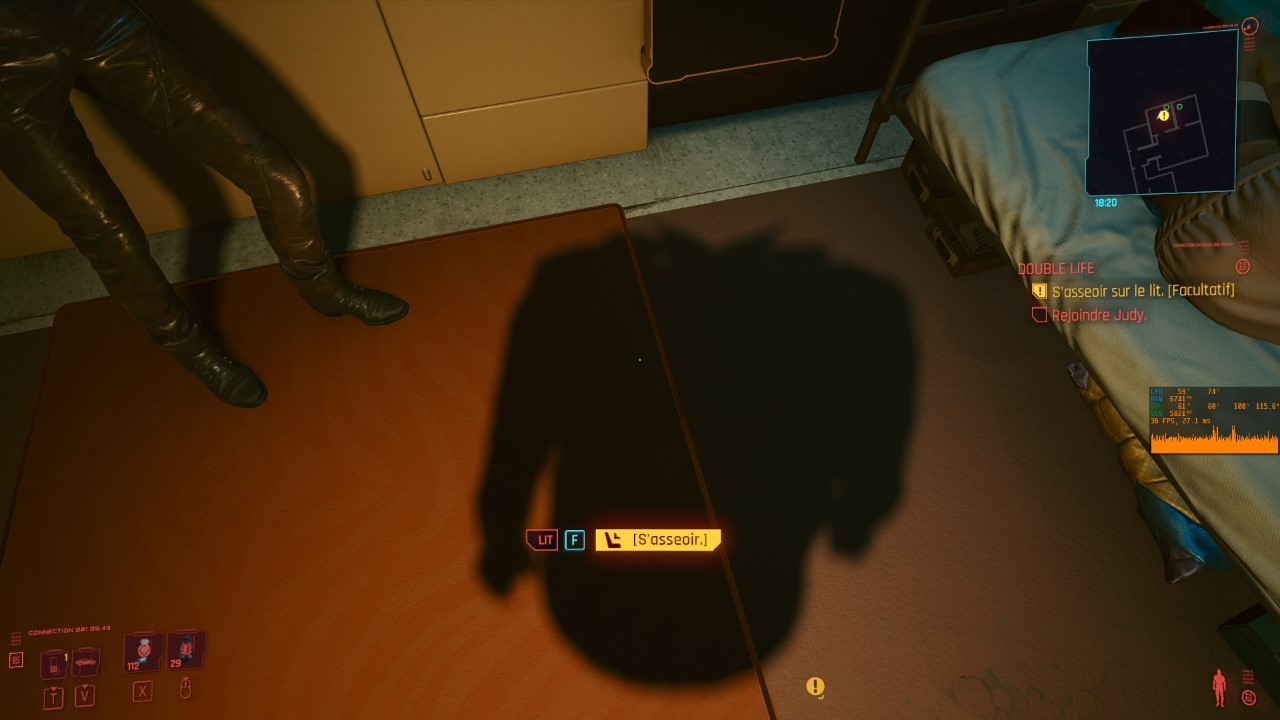 Ghost Town
If you save (quicksave) when Panam drives you to Nash (to take revenge), then die during the mission and load your quicksave, you end up inside Pannam instead of being on your sit. You then see Panam from the inside. Happened consistently. Died 3 times, reloaded 3 times, same. Once you arrive, you can exit the car without issue, from the right door, correctly.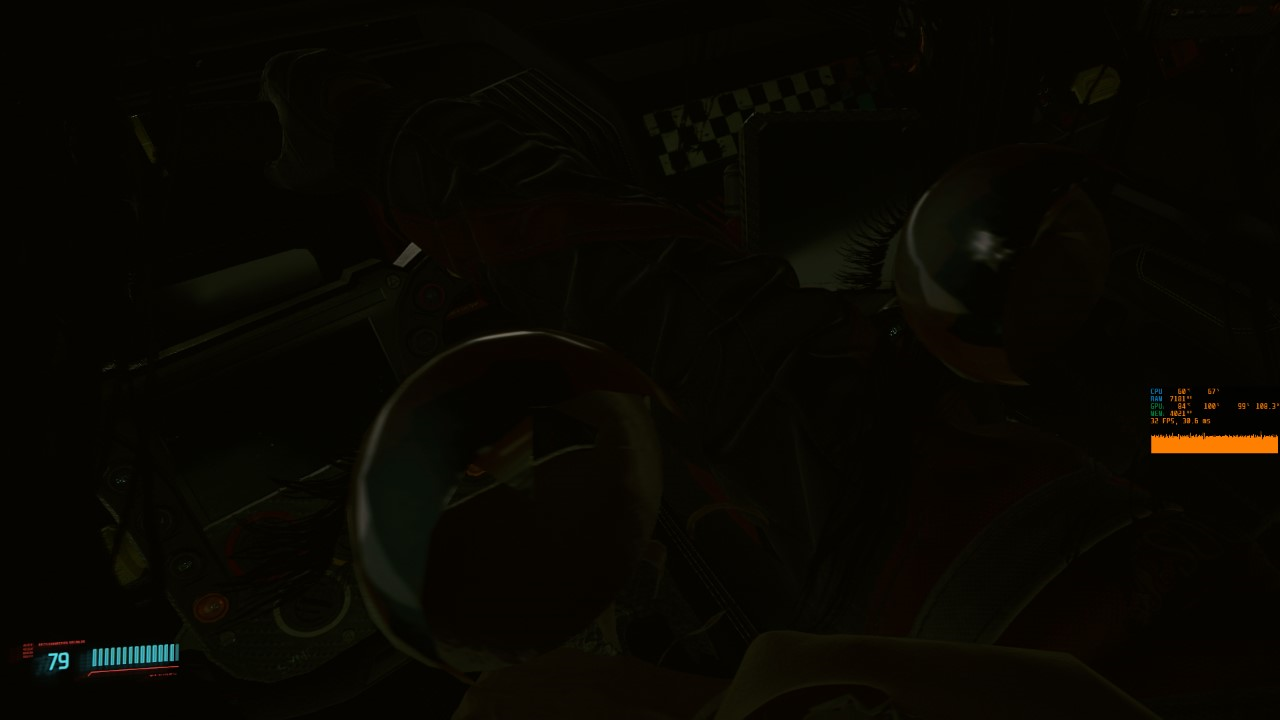 Both Sides, Now
In Judy's apartment, the shadow cast by the light in the room has a hollow around it. It's weird.
**A comment about Police Cars**
The vision from inside the police cars is too clogged. You really can't drive them that way. Maybe make it possible to better see through the grid?
**Appartment**
On the mirror scene where V sees Johnny instead of himself, the cigarette isn't on the ashtray, but floats.
Thank you.
If this is a right way to report things, I can continue. If there are things to change, please, tell me and I will improve the reports. If this isn't the right place, please feel free to move the thread or delete.