Hi,
I am after the composite ocuset that will be top of the top among the face wear. For reference, it's that thing worn over one of the eyes, black with cyan-ish tiny text, pink parts, and all flashing in white stripes. It's for my V's party mode, and there is a special party we're preparing for the whole of Arasaka Tower.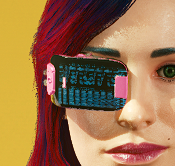 So... this is what I have so far: the best composite ocuset that I could find is green (uncommon). That means I need to drag it to rare to epic to legendary. Unless I can find a legendary composite ocuset, we're talking about upgrading it. For that, I need its crafting spec, right? (this is an actual question). Where can I get that? I ask, because the ocuset doesn't show among upgradeable items, and I visited all clothing stores, looking for such a craft spec - finding none. As far as V's attributes go, I set her to have tech lvl 18, and picked all possible perks in the crafting group. For example, there belong crafting rare, epic and legendary items. Upgrading this ocuset is so far a no-go.
Along the way, I picked up that mod slots can't be added by V.
So, did someone work with this ocuset to make rare, epic and legendary version of it? (Thanks to all participants in advance!)
Last edited: