So last night I attended to a verbal
fight between Denny and Henry
(sorry for this pseudospoiler)
in her house. While listening to them, and laughing quite a lot, I thought that if V said anything slightly endorsing one of the parts, the other would
feel angry or sad
. So that's where my idea came:
WHAT IF CYBERPUNK 2077 HAS STANDING STATS?
Ok, so now some of you may be asking
"Wtf is this guy talking about? What are the standing stats?"
. The
standing stats
are an
indicator
of how good/bad reputation has your character among with other characters, groups or factions. Long story short, they indicates
"how welcome"
your character is among the others. Depending on the score you have, you can get
benefits
from them or they will
attack
whenever they see you.
Some other games have implemented it with good results, such as
EVE online
and
Mars Horizon
, for example:
Eve Online's Standing stats menu
Mars Horizon's Standing stats menu
The first one,
EVE Online
, is a
MMORPG
based in a futuristic space sandbox, which is played by tons of people daily. Due to its outstanding situation, they can afford an extensive and complex standing stats panel that includes all the available factions in its universe. On the opposite hand, the second picture is taken from
Mars Horizon
, an indie game buyable from
Steam
. It's main purpose is to teach about space exploration while playing, so it has simple but effective mechanics. The standing stats are quite simple to use and very visual.
Cyberpunk 2077
finds itself between these two amazing games. Not being extremely complicated (mostly because it's not a f*cking huge MMORPG) and neither a simple and plain game gives me some space to imagination, so I tried my best designing this example: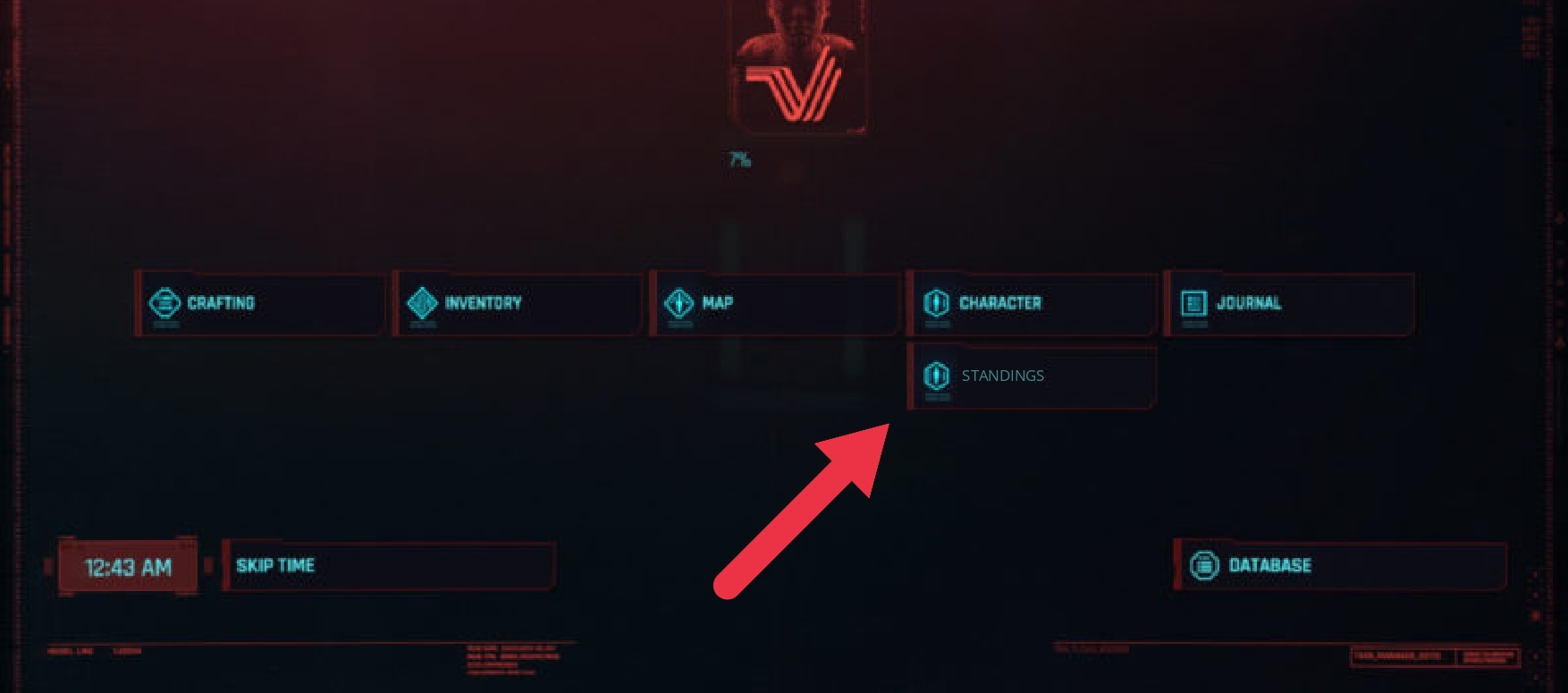 Where would the icon be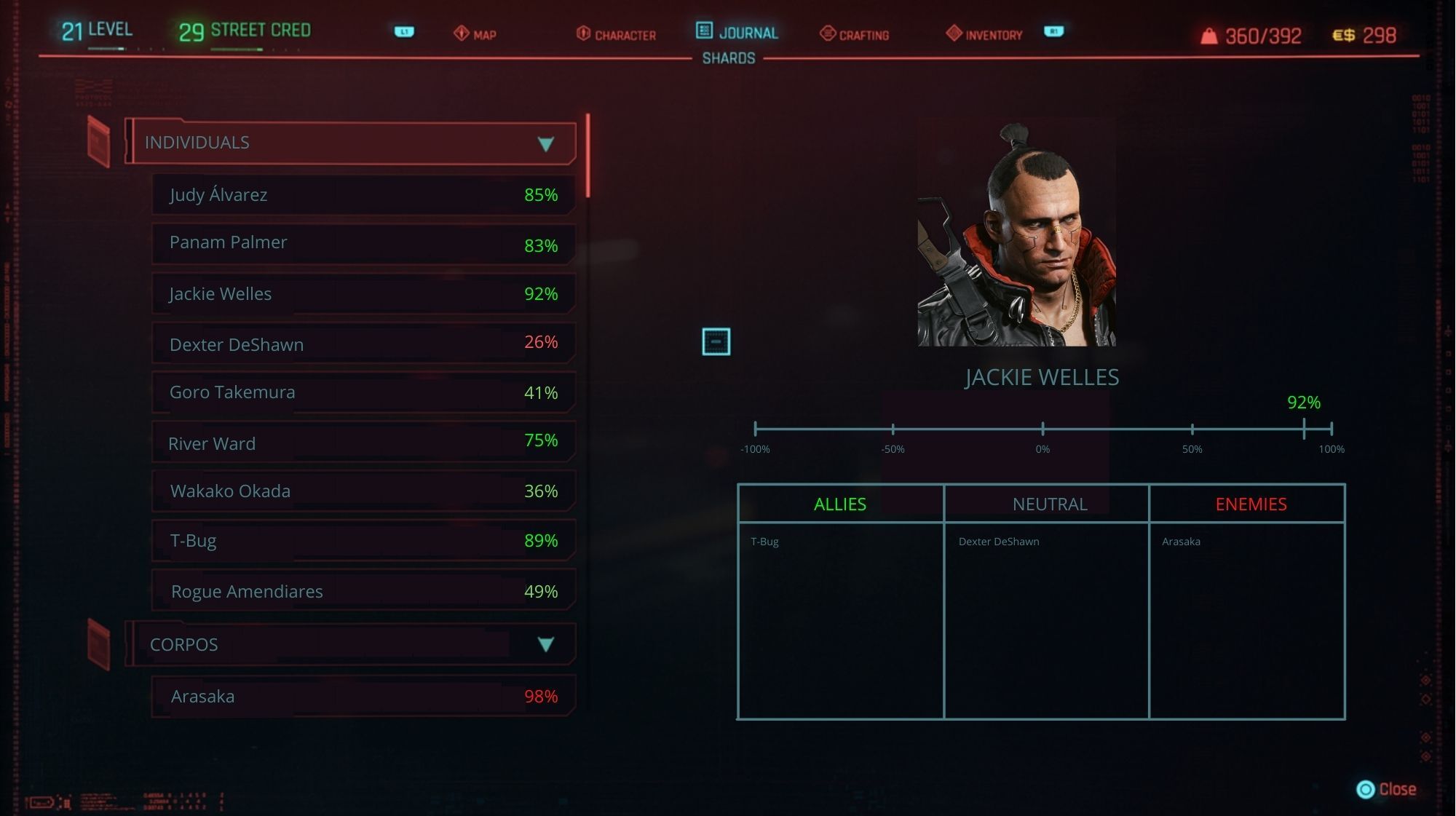 How would it look like
Okay, now that I showed you my
awful
artistic capacities, it's time to explain my idea
step by step
.
GROUPS SEPARATION:
We all know that, in
Night City
, there's a
hierarchy
: the
corpos
are on top, followed by the
gangs
, which are followed by
fixers
and then the
individual
ones. This pyramid follows the
"power" capacity
by the way.
ALLIES, NEUTRAL & ENEMIES (AN&E):
The
list
and the
percentages
of standings would be on the
left
, such as the
journal
list
(notice that colour changes from glowing green (50%-100%) to light green (1%-50%), and from glowing red (-50%-[-100%]) to light res (-1%-[-50%])
.
New people or people at 0% should be the same colour as the letters.)
On the
right
, it should have an
image of the character
we have selected
(an HD picture, like a profile one)
. Below it, a spot for the
name
and
(optional for the developers)
some
description "made in Silverhand"
. Just below it, the
bar
which shows
how good or bad you behave
and, below that, a
little table
with his/her main
allies, neutrals and enemies
. This is important, as
any action or word endorsing or against someone or something
in this list could actually
affect the relationship
with the character. Let's put Panam as an example: in Allies should appear the Aldecaldos; in Neutral... Let's say Wakako; and in Enemies, the Wraiths. If we participate in a victorious raid against the Wraiths, our relationship with her would improve; if we shoot an Aldecaldo's member, our relationship with her would decrease; and if we talk shit about Wakako... Well, she wouldn't care at all.
The main aspect of AN&E remains here,
everything you do is connected to the people you know and it will change your situation with them
.
ADVANTAGES / DISADVANTAGES:
So how do we measure when we are okay with someone or when we are about to kill each other? The solution:
a simple -100/100 bar
. The logic is easy, the more you approach to -100, the worse the situation is and the opposite. Also, depending on the relation you have with everybody, you could acquire some
advantages
(such as better contracts with fixers, better prices or even better items to buy...)
and so
disadvantages
(not being able to enter into an area of a certain gang, refusement to sell you anything...)
. That would give an impression that V is welcome in certain areas of Night City and not well received in other ones.
Personal purpose: -100% (completely hostile, 0 commerce, not able to go into their territory without being prosecuted and shot) / -75% (0 commerce, they will only attack if you walk in front of any of the members) / -50% (only basic items commerce, only attack if get seen) / -25% (only basic items commerce, no hostile) / 0% (normal) / 25% (rare items appear in commerce, don't attack even if in crime scene) / 50% (rare items appear in commerce, you can recruit some units with you [just like GTA SA]) / 75% (epic items in commerce, you still can recruit) / 100% (epic and some legendary items in commerce, if it's a gang or a corpo some will come where you are if you get attacked)
ADVANTAGES / DISADVANTAGES 2.0 - ROMANCES:
Will
romances
be affected by this?
Of course
, they would even have customized options. Let's get
back again into the -100/100 bar
: the more you approach to -100, the angrier would be your partner with you
(he/she would even break up with you if you hit -100, so you should do whatever it's in your hand to get him/her back)
, and vice versa. No need to say that there would be some
"medium stages"
where V gets
advantages or disadvantages
: for example, from >75% V can date his/her partner following what was posted in
Judy romance update/expansion/DLC
plus my apportation in
Request to add Animations to V character/model
-obviously, taking him/her to places where he/she has enemies in it would affect the date and actually make your relationship's bar go down-
, or from <-75% he/she will not take your calls, so the only way left to contact is going to his/her home. V will have to call the partner regularly, do missions with him/her or just talk by phone in order to maintain a good relationship.
Personal purpose: -100% (break up if V can't manage the situation [speak with partner in apartment/bar/restaurant/park...]) / -75% (doesn't take up the calls) / -50% (responds sadly or badly the phone calls and doesn't move from apartment) / -25% (refuses any attempt to hang out with you) / 0% (normal) / 25% (purposes friendly dates [such as going to drink or such] / 50% (allows to go to a mission together) / 75% (allows to get in a date or to be invited to one by the partner) / 100% (goes with you wherever you go, such as the old Pokémons where Pikachu followed the trainer, and protects you if you get attacked).
GOING UP OR GOING DOWN?:
The logic is quite easy:
you do something good, your relation increases; you do something bad, your relation decreases
. But what happens when you, for example, attack members of the
Tyger Claws
? Well, your relationship with enemies of the
Tyger Claws
(for example, Judy)
would increase while your relationship with other people
(perhaps Wakako)
would decrease.
Night City is always woken, so why wouldn't its environment be like that?
Let's
highlight something
in this part:
"if I don't interact with someone or something during, let's say, 8 hours, what would happen?"
. The answer is easy:
just like Sims or real life, the relationship would decay
(or increase if it's negative)
until it reaches
the 0 point
. And another question could be
"do they all descend (or ascend) equally?"
.
Not exactly
. Let's say that a terrorist has made a bomb and exploded it in a building before he left the crime scene. It certainly would be so difficult to lose the hate to him/her, right? So what about if you ignore your partner? Then the feelings change much faster.
There it is!
Following the Pyramid we set before, we can make an escalation of how it would vary in every case
(perhaps from -1/1 with the corpos until -4/4 with individuals, with an extra -5/5 with partners)
.
FUTURE ACTUALIZATIONS:
Almost nothing cannot be improved and this is no exception. Once this system is implanted and working well, some ideas could be added: perhaps some kind of
Clan Wars
, where
AN&E would vary
in several cases; or
changing the tables in Standings for another bar diagrams
, so actions and words would affect different as time passes. Also, another possible feature could be adding some skull
emojis
for the dead contacts, hearts for romances, smilies for friends...
Another thing I would like to add in a future patch would be the
adequation between places and time
(
for example, pubs and discos should be filled up at nights while factories would be almost empty; restaurants full of people at breakfast, lunch and dinner...)
. That would, somehow, make the previously mentioned dates
more realistic
.
So this is my idea. Amazing, isn't it?
What do y'all think?​