I'll make it simple and quick i just would like the Devs to read it thats all. Also im very aware that most of the ideas are very unrealistic and might never see the light of day but im just passionate about this game so much been waiting for so long just wanted to be heard.
"THANK YOU DEVS FOR MAKING THIS BEAUTIFUL GAME"
-
Fix AI wanted system
(MAXTAC dropship chase its the dream, Cops actually chasing you and maybe with cars)
-
Adjust NPC AI behavior
-
Add bounty system
(after killing too many gangmembers some serious powered up bounty hunter starts hunting you)
-
Rebalance builds
(quickhack OP , melee OP, tech weapons that shoot through half the city block OP)
-
More JOYTOYS
(2 joytoys in whole Night City and 2 more you gotta unlock them)
-
Add more resistance and status effects to BOSS fights.
-
Add the ability to change appearance mid game
(i wanna change haircut, want to change tattoos)
-
Add various side activities
(poker, blackjack, arcade cabinets, pachinkos, bowling, shogi)
-
Add more NPC that i can romance
(
ability to romance new npc from side quests)
-
Add NPC interaction
-
Add NPC's driving motocycles
- Ability to spawn vehicles in the Megabuilding garage
"give us a reason to use the elevator next to V's apartment if this is the only function house we get"
-
Add Ability to enter Wilson's shooting range in the megabuilding
(the only time you can is for a competition i would love to be able to test weapons)
-
Ab
ility to sit down at most restaurants and eat food at most vendors introduce more RP elements
(i prefer to see animation when i eat at restaurant would make consumables noticeable)
-
Street cred needs more functions
"taking down some bounties can be a way to earn those something that can be repeatable/tied into repeatable content.
-
Ability to do boxing/races side activies not tied to the story atm its super limited
-
Storage inventory needs categories
-
Lifepaths need more impact
-
Ability to continue after ending
"More repetitive content that maybe resets when u sleep, Something that helps me reach lvl cap and upgrade weapons or to try some new mods/weapons/ cyberdecks u get at the end of the story something that keeps players occupied with something to do so that the city can still feel alive for me and players" I played Pacifist non-lethal when i finished the game i was 32 and i found myself with nothing left to do
<<<< MOST IMPORTANT PLEASE
-
Cyberware color customization / More cosmetic options
"we want diff arm colors... still dreaming of a pink gorilla arms.... IF johnny is silverhand i wanna be
V pinker hands
" same for
Leg implants

]
-
Night vision, thermal vision, Flashlight
-
More romance options
" seems like after a certain point in the game the person cease to exist like judy for example i cant even lean with her on the balcony anymore Grrr, my point is it needs more, more Text messages more interaction"
Check out the
User Trinixy
shes got some cool Romance Depth Suggestions here's her
thread https://forums.cdprojektred.com/index.php?threads/romance-quality-over-quantity-v.11065499/
-
Ability to sleep in other houses / get new cribs / let us interact with them more/ Customize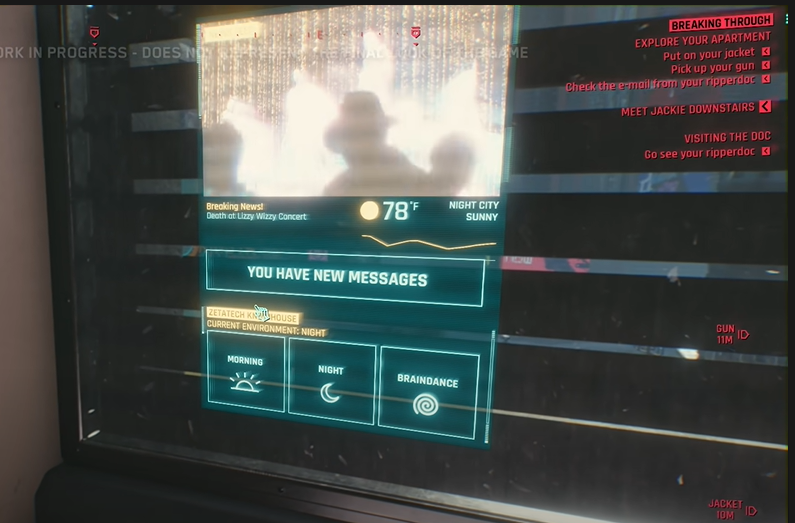 -
Metro system,cab system
"I know im asking too much i get it im sorry"
-
Knife retrivable after throwin PLEASEEEEEEEEE
-
Vehicles customization
"I'm not asking for a full color paint system but there is def something missing would be cool to make your ride even more yours instead of getting other people's ride"
-
Change car purchase icons on mini-map to something else than siede quest icon
"its so confusing please"
-
Crafting ability to craft multiple items at once
-
Ammo cap needs to be highlighted
"when crafting ammo the game doesnt tell you when you reach max therefore you keep wasting components for ammo that no longer stacks the crafting should stop you when you reach maximum"
-
Increase level cap -
"For those of us who want to max absolutely everything or almost everything."
-
Transmo
g
"meaning ability to replace the appearance of your armor and weapons with those of other items, or to hide certain pieces of armor"
-
NG+
-
Zoom the map out option when driving
-
Ability to rename save
-
Weather system "seems like it only rains/sand storm are triggered by certain quests" I know there is rain in the game however the rain during Judy's initial quest is one of a kind examble below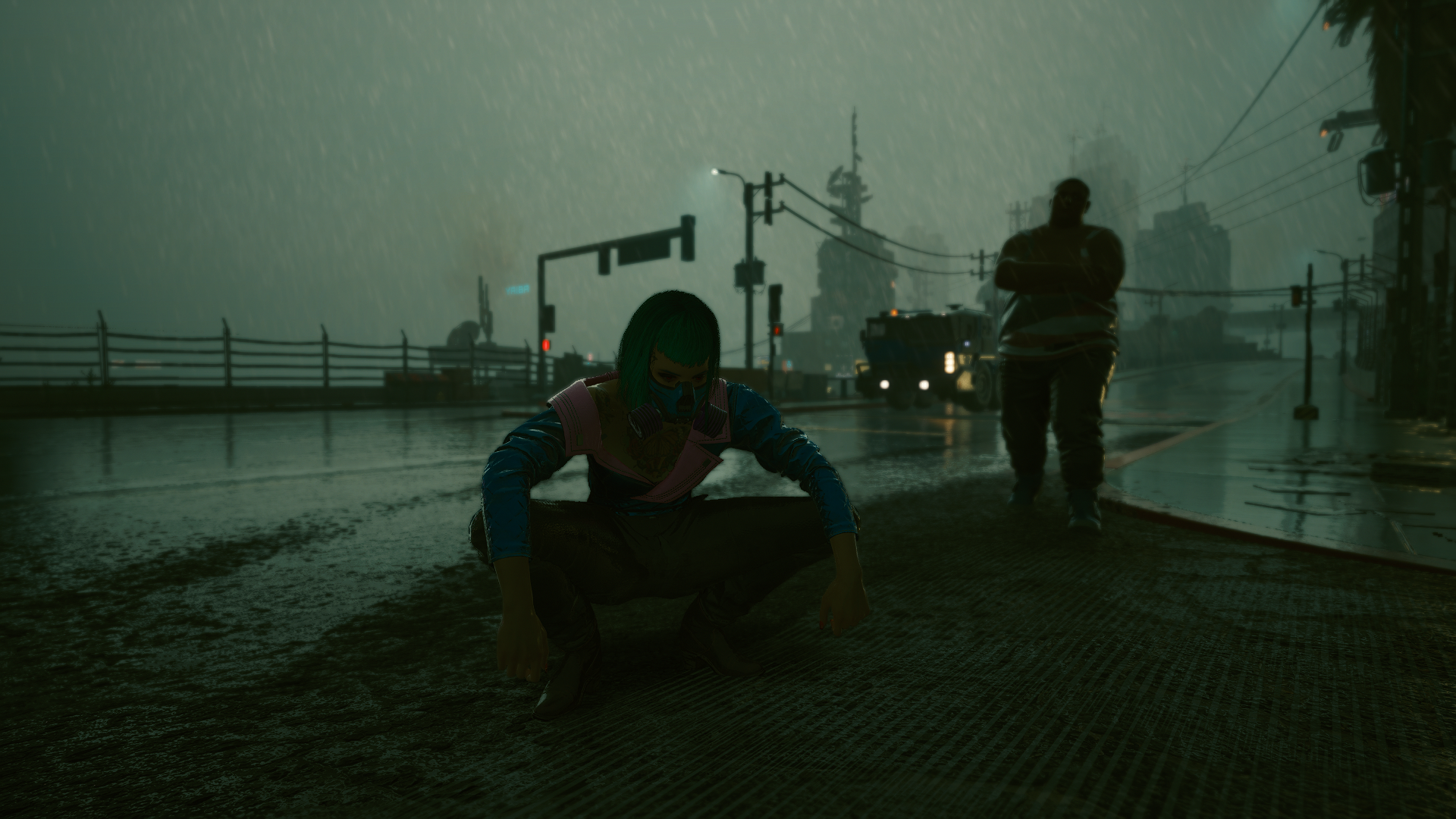 -
Ability to lock item to prevent from disassemble
-
Monowire revamp
"needs more function an improved experience i found it very disappointing it needs stealth mechanic or anything at this point than what it does right now, seems to scale damage on Blunt, and levels Street Brawler and stacks with Cool damage which i find super confusing because i thought there was some kind of stealth mechanic to it but no its literally like any other melee weapon Loud
-
Walk Option
- Stealth perk
"there is a stealth perk which i honesly don't understand the point since most of the mission aren't related to water maybe could be great if swappable with something more useful?


Parade market area in Japantown needs some love
"I re visited areas in the game just get some pictures and one of the most beautiful location was the market in Japantown which is basically the Parade mission with Takemura and i noticed that the place is completely empty no NPC's would be great to fill it with people this place is so beautiful a miss opportunity it has multiple levels and goes all the way up.
I also wanted to point out yes the reason why there aren't people is because of "Lore" but let me put it this way when u do the MAXTAC mission at the vendor you have the Chopper blocking the street due to investigation but once you skip time its gone, imo it should be the same way with this its a miss opportunity to make the city even better
- Photomode
"Perhaps more poses such as mantis blades? option to close eyes"
- Fix issue with Crafting Clothing specs
disappear
entirely from vendors after 1st encounter
Last edited: