CDPR just uploaded this to the wallpapers at
www.cyberpunk.net
:
On the Glenn line, stopped at New Harbor.
NOTE: You can right-click on the images and open in a new tab or window, then zoom in if you are having issues seeing them at full size.
And hey! Some cool Night City 2020/PnP references there. On the upper right, you'll see transit stops nearby!
From the Night City sourcebook by R. Talsorian, the Zone Descriptors:
Now, these descriptions are from 2020, pre-CorpWar4 and pre-Red. Night City has been rebuilt since then. Not even uploading the old zone map, as I doubt it's relevant any more. Feel free to look it up in your
copy of Night City
, though.
This is the New Harbor Mall, on the bottom there. Top is McCartney Stadium, home to the NC Rangers, the Slammers, the Heat (Basketball team in 2020, you can see the logo on V's jacket) and the combat soccer team, the Death Dealers.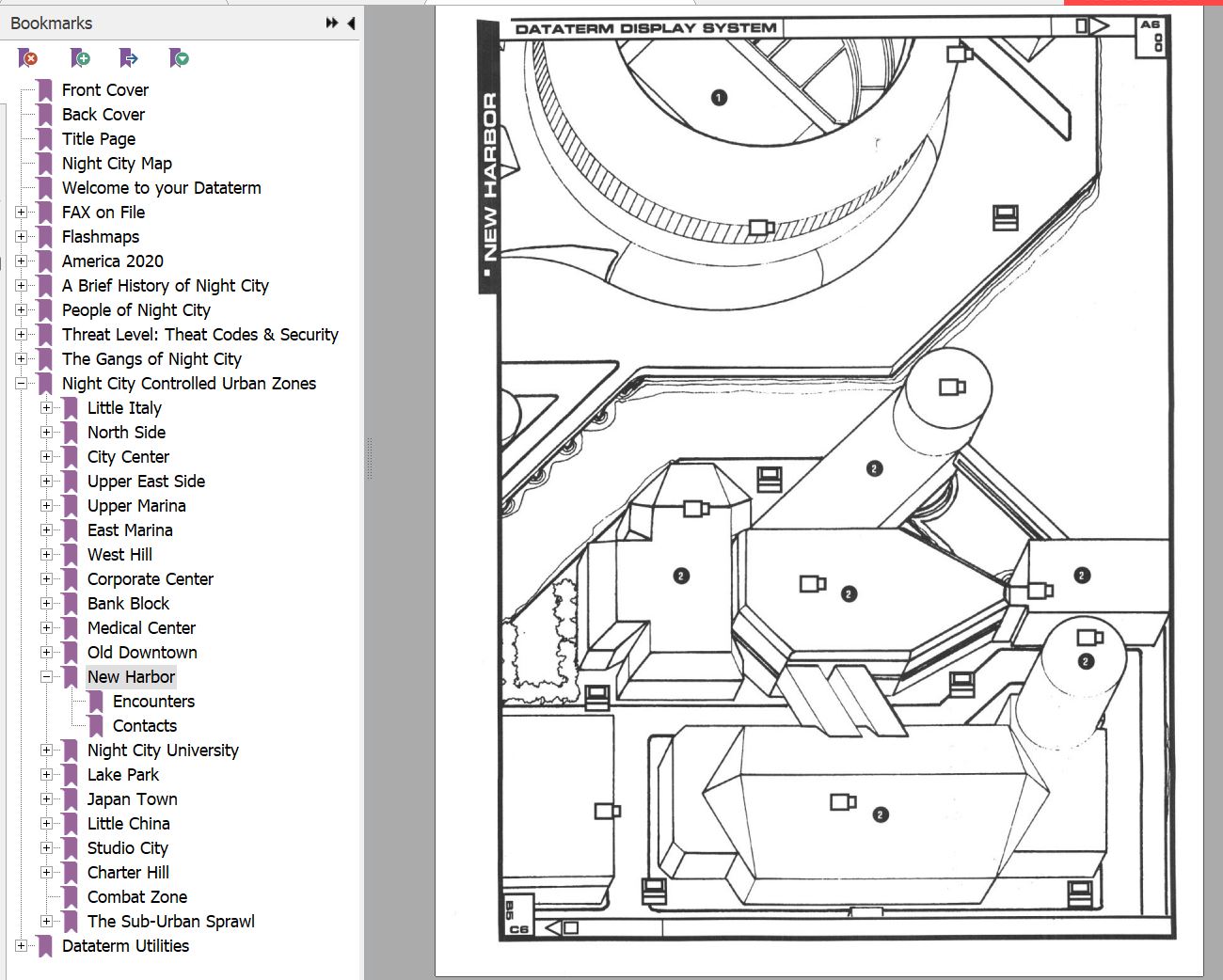 On the Metro image :
(Thanks Traz)
We can see Little China, Charter Hill, City Center, Med Center, New Harbor, Japantown. They are mostly in the same order as the NC sourcebook, with Downtown, City Center and Med Center before New Harbor and Japantown after.
Upper Marina and East Marina might be replaced by Arasaka Waterfront(s)? Rebuilt by A after the War?
Anyway, New Harbor Mallplex. Here's some images from the NC book, including why to avoid the cookies. Or not!
Enjoy! See anything else cool in the new image? Share!
If you zoom in on the screamsheet on the bottom, (something I missed until now as my widescreen version crops the paper argh) you'll see this is the headline:
What's that from? Heh. It's a nearly straight pull from the 2020 Corebook! (Actually a reprint from Rockerboy, but it's found in the Corebook.)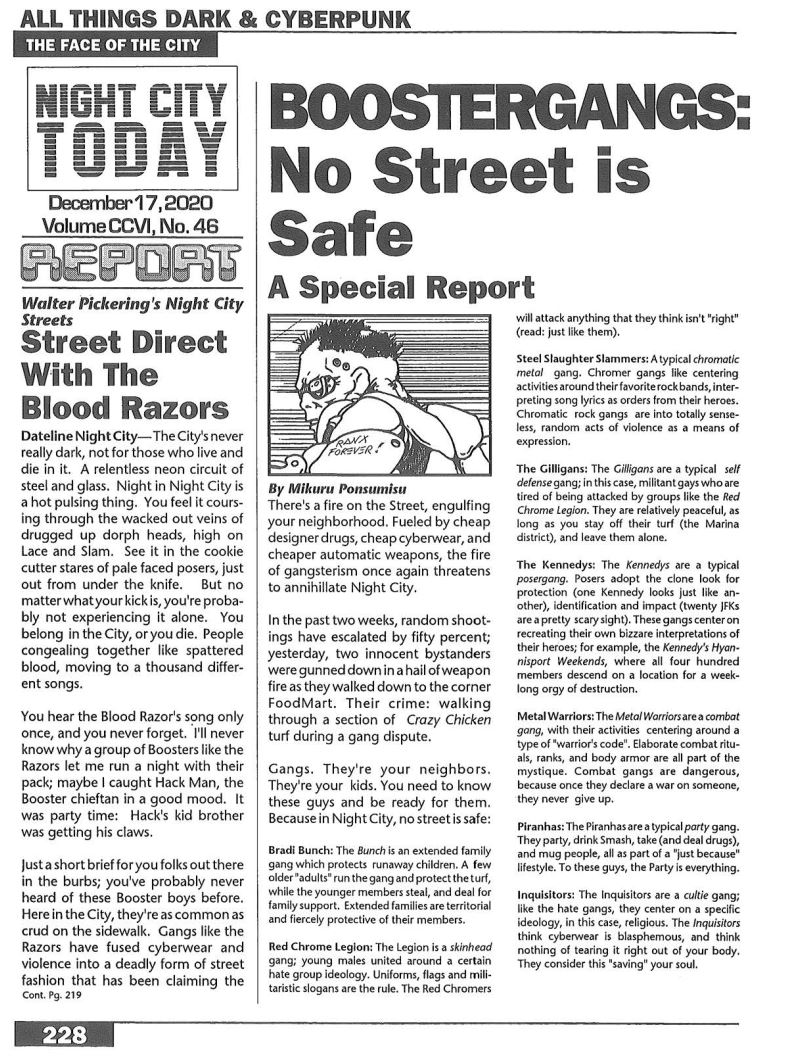 Even uses the black-on-white lettering/font combo. Pretty cool, eh?
So, Arasaka. Security in black, bashing the door in?
Arasaka is a Japanese-based megacorp specializing in Security. They are the infamous "Boys in Black" that are a steady threat to every edgerunner out there.
They were one of the 2 main Corps in the 4th War and are arguably the most powerful Corp on the planet. They provide Corporate security across the globe and also regular police forces in many jurisdictions. They are highly trained, superbly equipped and well-motivated. The man who took them from a Japanese legacy company to a huge multinational in the 20th Century, Saburo Arasaka, was/is a veteran of WW 2 and an ardent Japanese nationalist. He considers himself a samurai, as does his son and heir, Kei.
The armour you see is reflective of the Samurai ethic - collars, shoulderpads, helms.
You can find
lots more on Arasaka
in the Lore thread at:
https://forums.cdprojektred.com/index.php?threads/mega-2020-lore-thread-trailer-breakdown.10970780/
Last edited: