The Lodge of Sorceresses(all spoilers)
So...Who loves sorceresses? Everybody loves sorceresses! And the Lodge has some of the best ones: powerful, beautiful, cunning, smart, the list is endless! Let's discuss these dangerous beauties. Which are you favorite ones? Do you agree with their motives? Do you support them? Or do you think they should be burned on pyres?
Here's some brief information about the members:
Philippa Eilhart
Philippa is a dark-haired sorceress from Tretogor, former member of the Council, founder and de facto leader of the Lodge. She is one of the very few mages able to polymorph. Eilhart was Tissaia de Vries' best student and considered to be one of the most powerful sorceresses alive. Phillipa was an advisor to King Vizimir The Just of Redania and later to his son Radovid The Stern.She led thr Thanedd coup against the Brotherhood of Sorceress, intending to neutralize suspected traitors allied with Nilfgaard. Some people call her the"Jewel in the Court at Tretogor". Philippa had a relationship with Redania's chief spy Sigismund Dijkstra. Later she attempted to assassinate him, but Dijkstra survived and ran off to Zerrikania. She was also the one who staged King Vizimir's assassination. According to the book canon she is to be tortured to death by Temerian priest Willemer and later proclaimed Saint. At first Philippa didn't believe in Destiny, but she changed her mind during the events of the saga. She likes flying on a broom. Philippa is rumored to be around three hundred years old. Agates are her favorite gems. Philippa hates flying through fog in her owl form. She's also a lesbian.
Sheala de Tancarville
Strict, calm and collected Sheala de Tancarville (Sile de Tansarville in the English version of the games) is a dark-haired sorceress from Creyden, former member of the Council and advisor to Queen Zuleyka of Kovir. Unlike many other mages she's not known to interfere in politics and instead dedecating her days to research. Sheala is one of the most powerful, respected and feared mages in the North. Even some of the Lodge's members are afraid of her, with perhaps the exception of Philippa, Francesca, Assire and Yennefer. She was offered many times to become a member of the Conclave, but always refused. Queen Zuleyka sought Sheala's magical assistance in getting her son away from the evil influences of the "bad crowd" he had fallen in with. De Tancarville agreed to help in exchange for personal information regarding King Tancred's thoughts on the secret loan that Redania obtained from Kovir. Sheala thinks that revenge is the joy of mediocre, weak, and petty minds. As a voice of reason in the Lodge, she often tried to calm the more impulsive members of the organisation such as Sabrina and Keira. De Tancarville believes that there's nothing worse than scientifically manufactured

chauvinism

. She likes to dress in a strict, black velvet gown trimmed with pearls and often wraps a silver fox boa around her neck. Sheala never liked Yennefer, but she also never quiestioned her magical abilities. Sheala

is

also known as the Koviri Loner

.
Margarita Laux-Antille
Margarita or Rita, as her friends call her, is a rector of Aretuza Academy for Sorceresses on the Isle of Thanedd and descendant of the famous Ilona Laux-Antille. Quite unusually for one of her profession, Margarita showed no interest in politics - it was only care for the good of her school that led her to join the Lodge. Rita is probably one of the nicest sorceresses alive: dating married men is her biggest crime to date. She is a co-author of the compedium Masters of Magic on Curses – Selected Writings. Rita is a close friend of Yennefer. Even though it's not always visible Margarita holds a great deal of respect for her mentor Tissaia de Vries. She was the object of Lars' affection, though she never returned his feelings. Rita believes that sorceresses should always act, for better or for worse and that indecisiveness should be their only regret

. She has blonde hair and blue eyes and was described by Ciri to having a figure that surpasses Yennefer's and statues sculpted by artists.
Triss Merigold
Triss is a young chestnut haired and blue eyed sorceress from Maribor. She was a member of King Foltest's royal council along with Fercart and Keira Metz. Triss is called 'The Fourteenth of the Hill' because she was thought to have been killed during the Battle of Sodden. During the Thanedd coup she sided with Philippa and other mages loyal to the North. After the events of the coup King Foltest exiled her from Temeria. Triss's hair is her trademark and a defining characteristic. She's a creator of a powerful spell called 'Merigold's Hailstorm'. Ironically, Triss is allergic to magical poitons and can only treat herself with spells and amulets. She doesn't recognise collective responsibility. Merigold believes that anyone who doesn't know other languages besides their own are handicapped. She likes to dress in bright colours, usually green and blue. Triss is very proud of her thin waist, which is only twenty-two inces long. She really likes seafood. Triss shares an opinion with Keira Metz that women only ever beautify themselves for their own satisfaction.She's a close friend of Geralt, Yennefer and Ciri.
Keira Metz
Keira is a young straw-blonde sorceress with light hazel eyes from Carreras and former advisor to King Foltest. During the coup on Thanedd Island, she was literally hurled out of a window by Artaud Terranova, landing on Geralt who was passing below looking for Ciri. After the events of the coup King Foltest exiled her from Temeria. Later, Keira became one of the youngest members of the newly formed Lodge of Sorceresses. She likes to wear an ankh pendant and has a small mole above her left breast. Keira is rumored to be a nymphomaniac. Metz shares an opinion with Triss Merigold that women only ever beautify themselves for their own satisfaction.She really likes the tale about Cinderella. Keira is a bit spoiled and pampered. She's terribly afraid of rats.
Sabrina Glevissig
Sabrina is a dark-haired, brown-eyed sorceress from Ard Carraigh, Kaedwen's capital and advisor to King Henselt. She is a descendant of a famous sorceress Jada Glevissig. She was Philippa's second in command during the coup on the Isle of Thanedd. Known for her temper, Sabrina is probably the most impulsive member of the Lodge. She is most likely Yennefer's schoolmate, but both ladies claim to be the younger of the pair. According to Coral, Sabrina was Algernon Guincamp's lover. Glevissig never laughs at Elven jokes, because she doesn't understand them. She often interrupts the speeches of Henselt, banging her fist on the table and ordering the king to be silent and listen. Sabrina adores men, but finds them to be emotionally unstable and unreliable. Because of her brash personality some people refer to her as "The Daughter of the Kaedweni Wilderness." Sabrina is a heavy eater for a sorceress. She really like onyxes and often decorates her jewelry with them. Sabrina often wears provocative outfits to underline her somewhat predatory and vivid beauty.
Francesca Findabair
Francesca Findabair also known as Enid an Gleanna (in Elder Speech meaning Daisy of the Valley) is the Queen of Dol Blathanna as decreed by Emhyr and the last surviving member of the Conclave. She helped Vilgefortz during the Thanedd coup

. Enid's

biological father who disowned her was Aen Saevherne. Francesca took part in genetic experiments with the Elder Blood. Many elves hate Francesca and think of her as a traitor of the race. Enid has golden hair and azure blue eyes and loos very youthful despite being the oldest member of the Lodge. She is considered to be the most beautiful woman in the world.
Ida Emean aep Sivney
Ida is a red-haired elven Sage from the Blue Mountains. She was invited to the Lodge by her friend Francesca Findabair. Ida doesn't like to wear precious metals and stones, preffering pearls, corals and ambers. Ida is silent when she has nothing meaningful to say. She's the most mysterious member of the Lodge.
Assire var Anahid
Assire is a dark-haired Nilfgaardian sorceress from Vicovaro and Cahir's grandaunt. Unlike sorceresses from the North, she wasn't akin to fashion, but it quickly changed under the influence of the Lodge. Assire was known for helping the emperor with military operations during the war. She took advantage of Carthia van Carten's relationship with the head of Nilfgaard's secret service, Vattier de Rideaux.Even though Assire is a Nilfgaardian sorceress, she is a Nordling by blood like her sister Eviva. She has a black cat called Merlin.
Fringilla Vigo
Fringilla is a Nilfgaardian sorceress and a cousin of Anna Henrietta of Toussaint. She was invited to the Lodge by her friend and colleague Assire var Anahid. During the Battle of Sodden Fringilla blinded Yennefer, but later helped her escape from the Lodge. Her uncle was Artorius Vigo, the specialist illusionist. Fringilla was romantically involved with Geralt of Rivia, during his time in Toussaint. The magical amulet which she gave Geralt was instrumental in defeating Vilgefortz. Fringilla strongly believes that magic should not be divided by borders and divisions. She is a woman with natural grace, green eyes and close-cropped black hair. Fringilla was always considered to be unruly and rebellious in her homeland, but despite that she thinks that Pax Nilfgaardiana will bring culture, order and stability to the North. Lady Vigo was quite astonished by the manners and customs of the Northern sorceresses. Fringilla thinks that sphinx is a perfect emblem for the Lodge. She can't stand when men try to justify themselves, loves men who are strong and courageous and believes that a real masculinity is the right mixture of crazy and style. She hates half-meauures and half-promises, but likes books. A LOT.
Yennefer of Vengerberg
Yennefer is one of the most powerful sorceresses in the North, Geralt's lover, Ciri's adoptive mother and a member of the Council with the least seniority. She participated in the Battle of Sodden Hill, where she was blinded by Fringilla Vigo, but her eyesight was later fixed with magic. Unlike other members of the Lodge she was forced to join the organisation, but quickly escaped with the help of Fringilla. Yennefer always dresses in black and white, wears silver, not gold and smells of lilac and gooseberries. She wears an obsidian star on her neck, which enhances her magical abilities. Yennefer is unable to sleep in the dark and because of it, always keeps the lights on. She likes to comb her hair, before going to bed. In the books Geralt was the only one to ever call her "Yen", while her other friends and colleagues usually referred to her as "Yenna". Her former name is Jenny. During her childhood Yennefer was a hunchback, but her appearance was later fixed with magic. She's good friends with Triss Merigold, Lytta Neyd and Margarita Laux-Antille. Yennefer is a Quadroon (1/4 elf).
Cirilla of Vengerberg
Cirilla Fiona Elen Riannon (also known as Ciri, Cirilla of Vengerberg or the Lion Cub of Cintra) is a princess of Cintra, daughter of Pavetta and Emhyr and granddaughter of queen Calanthe. After witcher Geralt lifted the curse from her father, he demanded from Emhyr what he had but didn't know he did, which turned out to be Ciri. Cirilla is a highly-skilled witcher, heiress to several thrones, the last bearer of the Elder Blood, a powerful Source endowed with exceptional magic talent and the Lady of Time and Space. She's also an adopted daughter of Geralt and Yennefer. Ciri has an ugly scar on her face. Her name is derived from the Elder Speech word Zireael, Swallow.
And here's a more or less book friendly image of the Lodge:
​
Another one:
And The Lodge's gwent cards: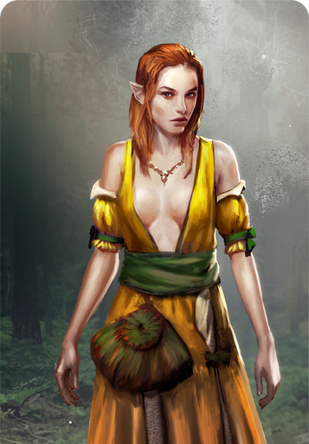 Francesca has a few:
Other notable sorceresses:

Tissaia de Vries


Tissaia was an Archmistress, one of the eldest and most powerful mages of her time. She was one of the rectors at Aretuza, the author of "The Poisoned Source" and a member of the Conclave. Tissaia was Phillipa, Yennefer and Margarita's mentor. She cared about ordinary people and helped Triss to teleport wounded Geralt from the Thanedd Island. Tissaia deemed herself responsible for the Thanedd coup and commited suicide as a result. She was very obsessive about her appearance and things in general, seeming to constantly clean and organise items neatly.

Astrid Lyttneyd Ásgeirrfinnbjornsdottir
Lytta Neyd also known as Coral (she got the nickname for the colour of her favorite lipstick) was a sorceress from Skellige. She had ginger hair, smelled of freesia and aprico and one of her hips was decorated with a tatto of the Angelfish. Coral was often cruel to her assistant Mozaik and sometimes twisted her body parts as a punishment. Geralt of Rivia was one of Lytta's lovers and even lived in her house for a few weeks. She was one of the mages who died during the battle of Sodden.Coral was a friend of Yennefer and Triss. She loved the sea and often dreamed of setting sail onto the horizon.
Mozaik
A young sorceress who was an assistant of Lytta Neyd. Her hair was slicked back. Her original name was Aïk, but she earned a nickname Mozaïk at Aretuza as she suffered from vitligo (portions of the skin losing their pigment) and had white spots on her face which resembled a mosaik. She had a brief relationship with Geralt of Rivia.
Tiziana Frevi
She was a dwimveandra (after completing her studies at Aretuza young sorceress can become an assistant of an experienced mage or become a dwimveandra and wander from one mage to another just as some artisans do). In 1245 Yennefer recommended her to continue her studies under the supervision of her acquaintance from Maribor (most likely Triss Merigold). Tiziana once helped Yennefer to return Geralt's lost swords back to him. She is blonde and smells of iris and bergamot. Her future fate is unknown.
Biruta Anna Marquette Icarti
Biruta Icarti is a blonde sorceress who once worked under Ortolan at Rissberg castle. She is loyal to her colleagues from Rissberg and does not care about ordinary people whose death is insignificant for her. After Ortolan's death she returned to Aretuza and when Radovid's witch hunters overran Aretuza she informed Margarita about it.
Marti Sodergren
Marti was a sorceress who specialized in healing. Unlike many other mages Marti had no interest in politics. She took part in the battle of Brenna, working under Rusty in his field hospital. After the victory she had a love affair with a Free Company officer, who treated their relationship too seriously and stabbed her to death out of jealousy when she got involved with a Temerian captain.
Lydia van Bredevoort
Lydia was a sorceress,painter and Vilgeforz's assistant. The lower part of her face was horribly damaged by a cursed artifact and as a result she had to cover it with an illusion. Lydia had unrequited feelings for Vilgefortz.. She died during the Thanedd coup. When this happened the illusion which hid her appearance dissipated and her true face was revealed, much to the horror of the witnesses.
Visenna
Visenna is a druid and a sorceress, as well as the mother of witcher Geralt of Rivia. She's a redhead and wears a diadem with the chalcedony stone. Visenna is a powerful sorceress, well versed in the healing magic, as well as necromancy. She had a romantic relationship with Korin (who's most likely Geralt's father).
Nimue verch Wledyr ap Gwyn
Nimue (also known as the "Lady of the Lake") was a sorceress from the future who helped Ciri find the way to Stygga castle. She was a graduate of Aretuza. As a girl,Nimue took a special interest in the history of Ciri and Geralt. Over time she began to lose interest in Ciri's story, but later her interst was re-ignited. In her private tower, she scoured images depicting scenes from the sagas, as well as all the books, fables, legends; every nook and cranny trying to find more information about Ciri's history. Nimue strongly admired members of the Lodge, particularly Philippa, Sheala and Assire. She was romantically involved with the Fisher King.
Condwiramurs Tilly
Condwiramurs was a talented oneiromancer and a graduate of Aretuza. At the academy, she was the best at dream interpretation. At the age of 24, she was invited by Nimue to help solve the puzzles surrounding Ciri's story. When Condwiramurs first arrives at the lake, she is taken to Nimue's island by the Fisher King and he does not leave a particularly favourable impression on her, but during her stay, she grows to appreciate him. As a girl, she really admired Yennefer and wanted to be just like her.
Corinne Tilly
Corinne is a famous oneiromancer and a relative of Condwiramurs. She can not only dream of past events herself, but also has a rare gift to induce revelatory dreams in persons searching for direction or answers to specific questions. These abilities proved to be of great use to Geralt in his search for Ciri
Abigail
Abigail is a witch who lives on the outskirts of Visima. She is not well-liked by the villagers and gets blamed for many bad occurences. Her main skill is alchemy, even though the villagers approach her with suspicion, they also rely on her for potions and poisons-which she provides, rarely bothering with questions or moral objections. Abigail might also secretly be a member of the Cult of the Lionheaded Spider.
Cynthia
Cunning Cynthia is a powerful sorceress and Nilfgaardian spy. She managed to outsmart Philippa Eilhart and turn Triss Merigold into a figurine. She's completely loyal to the Emperor and believes that one big empire is humanity's only hope for survival.
Adrianna
Lady Adrianna is a sorceress, whom Geralt meets at the arena. She tells him that she is at the arena to test several new spells she's developed for combat situations. Adrianna believes the witcher benefits far more from fighting with her at his side than vice versa, and so charges for her services. She claims to be an Archmistress of magic.
Felicia Cori
Felicia was a young and aspiring sorceress, Philippa Eilhart's pupil. As a novice from Aretuza she had to complete her intership under Philippa's watchful eye. During the witch hunts she was captured and burned at the stake by Radovid's men. Felicia was not only a talented sorceress, but also a great coiffeur.
Ithlinne
Ithlinne Aegli aep Aevenien was a legendary elven healer, astrologist and oracle. She had a gift for divination and prophecies, the best known of which is Aen Ithlinnespeath. Ithlinne's Prophecy has been observed to have correctly predicted a number of things, such as the Northern wars (1239-1268) and the plagues of 1268, 1272 and 1294.
Notable sorcerers:

Vilgefortz Of Roggeveen
Vilgefortz was a mage and a member of the Conclave, described by Yennefer as "young", but "incredibly talented". He is described as being very handsome and possessing a lovely voice. As an infant he was abandoned by his parents and left to die in a gutter in Lan Exter. He was found and raised by druids and only became a mage as an adult. In the Battle of Sodden Hill, he assumed command over the mages from the Northern Kindoms. After the battle he engineered the truce between the North and Nilfgaard. He was not only incredibly ambitious and power-hungry, but also secretly in league with Emhyr var Emries. Vilgefortz's thirst for unlimited power brought him to the conclusion that he needed Ciri's blood in order to claim her powers. On Thanedd Island, he was accused of treason and put in dimeritium shackles. However, he broke free and tried to capture Ciri (severely wounding Geralt in the process) but she fled through the portal in Tor Lara. Afterwards he hid in his castle, continuing his schemes to find the girl. To that end, he captured and tortured Yennefer for an extended period of time. He finally met his end in the hands of Geralt of Rivia at Stygga castle. "You've mistaken the stars reflected on the surface of the lake at night for the heavens" was his favorite quote.
Hen Gedymdeith
Hen Gedymdeith, originally known as "Gerhart of Aelle", was the oldest member of the Conclave, he was also the author of Elves and Humans. In fact, he was the child of two of the first human settlers on the continent which would make him nearly 500 years old at the time of the Thanedd coup. He did not survive the coup as his heart gave out. Marti Sodergren tried to heal him,but it was to late. Hen was one of the mages who inspected Goidemar's children to find Falka's bastard.
Artaud Terranova
Artaud Terranova was a mage and member of the Conclave. He was a trusted associate of Vilgefortz. During the Thanedd coup he got punched in the face by Keira Metz and later threw Keira out a window,which caused the break of her leg. Later got his eyes clawed out by Philippa in the owl form before being slain by Geralt of Rivia.
Carduin of Lan Exter
Carduin, known variously as Carduin of Lan Exter, or Carduin of Kovir, was a very respected mage and a member of the Council. During the Thanedd coup, he was considered a neutral participant and survived the incident.
Radcliffe of Oxenfurt
Radcliffe was a mage, a member of the Council and a veteran of the Battle of Sodden Hill. He was also an advisor to king Demavend of Aedirn. During the Thanedd coup he sided with the North. According to Keira Metz he was among the mages, who died during the coup, but Triss Merigold later claimed that Radcliffe led the committee examining traces of teleportation from Thanedd.
Fercart of Cidaris
Fercart was a mage and advisor to King Foltest of Temeria, along with Triss Merigold and Keira Metz. He was among the survivors of the Battle of Sodden Hill. Fercart was one of the youngest members of the Council and a supporter of Nilfgaard during the Thanedd coup, where he was killed.
Dorregaray of Vole
Dorregaray is a mage and a defender of endangered species. He took part in the hunt (search, in his opinion) for the golden dragon, Villentretenmerth. He was also a spy for king Eithan of Cideris. During the Thanedd coup Dorregaray was shot by a Scoia'tael, but Marti Sodergren managed to save him with the help of Geralt of Rivia and Carduin of Lan Exter.
Dethmold
Detmold is a flaxen-haired, taciturn mage from Ban Ard. He and his brother, Drithelm, were in the service of King Esterad of Kovir. During the Thanedd coup, Dethmold sided with pro-North sorcerers and ordered to shackle Geralt. When things started to get complicated, Detmold managed to flee to Kovir. His brother was neutral and was killed during the coup,when an arrow hit him into the eye.
Istredd
Istredd was a well-respected sorcerer in the city of Aedd Gynvael with a keen interest in archaeology. As a young apprentice, he studied under Roedsklide. Isredd was deeply in love with Yennefer and even proposed to her, while she was staying in Aedd Gynvael with Geralt. Istredd challenged Geralt to a duel to win Yennefer's affections, but the witcher refused. When Geralt was leaving the city, Istredd swore to him that he would never give up on Yennefer. His real name was Val.
Xarthisius
Xarthisius was a Nilfgaardian mage of dubious note, more of a fortune-teller and astrologer at the court of Emperor. When the future emperor was still in his youth, the mage convinced him that a cure for his curse could be found in the North. The mage was later rewarded by the emperor with his own tower and astrological equipment. Later, he given the task of locating Ciri by the Emperor. The area he identified proved to be a wasteland in the Tir Tochair mountains where Stefan Skellen found nothing but scorpions and vultures. For this and other miscalculations, he was unceremoniously tossed in the dungeon. He is also responsible for locating the "false Ciri.
Stregobor
Stregobor is a Kovirian wisard and a master illusionist, as well as a staunch believer in the "the Curse of the Black Sun". He lived in Kovir for most of his life, serving under King Idi, together with the mage Zavist. There he also met Geralt, with whom he didn't part as best friends. Some time later, Stregobor was sent to Creyden, because of Queen Aridea's suspicions concerning her stepdaughter, Renfri. The wizard came to the conclusion, based on the girl's behaviour and nature, that she was indeed one of the sixty girls accursed by the eclipse. He plotted with Aridea to kill the girl, and the Queen sent the princess to the woods with a huntsman. They found the man later with a brooch pin stuck into his brain, and no trace of Renfri. Stregobor returned to Kovir, sought to hunt down the girl. In time, the hunter became the hunted, and Stregobor survived three assassination attempts before fleeing to Pontar. Renfri followed him there, too, so his next stop was Angren, before he settled into Irion's tower in Blaviken, and assumed the moniker Master Irion. For a year, Stregobor managed to live in peace, helping the people of the town, becoming 'their' wizard. Renfri still sought to kill him, but of the two of them, he survived that fateful day, telling Geralt that he would move back to Kovir.

Rience
Rience was one of Vilgefotz'saccomplices. He was a student at the school for sorcerers in Ban Ard for two years, but hey threw him out after catching him thieving. Later Rience served in the dungeons there, during Queen Calanthe's reign. He didn't stay there for long, because Vilgefortz bought him out after paying off the debts. In his quest to find Ciri, Rience captured and tortured Dandelion to get information. If not for the extremely timely intervention of Yennfer, Dandelion might not have survived to continue his role as Geralt's frequent companion. Yennefer's rescue of Dandelion left a permanent "impression" on Rience. While the mage did manage to escape, the sorceress' final spell made the left side of his face permanently disfigured. Rience died while pursuing Ciri across the frozen surface of Tarn Mira. When the girl attacked, Rience's own spell misfired and broke the ice beneath his feet. Almost submerged in the freezing water Rience clutched the ice for his very life when Ciri skated through his fingers, severing them and leaving him to drown in the lake.
Ortolan
When Geralt met Ortolan, he was probably the oldest (and definitely the oldest looking) mage in a world and was in charge of the experiments done at Rissberg castle. He believes that his discoveries changed the world and made the life of ordinary people better. In fact all of them were either sabotaged by his colleagues (if they were too dangerous) or used only by mages (like the famous potion which slows down ageing). He was a homosexual and his apprentice Sorel Degerlund used his sympathies to gain more respect among his more experienced colleagues. Finally he died after having heard about Sorel's death.
Sorel Albert Amador Degerlund
This young unmanly sorcerer was a true deviant who pursued his career as an assistant of famous Ortolan. He used his master's authority to gain respect among his more experienced colleagues. He commited several mass murders, but most of the mages from Rissberg castle apologized him. As he suffered from "narcissistic leanings, lack of empathy, emotional disbalance and reduced ability to distinguish between good and evil" his colleagues recommended to put him into a quarantine at Rissberg where he could both undergo psychotherapy and continue in his genetics research. However, Geralt found and eliminated him.
Algernon Guincamp
Algernon Guincamp known as Pinety is one of the sorcerers who conducted research at Rissberg castle. Along with Harlan Tzara, he hired Geralt to investigate a possible demonic possession that turned out to be staged by Sorel Degerlund. His colleagues accused him of disloyalty and he had to leave Rissberg. He decided to move to Nilfgaard and gave Geralt a fine sword from Wiroleda. Pinety had a romance with Lytta Neyd and most likely also with Sabrina Glevissig. He has collections of military figurines, erotic posters and sailing ship models and he likes fishing with an artificial fly.
Bras of Ban Ard
Bras is a mage researcher and craftsman. He was one of many human sorcerers fascinated by Loc Muinne and wanted to fathom all its mysteries. During his travels and research, he had come into possession of several quite interesting weapons. He sold these to any whose pouch was deep enough to cover the expense.
Azar Javed
Azar Javed was a renegade Zerrikenian sorcerer and alchemist who took part in Salamandra's attack on Kaer Morhen. He and the Professor were the main instigators of the raid on the fortress and were uniquely responsible for the theft of the witchers' secrets. Azar was one of the highest ranking Salamandra, but not the ultimate leader. He died by Geralt's hand during the duel in the Salamandra laboratory. Azar was specialized in the element of fire. He was famous for using the same quotes as Vilgefortz. Love for luxury,fisstech and women were his greatest weaknesses.
Abelard of Hagge
Abelard of Hagge was an alumnus of the Academy at Ban Ard. He probably replaced Radcliffe at the post of King Demavend's advisor, but it's not known for certain. He was killed by Letho along with the King and his formation during the river cruise.
Avallac'h
Crevan Espane aep Caomhan Macha, also known as Avallac'h, is an elf and Aen Saevherne who travels between the worlds of the Aen Elle and Aen Seidhe. He meets Geralt and tells the witcher about a prophecy connected with Ciri. He was nicknamed 'Fox' by the unicorns. Lara Dorren

was originally intended to marry him, before she fell in love with Cregennan of Lod.

He was the one who brought Ciri to the Aen Elle king Auberon, promising Ciri that she would be allowed to return to her world, if she conceived a child with the king. Eredin however claimed that Avallac'h was lying.
Albrich
Albrich is a Nilfgaardian mage. He was part of the group of mages who tried pinpoint Ciri's location for the Emperor, but with no success since the distance was too far. Later during the celebration of Adelsberg's victory Emhyr noticed Albrich with Fringilla Vigo and called them "lazy freeloaders" for their failure.
Vanhemar
Vanhemar was a Nilfgaardian mage, Cynthia's master and personal sorcerer to Ambassador Shilard Fitz-Oesterlen, whom he accompanied as part of the Empire's delegation. He died in a fight with Geralt when Ambassador unwisely left him to "finish off" the witcher while the delegation fled to Loc Muinne to attend the summit.
Last edited: