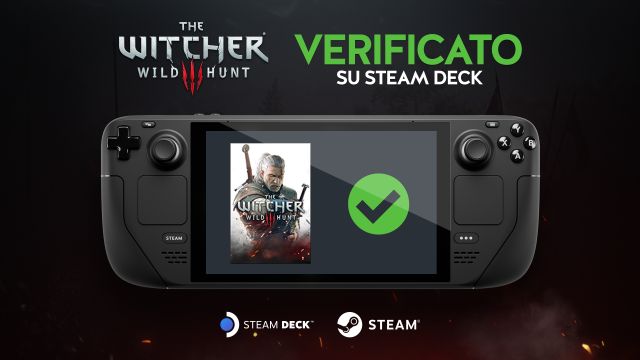 Se vi state chiedendo come The Witcher 3: Wild Hunt giri su Steam Deck, potete stare tranquilli!
Siamo infatti lieti di confermare che il nostro gioco ha ricevuto lo stato Verificato per la compatibilità su Steam Deck.
Gli utenti di Steam Deck saranno liberi di godersi le avventure di Geralt nella migliore maniera possibile. Se avete già una copia del gioco nella libreria di Steam non vi resta altro che avviarla sul vostro nuovo dispositivo portatile!
Stiamo lavorando a stretto contatto con Valve per la compatibilità e gli aspetti legati alle performance dei nostri giochi su Steam Deck. L'obiettivo è quello di rendere disponibile la migliore esperienza per The Witcher 3 e Cyberpunk su questa piattaforma, tenendo bene a mente le sue specifiche caratteristiche.
Quanto detto sopra vale per i nostri giochi più recenti, non ci sono piani per quanto riguarda ulteriori ottimizzazioni per i nostri titoli più vecchi (come, ad esempio, The Witcher: Enhanced Edition Director's Cut).