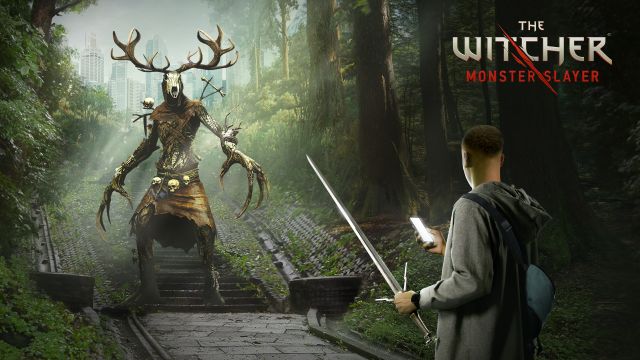 The Witcher: Monster Slayer è un gioco di ruolo in realtà aumentata, free-to-play, basato sulla posizione, sviluppato e pubblicato da Spokko, parte della famiglia CD PROJEKT, ed ora disponibile gratuitamente su iOS e Android!
Scaricalo gratuitamente da
Apple App Store
.
Scaricalo gratuitamente da
Google Play
.
Nel gioco vestirete i panni di un novizio witcher, che ha appena concluso il suo addestramento ed entrerete in un regno fantasy oscuro, usando solo il vostro smartphone o tablet. Grazie all'utilizzo di funzionalità di Realtà Aumentata avanzate, oltre alla posizione nel mondo reale e all'ora del giorno, potrete dare la caccia ad oltre 100 mostri, sia vecchi che nuovi, del mondo di The Witcher.
Inoltre, ci sarà una sorpresa ad attendervi nell'inventario se effettuerete l'accesso su The Witcher: Monster Slayer entro le 23:59 CEST del 28 luglio: la Spada d'Acciaio di Kaer Morhen! Quest'arma aumenta i punti esperienza guadagnati dall'uccisione di mostri del 10% e sarà un valido aiuto per i nuovi witcher nel loro viaggio sulla Via.
Non perdetevi nessuna novità: visitate il
sito web ufficiale
di The Witcher: Monster Slayer e seguite il gioco su
Facebook
e
Twitter
. Potete anche unirvi al
server Discord
ufficiale.