The game (ThroneBreaker) freezes during Gwent battles. I think it is related to the leader's ability to switch cards around in the deck, but I'm not entirely sure.
More specifically, the special battles where you have to meet a certain victory condition within just one round cause this problem most often.
I play my turn, then press "end turn". Then, the "end turn" button flips over, but nothing happens next. The game does not progress to enemy turn. I still hear the BGM, see animations, can move my mouse pointer around but the game just wouldn't progress. I can still press the "forfeit game" button though, and it gets me to some clickable options, but then, eventually the game freezes anyway.
I didn't experience this problem early on in the tutorial section but started to get this issue after that. Sometimes, restarting the game helps and lets me finish a battle that was previously frozen. But then, this Nilfgardian embassador battle wouldn't let me even do that. I simply just cannot get past that specific battle.
Any idea how I can fix this? I really want to play this beautiful game but as is, I can't play it anymore.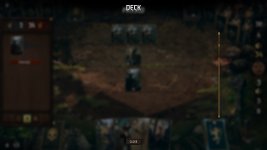 Screenshot showing an empty deck after ending my turn. Strange!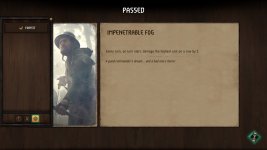 Loading screen with the "Passed" message on top and the game panel on the left.