We're celebrating 10th Anniversary of The Witcher!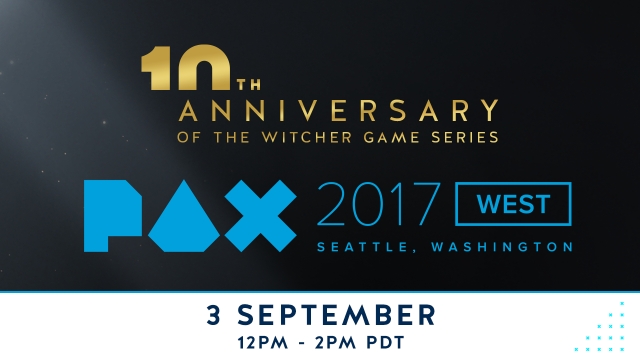 Join us for a panel reminscing the adventures of Geralt of Rivia at this year's
PAX
!
The panel will be entitled "Celebrating the 10th Anniversary of The Witcher" and hosted by
Noclip's
Danny O'Dwyer
. Veteran developers of the series and other invited guests will explore the making of the franchise — from the original The Witcher, through The Witcher 2: Assassins of Kings, up to The Witcher 3: Wild Hunt and it's both expansions: Hearts of Stone & Blood and Wine.
CD PROJEKT RED Team:

Marcin Iwiński - Joint CEO

Paweł Sasko - Lead Quest Design
Bartosz von Ochman - Lead Living World Design
Marcin Przybyłowicz - Principal Composer
Borys Pugacz-Muraszkiewicz - English Adaptation Director
The panel will take place in PAX West's Main Theatre, located in Benaroya Hall, on Sunday, September 3rd, 12:00 PM - 2:00 PM PST. Fans of The Witcher series of games who can't make it to PAX West in person will be able to watch the entire panel live on
Twitch
.
If you have any questions that you would like to ask the developers, feel free to post them on our official
Forums
– we'll do our best to answer them during the panel!
Last edited: