Hey there, I've been playing witcher 3 on and off for about 6 months on like 10-15 FPS aswell (I know, it's insane I lasted that long lol).
I currently use a Dell XPS 15 9570 with a core i7 8th gen and GTX 1050 ti Max-Q. As far as I know, this should easily handle the game at medium settings, but it seems that Witcher 3 really is a problem child.
What I've noticed:
-While running my game, I check my task manager to see if there's any load on my GPU at all and it shows to be none.
-Even setting my graphics to the lowest possible makes no difference. There is just constantly horrid FPS throughout the game.
What I've done:
-Done a windows factory mode reset and checked only to find no difference
-
Done a complete clean reinstall of my drivers with DDU. (Maybe there's a chance it didn't install properly... once again???)
-Ensured nothing else was running in the background while I tested again
-Made sure everything was in order on the NVIDIA control panel
-Found the Witcher exe file>right click>Run with graphics processor>Chose NVIDIA. I assumed that perhaps the control panel wasn't working properly and so I wanted to physically attempt this. Lo and behold, it didn't work.
-Went through several niche fixes such as switching to windowed mode and switching back.
-I assigned "maximum performance" for the game manually in the windows and nvidia settings, but to no avail.
I am currently using the GeForce 457.30 Nvidia Drivers.
I have no clue whether my drivers are at fault, or if it's Witcher...Or perhaps both.
I just want to be able to play what I payed for :/
PS.- Gwent is the only content that works perfectly fine lol.
***EDIT: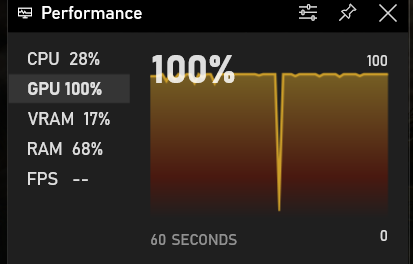 I just hit windows key+g to check out the performance it it somehow shows my GPU to constantly be at 100% now? I have no clue as to what's going on ;-;
Last edited: