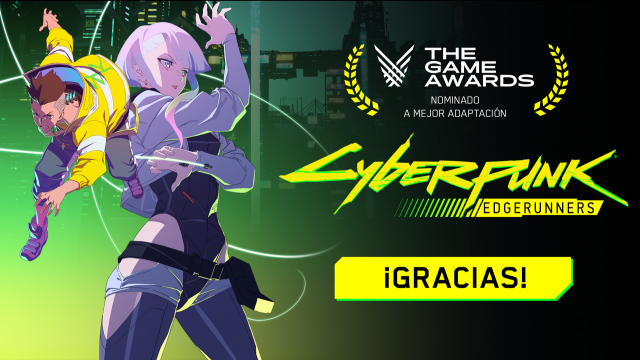 Cyberpunk: Edgerunners ha sido nominado en la categoría "Mejor adaptación" para The Game Awards 2022, una ceremonia anual de premios que celebra los logros sobresalientes de toda la industria del videojuego.
¡Gracias por el reconocimiento de nuestra primera serie de anime, ambientada en el mundo de Cyberpunk 2077 y creada en colaboración con el aclamado Studio Trigger!
Puedes decidir quién puede ganar el premio: puedes votar por tus favoritos a través de este
sitio web
. Nos honraría que decidieras votar por Cyberpunk: Edgerunners. Los ganadores se anunciarán durante la transmisión en vivo de The Game Awards el 8 de diciembre.
Si aún no has visto Cyberpunk: Edgerunners, está disponible en
Netflix.