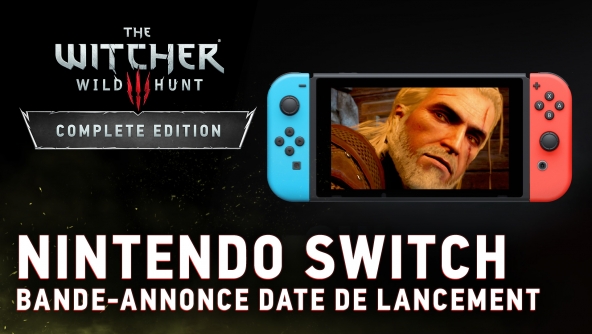 The Witcher 3: Wild Hunt — Complete Edition arrive le 15 octobre 2019 sur Nintendo Switch.

Incarnez Geralt de Riv, chasseur de monstre et acceptez le plus gros contrat de votre vie. Voyagez à travers les royaumes du nord déchirés par la guerre, naviguez dans les hautes mers de Skellige, combattez de puissants monstres et bien plus encore, chez vous ou en déplacement !
Vous en voulez plus ? Regardez notre vidéo de présentation du gameplay, illustrant plus de séquences de la version Nintendo Switch de The Witcher 3, commentée par Paweł Burza, Community Manager et Paweł Sasko, Quest Designer sur Wild Hunt et Lead Quest Designer sur les extensions Hearts of Stone et Blood and Wine.