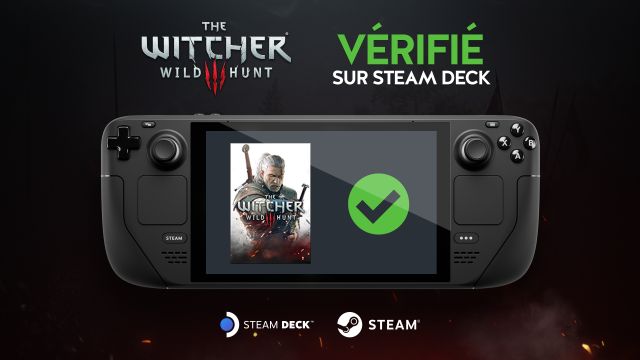 Si vous aviez des doutes sur la manière dont The Witcher 3: Wild Hunt tourne sur Steam Deck, vous pouvez vous rassurer ! Nous avons le plaisir d'annoncer que notre jeu a été vérifié pour la compatibilité avec Steam Deck.
Les utilisateurs et utilisatrices de Steam Deck pourront profiter des aventures de Geralt au maximum. Si vous possédez déjà une copie du jeu dans votre bibilothèque Steam, tout est prêt pour utilisation sur votre nouvel appareil.
Nous travaillons activement avec Valve sur la compatibilité et la perfomance de nos jeux sur le Steam Deck.Le but est de fournir la meilleure expérience possible de The Witcher 3 et Cyberpunk 2077 sur cette plateforme, tout en gardant en tête ses caractéristiques matérielles.
À noter que ceci concerne nos jeux les plus récents — nous n'avons pas de plans d'optimisation pour Steam Deck sur nos titres historiques (comme The Witcher: Enhanced Edition Director's Cut).